Thanks for reading some of the latest features about area people and events.
To view every page and read every word of The Kenmare News each week,
subscribe to our ONLINE EDITION!
Bow hunter bags whitetail buck and bull moose in less than a day's time
Some people would call Travis Rodenhizer lucky these days. As of Thursday, the longtime archery hunter had bagged a mule deer buck in southwestern North Dakota, a pronghorn antelope in east-central Wyoming, and a whitetail buck southwest of Stanley.
9/26/12 (Wed)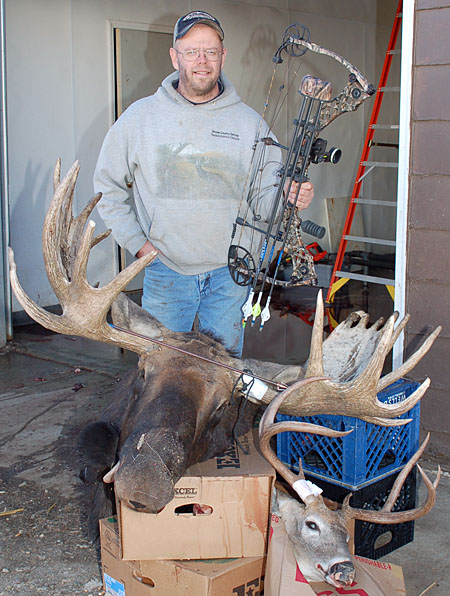 "Big-time adrenaline rush" . . . Travis Rodenhizer of Stanley
uses those words to describe his archery success last week.
Rodenhizer shot the 4x4 whitetail southwest of Stanley Thursday
night, then tracked and harvested the 48-inch bull moose Friday
morning in the Portal area. He brought the moose carcass
to Seykora's Meat Processing in Kenmare and planned to have
both heads mounted by taxidermist Greg Giffey of Roseglen.
By Caroline Downs
Some people would call Travis Rodenhizer lucky these days. As of Thursday, the longtime archery hunter had bagged a mule deer buck in southwestern North Dakota, a pronghorn antelope in east-central Wyoming, and a whitetail buck southwest of Stanley.
"It's been a pretty good fall so far," said Rodenhizer, who owns and operates Outback Sports in Stanley when he's not hunting.
In fact, Rodenhizer was still savoring his shot on the whitetail Thursday night, taken about 8 pm at 18 yards from a ground blind, when he went out on a moose hunt Friday morning--and knocked down a 48-inch bull at close range.
"I only got about four hours of sleep," he said, after the whitetail hunt. He'd already been out twice to fill his once-in-a-lifetime North Dakota moose tag--first along the Canadian border with Eric Seykora of Kenmare, where the two men tracked a 50-inch bull but couldn't get close enough for a shot, and then in the Lignite area where he came within 35 yards of a spike bull who turned around and started stalking the hunter--but the tag remained unmarked.
In the still-dark hours of Friday morning, Rodenhizer forced himself out of bed and started the drive to Lignite to meet his friend Ron Lee, who had been scouting moose for him there. On the way, he came across another bull he could have chased, but he passed on the opportunity.
Lee had told him about bulls he had seen, and shortly after Rodenhizer arrived, the two men spotted the 48-inch bull and a spike. "They were really chasing the cows this morning," he said. "We were watching them and lost them for a while. They went down in the bottom of this slough, so I decided I could sneak in from the east side and make it around the edge."
As he edged around the wetland, he realized the large bull had left the big slough and laid down in a smaller cattail patch nearby.
"He was probably 150 yards out there," said Rodenhizer, "so I sat down. Now, I've got to think this out."
He noticed the wind was in his favor and the spike bull remained standing near the first slough, so Rodenhizer started sneaking closer in 30-yard increments.
"I ranged [the big bull] at 57 yards, then went another 30 yards," he said. "Then I thought, 'Okay, this is going down.'"
He crept ahead until he was about 20 or 21 yards from the bull. "Just as I got there, he stood up," said Rodenhizer. "I remember looking through the peep sight. I couldn't believe he didn't run. He just stood there about 35 seconds, so I settled the pin in and let it fly."
His shot fell true as the arrow pierced both lungs. Rodenhizer watched the bull lunge into the air, then totter away about 125 yards.
"He ended up along some willows," said Rodenhizer. "I glanced up at Ron for a moment and back, and [the bull] was down."
Rodenhizer managed to recover his spent arrow where the moose had been shot and then found the big bull dead near the willows. Lee, now retired from Portal Service Inc., went to round up a payloader and some help. "Dick and Lucas Sandberg came and some of the guys from Portal Service," said Rodenhizer.
The men gutted the moose and loaded it into the back of Rodenhizer's short bed pickup, but the body and legs hung over the sides of the box. "We had to put flags on the legs to go down the highway," Rodenhizer said.
He downed the bull between 9:30 and 10 am, then hauled the animal by mid-afternoon to Seykora's Meat Processing in Kenmare where steaks, roasts and burger will be prepared. "It's the second moose of the season so far," said owner Eric Seykora. His staff expected to use a full day to cut and wrap the meat from the animal.
This was Rodenhizer's first moose, and he was pleased with the size and shape of the antlers. The rack showed evidence of rubbing and fighting, with one tip chipped off and strips of velvet dangling from the top of one prong and the bottom of the other paddle. The right-side paddle was accented with a "kicker" below it, similar to a drop tine sometimes seen on whitetail antlers.
Rodenhizer planned to have Greg Giffey of Giffey Taxidermy in Roseglen prepare the deer and moose head mounts, which will eventually hang at the Outback Sports store. "We've got room for them," he said with a smile, adding that two moose heads already displayed in the store are on loan and were harvested in Canada.
Filling the moose tag nearly completed Rodenhizer's archery goals for the season, but he has one more major hunt planned in November for whitetail deer in northern Saskatchewan. "I've hunted up there before, and you never know what's going to step out of the forest," he said. "I have good help back at the store that allows me to do these things."
Rodenhizer acknowledged his luck so far in the 2012 season. "It's been a fast and furious 15 hours," he said with another smile. "I'd better buy a lottery ticket!"