Thanks for reading some of the latest features about area people and events.
To view every page and read every word of The Kenmare News each week,
subscribe to our ONLINE EDITION!
Officer Al starting new Berthold Police Force from the ground up
Al Schmidt enters the Tumbleweed Cafe on Berthold's Main Street just like any other resident in town, greeting the waitresses by name as he walks through the door, waving and calling out a "Hello!" to customers gathered around a table drinking coffee.
3/27/13 (Wed)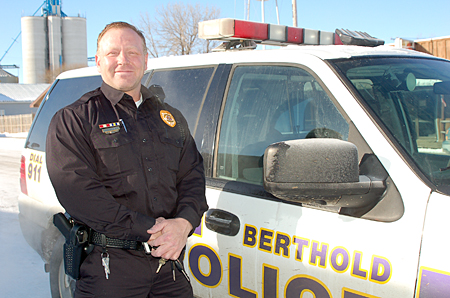 Chief Al Schmidt of the Berthold Police Department
By Caroline Downs
Al Schmidt enters the Tumbleweed Cafe on Berthold's Main Street just like any other resident in town, greeting the waitresses by name as he walks through the door, waving and calling out a "Hello!" to customers gathered around a table drinking coffee.
In fact, cafe owner Jean Fegley sets up a table for Schmidt with his preferred beverage--a glass of ice water--before he even arrives. "I know he doesn't drink coffee," she said.
Schmidt grins at the idea of being so well-known after living in Berthold for only a few weeks.
He's not surprised at the reception, though. After all, he wears the first policeman's uniform most of the town's residents have seen on those streets in their lifetimes, and he drives an SUV with "Berthold Police" painted in purple and gold letters across the doors.
"Most people just call me Al," he said, adding that he answers to "Officer Al," "Officer Schmidt" and "Chief Schmidt" as well. "And when I come walking in the school, it's 'Hi, Al! Hey, Al!'"
Schmidt is the new police chief, and entire police department, for the city of Berthold. He started his position there February 1st, but he brings over 17 years of law enforcement experience to the job.
Schmidt grew up in Minot and West Fargo, and attended North Dakota State University and University of North Dakota-Lake Region. His education led to a job offer with the West Fargo police department, where he worked for 17 years and became a detective. "I worked primarily in narcotics the last six years there," he said.
Having a career in law enforcement fulfilled a dream Schmidt held since he was a young boy, not unlike the third graders at Berthold Public School who tell him now they want to wear the uniform when they grow up.
"It's interesting work and there's something new every day," he said. "You can go home at the end of the day and know you made a difference for somebody, whether you talked to some kids or played cards at the senior citizens center or arrested someone."
He continued his training through the years in North Dakota and Minnesota with thousands of hours devoted to nearly every aspect of law enforcement, including the DEA Academy offered in Minot. Last year, he accepted a position at the North Dakota State Penitentiary in Bismarck where he managed one of the wings.
Six months at the penitentiary showed Schmidt what he missed about working in community law enforcement. That's when he noticed the job listing for Berthold. "They wanted someone to start a new police force from the ground up," he said.
He called and submitted his application, which was reviewed with others by a joint committee of Berthold city council members and staff from the Ward County Sheriff's Department. Schmidt was selected for an interview and offered the position, even as the process to finalize his hiring continues.
"The state is very strict, and they're doing a thorough background check on me," he said, although he came to Berthold from a corrections position at the state level. "In the meantime, I was deputized by the sheriff in Ward County."
Building a
police department
Building a police force where one has not existed for decades takes time and patience, even in a small town. "The city had to write a proclamation letter to the state to let the city start a police department," said Schmidt, "and they have to prepare the city's ordinances and a municipal court with a municipal judge."
While the municipal court gets established, Schmidt has been ordering the equipment he needs and outfitting the department's vehicle properly, as well as handling paperwork and records and starting rounds through the city. He doesn't have an official office yet, so he dedicated one room at his residence to the work, which he takes seriously.
"I've been trusted to know what I was doing," he said, "and the support from the community has helped a lot, too."
The city council allowed Schmidt to set his own schedule within the parameters of 40 hours each week, and he's being flexible with that schedule as he begins. "I go out in the mornings, and before and after school," he said. "I do some night patrols, but lately I've been working a lot of day hours. Once everything is in order, I'll work more nights."
So far, with so much to accomplish, Schmidt has worked nearly every day to meet his goals for the new department. "Right now, I want to establish trust and reliability with the citizens here," he said. "I want to get all our ordinances enacted and start work on the emergency services building plans."
He would like to clean up around town a little, after noticing junked cars and other discarded items in various places. "I've talked with the mayor about the aesthetics of the town," he said. "I want to give the citizens the feeling they have someone who could be there for them in a minute, if need be."
Schmidt knows the city has ordinances against such problems, but no one was available to enforce the laws until now. One of his first actions as chief involved impounding a car parked in the same location for four and a half years.
"The people living next to [that property] were looking at that car all that time," he said.
He has also tackled the speeding problem on U.S. Highway 2 along the edge of Berthold. "I'm trying to curtail that by sitting up there several hours a day," he said.
He smiled as he refused to divulge which hours he chooses for the patrol. "I want word to get out. Make sure when you go through Berthold, you slow down," he said, adding that so far the presence of his vehicle seemed to make an impression on drivers.
Chief Schmidt in the classroom
and the weight room
Another goal of Schmidt and the city council was to create a relationship between law enforcement and the students at Berthold Public School. With a 12-year-old son and 15-year-old daughter of his own living in Fargo, Schmidt is concerned about the well-being of all kids in the community.
His arrival in town, shortly after the school shootings in Newtown, Connecticut, provided an immediate starting point for the conversation with school administrators. "They had concerns at the school," he said. "They're locking the front door there now."
Schmidt makes certain he is parked at the school at the beginning and the end of the students' day. "I'd heard about some reckless driving there," he said, "It's a busy street, but everyone's been real good."
His initial conversations with the superintendent and principals led to invitations into the elementary classrooms, where he has talked with kids about a range of topics, including his uniform and tool belt, gun safety, bike safety, precautions to take around unfamiliar animals and dealing with strangers.
"It's great," he said. "They have a million questions for me, everything from what my favorite color is to 'How many people do you shoot in a day?'"
He plans to meet with all the junior high and high school students, too, and hold classroom sessions about issues like narcotics, alcohol use, bullying and Internet safety when the school schedule allows. "I'd be willing to work with them, if that's what the school wants," he said.
He has become acquainted with several of the older students already while supervising home basketball games. He has also started a weight program with the school's permission, continuing his own 20-plus-year hobby of power lifting and bodybuilding.
"I lift weights there six days a week," he said, "and I've started training some of the school's athletes here."
One of his favorite ways to interact with students, however, is to show up unannounced for lunch. "It's always a big deal, which table I sit at with them," he said with a laugh.
"Here to help out and
serve the community"
Schmidt has several plans for his new position, including hosting a domestic violence awareness program with assistance from the Domestic Violence Crisis Center in Minot and gearing up for the transient residents who tend to move into Berthold each summer.
More than anything, though, Schmidt is focused on his commitment to security for Berthold residents, including his new friends at the Tumbleweed Cafe and the third graders he visited last week.
"I'm a friendly, easy-going person," he said. "I'm here to help out and serve the community in any aspect that they need. People can come to me with any issues or just to say hi."
Schmidt can be contacted by calling Minot Central Dispatch at 701-852-0111.
He has heard from a few citizens who worried that a police chief would be too tough on them and the ways they've always done things.
"You can't be that way in a small town," he said, emphasizing that a common sense approach is more successful.
He laughed again. "Look at the way people double park here at the post office," he said. "They've probably done it that way for 40 years. If I wrote up everybody who did that, I'd run out of tickets in a day!"