Thanks for reading some of the latest features about area people and events.
To view every page and read every word of The Kenmare News each week,
subscribe to our ONLINE EDITION!
Kenmare Ambulance has six new lifesavers
Six EMTs just joined the Kenmare Ambulance, after completing classes held every week since last October and a grueling final exam on March 9th.
3/27/13 (Wed)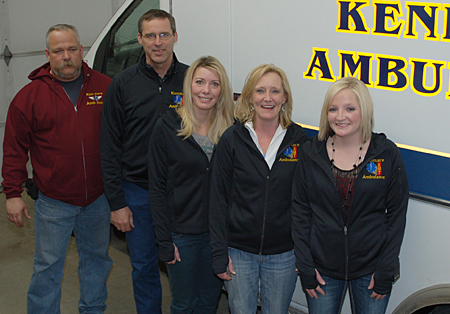 Kenmare Ambulance adds EMTs . . . The newest EMTs on
Kenmare's ambulance squad, after several months of classwork
and a final exam completed March 9th, include (l-r) Christian
Standard, David Sigloh, Christy Brekhus, Kristie Harris and
Deanna McDuffie. Not pictured is Emily Christensen.

By Caroline Downs
Six EMTs just joined the Kenmare Ambulance, after completing classes held every week since last October and a grueling final exam on March 9th.
Despite all the demands and hard work, the new volunteers couldn't be happier.
Christian Standard, Kristie Harris, Christy Brekhus, Emily Christensen, and David Sigloh are Kenmare's newest EMTs, and they all point to McGuffie, a petite woman with a strong will, as one reason they joined the squad.
McGuffie was open about her determination to recruit enough people to hold an EMT class in Kenmare. "It was important to have a class so I could take it," she said. "I just asked people about it. If they showed any interest at all, then I harassed them into taking it."
She gestured at her classmates. "I dragged all these guys into it, and I ended up being the class president!" she said, laughing.
Members of the group laugh a lot among themselves now as they talk about their work during the past six months, but the hours they put into the course were significant.
"There was the reading, the studying and the testing, along with the class work," Standard said. "I'd say it was about ten hours each week, per person."
He flashed a grin. "It was a breeze," he said as his classmates groaned.
The group, along with Karley Burns of Bowbells and Amanda Odell of Tioga, met four hours each Monday night with instructor Holly Grubb, formerly of Kenmare and now of Tioga. "We also held Thursday night study groups," Standard explained.
Brekhus smiled. "We did a LOT of study nights," she said.
So why volunteer to take a class that required so much personal time and effort for no pay?
Sigloh credited Kenmare Ambulance president Becky Nelson with his initial interest. "We were talking about it at a Vet's Gaming meeting," he said. "I told her I'd thought about it, but I live out of town."
Nelson smiled and chimed in, "And I told him people can wait 15 minutes for an ambulance, or not get one at all."
Sigloh continued, "I may not make many emergency runs, but I can help make the transfers."
Harris acknowledged that Nelson played a role in her commitment, too. "Becky caught me at a weak moment," she said, then laughed and shook her head. "I know there's a struggle getting EMTs. It seems like there's never enough volunteers so I thought I'd give it a whirl."
Brekhus said Harris influenced her decision, along with McGuffie's constant prodding. "I mentioned something about it to [husband] Monte and he said it wouldn't be a bad idea," said Brekhus. "I wanted to do it just to help, and I enjoyed the class. It was hard, but once you get so far, you've got to keep going."
Standard joked about just wanting to fill four empty hours in his Monday night schedule. However, Standard serves on the Kenmare Fire Department, and he said Nate Condit, also a firefighter and EMT, encouraged him to take the class.
"Nate said this would put three EMTs on the fire department," Standard said, adding that Grover Keith is the third combination EMT and firefighter. "That way, if the ambulance is not there right away, we have EMTs on the scene at least."
Standard was already a first responder for the ambulance service. "I liked the idea of becoming an EMT," he said, "and having the ability to assist the folks in Kenmare."
Like Standard, McGuffie was already volunteering with Kenmare Ambulance as a first responder, but she wanted to do more. "This is a first step for me," she said.
She admitted having an interest in emergency response work ever since she survived a serious car accident as a child. "It was EMT services that saved me," she said, "so this could be payback for what was given to me."
Because of her commitment to her goal, she refused to allow any of her classmates to drop out of the class, even when the coursework became technical or when the extra weekends interfered with family time. "Everybody was going to quit, but I wouldn't let them!" McGuffie said.
"This is the largest class we've had for completion of the course," Nelson said, adding that in previous years, several volunteers started the sessions but only a couple would finish and pass the final exams.
Because the six Kenmare volunteers qualified through the testing process and joined the ambulance crew, the Kenmare Ambulance Service paid the cost of their education. All EMTs on the department are required to maintain their knowledge and skills with 40 hours of training completed every two years. "We bring in instructors for that," Nelson said.
The addition of the new EMTs means the Kenmare Ambulance Service now has 15 EMTs to respond to calls. "A lot of us work out of town during the week," Nelson said, "so that meant most calls were left to Arlen [Gartner], Larry [Nore], Jerry [Essler] and Jerilyn [Bauer] during the day."
Gartner smiled. "And we're getting older," he said. "We do need the help!"
The new class of EMTs were required to make five ambulance runs and spend 10 clinical hours with patients during their training, but they've participated in more calls since graduating. In fact, Sigloh took an ambulance to the scene of a vehicle accident on March 10th, just one day after passing his test.
"It makes me really appreciate the people who've been on the squad for many years," he said. "We've still got a lot to learn, so these old-timers can't quit yet!"
Kenmare's longtime ambulance volunteers welcomed the newcomers. "Congratulations," Nore told the latest class of EMTs. "And I want to tell you something. Sooner or later, if you hang in there, you WILL save a life, whether you suggest something or do something for someone. What you do matters."
Even with the latest crop of EMTs joining the ambulance service, Kenmare Ambulance invites any interested persons to volunteer their time with the department. For more information, contact McGuffie at 701-310-0059 or Nelson at 848-2435.
New ambulance,
or two, needed
Kenmare Ambulance may have an adequate number of EMTs volunteering their time these days, but the vehicles they use to respond to calls have been a cause for concern among the organization's officers.
"Both of the ambulances are over 10 years old and have over 100,000 miles on them," Nelson said. "We have found a new one we are hoping to purchase."
According to Nelson and Gartner, who serves as treasurer, the new ambulance will cost about $200,000.
Kenmare Veteran's Club, Inc. has promised a significant donation and the ambulance organization has secured $30,000 from a portion of the city's 1-cent sales tax fund.
"So we're trying to raise $120,000," Gartner said. He laughed and added, "If we get the money for them, we'll buy two!"
Nelson smiled and explained she will be submitting grant applications for the Rural EMS Assistance and Energy Infrastructure grants, both available through the state of North Dakota. "We should know something by July," she said, depending on final budget actions taken by the state legislature this session.
Contributions from individuals, businesses and other organizations are welcomed by the Kenmare Ambulance. "We're asking people to donate if they can," Gartner said.
Anyone wishing to make a donation toward a new ambulance for Kenmare should contact Gartner at 701-385-4231 or stop by Gartner's Jack & Jill to talk to him.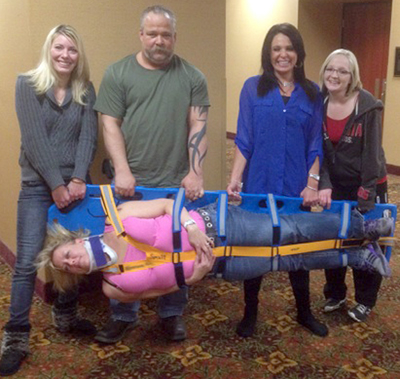 Serious training . . . Members of the EMT class held in
Kenmare, including (l-r) Christy Brekhus, Christian Standard,
Emily Christensen, and Deanna McDuffie, have a little fun
as they immobilize their volunteer patient.