Thanks for reading some of the latest features about area people and events.
To view every page and read every word of The Kenmare News each week,
subscribe to our ONLINE EDITION!
Nores shifting gears from auto body repair to auto and trailer sales
When Larry and Judy Nore posted a notice in The Kenmare News last week about closing Nore's Body Shop at the end of the month, they received a barrage of questions about retirement.
2/15/12 (Wed)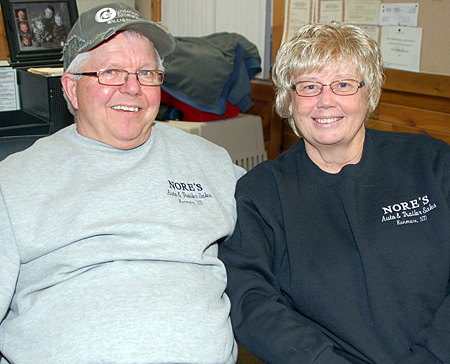 From one full-time job to another . . . Larry and Judy Nore announced plans
to close Nore's Body Shop north of town after almost 32 years in business.
Instead of retiring, the Nores will relocate their offices permanently
to Nore's Auto & Trailer Sales on the south side of Kenmare
in order to better serve the increased demand for private and
commercial vehicle and trailer sales. The Nores are partners
in the dealership with their son John Nore of West Fargo.
By Caroline Downs
When Larry and Judy Nore posted a notice in The Kenmare News last week about closing Nore's Body Shop at the end of the month, they received a barrage of questions about retirement.
For the record, shutting down the body shop has nothing to do with retirement.
"We're just moving on to new adventures," Judy said. "I'm semi-retired. He's not. That's one way to put it."
The new adventure includes expanding the offices and inventory for Nore's Auto & Trailer Sales, located along U.S. Highway 52 on the southeast side of Kenmare, a business in partnership with their son John who owns Visto's Trailer Sales of West Fargo. "It's a full-time job here," said Judy as she nodded toward the body shop from her office, "and it's now gotten to be full-time up there."
Larry indicated the business of selling vehicles and trailers has been booming. "We'll still have that, but we're going to do more for the oil field now," he added. "We're going to start selling belly-dump trailers, consulting shacks, office trailers, that kind of thing."
And while Nore's Body Shop will stop serving customers, the shop itself will continue to be in operation as the Nores use the facility for any touch-ups or cleaning necessary before cars go on display at the lot.
Larry emphasized that vehicles on the lot would not be rebuilders, however. "I used to fix up cars and sell them, and some people know me for that but we don't do it now," he said.
Body work since KHS days,
body shop since 1980
Larry began working on vehicles as a teenager at Kenmare High School who enrolled in the DECA program as a way to leave the building for two periods a day. He found a position at Lyle Erickson's body shop and kept the job through his senior year. Following graduation, Larry spent two years in the U.S. Army, including a year-long tour in Vietnam where he served as an ambulance driver and medic among other duties, but he returned to Kenmare and Erickson's shop when his military obligations ended.
He moved to Wahpeton where he received further training in body work at the North Dakota State College of Science, then took a position with Kiefer Chevrolet in Moorhead, MN. He met Judy, who was working in Fargo at the time, and the couple married in 1976 and lived in Fergus Falls, MN, where Larry had another auto body job.
In 1980, the Nores decided to return to Kenmare to build and open their own body shop on land purchased north of town from LeRoy Gravesen.
"We came for the hunting," Judy deadpanned, but Larry shook his head.
"In the 1970s, there was an oil boom in this area and there was a lot of work up here at that time," he said, then laughed. "By the time we moved here, the oil was shutting down."
He was willing to add services to grow his business, though, including towing, wheel alignments and radiator repair. "We used to fix radiators for 15 years," he said, "until that went by the wayside, thank God."
The business featured used car sales at times, and son John received some of his early sales experiences when he was in the eighth and ninth grades. "Larry trained John at the shop, and from a young age he started learning how to talk to and work with older people," said Judy.
The Nores enjoyed the Kenmare community as they operated their business. John is a KHS graduate, as are the Nores' two daughters who now live in St. Cloud, MN, with the Nores' three-soon-to-be-four grandchildren.
Larry joined the Kenmare Ambulance Service after arriving back in town and has been a committed volunteer for 31 years, including the home delivery of a baby along with volunteers Jerry Essler and Ron Jensen. He has worked with the Kenmare Veteran's Club, Inc. for 25 years, served on the Upper Souris Water District board of directors for nine years, and dedicated time to helping with activities for the Kenmare GooseFest and the Kenmare Country Club.
Keeping up with
trends and customers
With over 30 years in the business, Larry has updated his shop to accommodate various trends. "The painting part has changed three times in my time," he said, "and if I was staying, now I'd have to change equipment again for more water-based paint work."
The Nores installed a state-of-the-art paint booth in the mid-1990s and have held training sessions in their shop with paint representatives to learn about different types of sprays, techniques and, lately, how to achieve the colors used for newer vehicle models. "For someone to just come in and start a shop, the expense is high," said Judy, "and if you want to keep modernized, you almost need the business of bigger towns."
Finding and keeping auto body employees with competition from oil field wages has been difficult for many small town shops across the state, according to Judy.
"Most shops will have a body man, a painter, someone doing wheel alignment and a mechanic," Larry said. "Here, we've done just about all of it, except some of the mechanical, but now most young people just can't learn it all. The small town body shops are folding."
Nore's Body Shop currently employs Brenda Johnson on a part-time basis. Colten Williams spent just over a year working as a body man with Larry until last Friday, when he left for a new position with a dealership in Bismarck. "Over the years we've had one or two body men in the shop, up to three at times," Judy said.
"And I trained just about every one of them from scratch," Larry added, serving as a mentor in much the same way Lyle Erickson started with him. "Four of those went on to other shops or started their own business. Well, now it's five with Colten."
The shortage of auto body workers, coupled with an increased demand for such services at Nore's shop, has led to a scheduling problem for Larry. "In the last two years, we've gotten so far behind," he said. "I've never apologized to so many people in my life. Some of them have had to wait for months."
"And they used to wait two weeks, tops," added Judy.
The Nores' dedication to their customers kept those customers returning from Kenmare, Donnybrook, Powers Lake, Columbus, Noonan and Crosby. "The whole northwest corner, basically," said Larry.
"He's also helped a lot of strangers who were stranded," Judy said. "He would do what it took to get them back on the road."
Larry shook his head again. "I remember there was one couple from Missouri," he said. "Gary Mattern and I worked all night and part of the next day to get them back on the road."
He continued, "And there a driver from Alaska who hit a moose at Lakeshore. We got him fixed up. He said he'd lived up there all that time and had never hit a moose, and he never expected to see one in North Dakota!"
"Larry looks at it as if it were his family, he would want somebody to do the same thing for them," said Judy. "We've met a lot of people just because of their troubles."
No more body jobs,
but call for a tow
After nearly 32 years, Nore's Body Shop has stopped taking requests from customers as Larry works to finish his existing jobs by the end of the month. Work will begin shortly to build new offices in the former convenience store at the auto and trailer lot, and eventually the Nores intend to relocate there. In the meantime, the familiar phone numbers for the body shop and the dealership will continue to be in use, even though the Nores will be focusing on sales.
And, perhaps, on towing. "We'll keep the towing, maybe," said Larry.
"That's a yes," Judy told him. "You have to keep towing."
"It depends on how much insurance is going to cost," Larry explained, "but for the time being, yes, I like towing. That gets me out of here."
"That's just relaxing for him," said Judy, "and he's not near ready for retirement. I wouldn't want to completely retire either."
While the topic of towing sparked a discussion, the two agreed on their appreciation for the community's support of the business through three decades. "We have a lot of faithful customers," said Judy. "Here we were, a new body shop moving in, but he was a hard worker and he had that personality."
"Well, I couldn't have done it without a good bookkeeper," said Larry.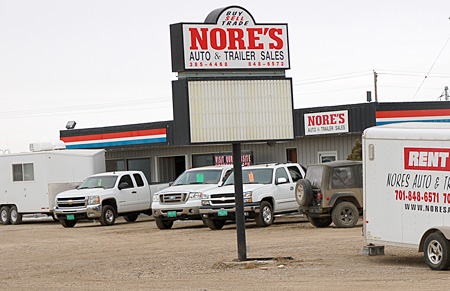 The Nore's Auto & Trailer Sales location along U.S. Highway 52
at Kenmare's southeast edge.