Thanks for reading some of the latest features about area people and events.
To view every page and read every word of The Kenmare News each week,
subscribe to our ONLINE EDITION!
Four Kenmare grapplers advance to the 2012 State Wrestling Tournament
Four Kenmare wrestlers have qualified the Class B State Tournament.
2/15/12 (Wed)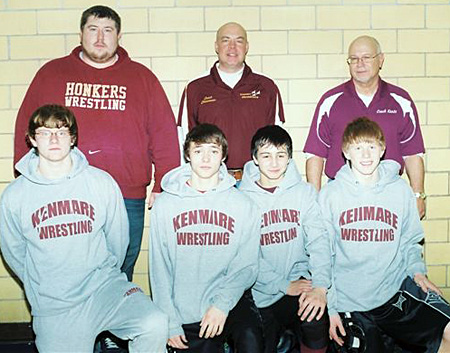 2012 KHS State Qualifiers, back (l-r): Coaches Mitch Greenwood,
Lars Christensen, Dennis Kaatz. Front: Taylor Egeberg, Ty Jesz,
Xavier Maureaux and Tanner Egeberg.
By Coach Dennis Kaatz and Robin James
Four Kenmare wrestlers have qualified the Class B State Tournament.
Junior Taylor Egeberg (170) captured third place at the Regional to advance to State. Egeberg won by fall in the first round over Cole Hysjulien of St/PL/T/R. In semi-final rounds, he lost by technical fall to Dylan Morin of Rugby. Wrestling Carson Schell for consolation championship, Taylor won by fall to earn third place.
Eighth grader Ty Jesz (132) wrestled Bailey Bransesky of St/PL/T/R winning a 13-8 decision. Matching up with Derrick Casey of Velva in semi-finals, Ty lost by fall. In consolation semi-finals, he pinned Randall Rogers from Rolla, setting up the consolation finals match with Keaton Merck from Minot Ryan but losing by fall to place fourth.
Freshman Xavier Maureaux (126) pinned Noah Wollschlager (New Town) in first round wrestling. Xavier was then matched up with Kyle Schmidt from Minot Ryan in semi-finals, losing the match 3-0. He then earned this State seed by defeating Jare Olonia, DLB, by fall. In consolation finals, Xavier lost by fall to Ryan Faber of Stanley/Powers Lake/Tioga/Ray to place fourth.
Tanner Egeberg (120), also a freshman, was pinned by Mason Brudevold from Velva. Tanner also wrestled Daniel Becker from Minot Ryan to place fourth in Region Wrestling.
Briot Nehring and Alex Giese came within one match of advancing out of the Regional Tournament.
Taylor Egeberg picked up a team high of 21 wins on the season. Ty Jesz recorded 19 victories while Maureaux picked up his 16th win on the season.
The 2012 State A & B Wrestling Tournament is being held at the Bismarck Civic Center on February 16-18.