Thanks for reading some of the latest features about area people and events.
To view every page and read every word of The Kenmare News each week,
subscribe to our ONLINE EDITION!
New teachers for kindergarten, math at Kenmare School
New classrooms and new students have created plenty of changes at Kenmare Public School this year, with four new staff members making their mark as well.
9/08/10 (Wed)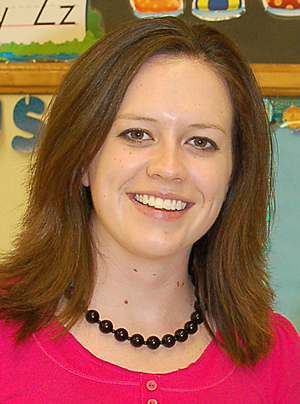 Sarah Nelson, Kenmare kindergarten teacher

Claudia Jones, Kenmare kindergarten teacher

New classrooms and new students have created plenty of changes at Kenmare Public School this year, with four new staff members making their mark as well.
Junior high and high school students are taking math classes from Anthony Keaveny, while kids in the two kindergarten classes are breaking in their teachers Sarah Nelson and Claudia Jones. Meanwhile, everyone is welcomed to the libraries in both buildings by Jean Barnhart, a familiar face in a new place.
Math comes naturally
for Mr. Keaveny
Anthony Keaveny had no trouble with math as a student himself. "Growing up, I was just good at it," he said. "I had a natural understanding of it. I don't know why. I was able to explain it to my friends easily, so I figured I could run with it."
That natural ability took the Wahpeton native through a bachelor's degree in secondary mathematics education at Jamestown College. Keaveny graduated in December 2009 after student teaching at Baghdad, Arizona, a town of about 2,000 people.
Not that he expected to spend a semester of college in the Southwest. "There was a contact through Jamestown College," he said. "I thought it looked fun, so I tried it."
When he completed his student teaching experience, he cobbled together a paycheck by substitute teaching in Fargo and working odd jobs while applying for his first classroom position. He wanted to work in a Class B school, even though he attended a larger system.
"I wanted to be able to get to know all my students," he said. "Kenmare offered me the position."
Keaveny operates in a temporary classroom these days, awaiting completion of one of the renovated Phase II classrooms at Kenmare High School. His enthusiasm for his subject is evident as he teaches the 7th and 8th grade math courses, pre-algebra and applied mathematics.
"I don't want my students to be afraid of math anymore," he said. "I want them to get to the point where they think math isn't scary, that it's just another class."
To that end, Keaveny uses a variety of games and mnemonic devices to illustrate and practice key concepts. "It's not just straight out of the book," he said.
Ironically, Keaveny has a history with his colleague in the KHS math department, Alan Munson, although he didn't know it until he accepted the Kenmare offer. Munson taught both of Keaveny's parents in his high school classes in a small Minnesota town early in his career.
Another surprise was the discovery that retired KHS instructor Karol Munson is the second cousin of Keaveny's mother. "It's a small world," Keaveny said as he described the Munsons' hospitality when he relocated to Kenmare and started his new job.
When he's not working in his classroom or exercising his yellow Lab Rocko, Keaveny can be found among student athletes. He will be an assistant coach for the Honkers boys basketball program this winter, coming off a two-year stint as the Jamestown College JV basketball coach.
"I went to Jamestown College to play basketball," he said, adding that he filled one of the guard roles on the high school and college courts. He tore his ACL during his first college season, though, just as he worked his way to a varsity position. When he returned with a brace for his sophomore year, he just didn't have what he needed to help the team as a player.
Keaveny enjoyed his work with the JV squad, despite the fact the schedule included several junior college teams that out-competed his players. He continued to pursue his coaching interests, though. "I've always wanted to be a coach," he said.
That desire led him into uncharted territory, however, as he also accepted a position this year as the assistant junior high football coach, a sport he never really played. "I'm learning quite a bit," he said, admitting with a grin that he hoped to stay ahead of his team.
Mrs. Nelson
goes to kindergarten
Kindergarten teacher Sarah Nelson also graduated from college in December 2009, and she actually came to the Kenmare school district then as a paraprofessional at the elementary school during the second half of the school year.
She assisted with math lessons for the fourth and fifth grade students and helped students in the sixth grade class with several subjects. "I focused on working with kids and helping with their homework," she said.
However, she had earned a bachelor's degree in elementary education with a kindergarten endorsement from Minot State University, and she wanted a classroom of her own. "I like working with the little kids," she said. "They always have questions for you, and I enjoy the way they learn and think."
When school administrators decided it was necessary to divide Kenmare's large incoming kindergarten class, Nelson applied for one of the positions. "I like the school system, and I enjoyed my job at the high school last spring," she said. "This is a good group of people to work with."
Now, she focuses on laying a foundation with the district's youngest students.
"The first week has been about getting to know each other and getting to know the rules," she said. "They're starting great! My goals this year start with learning the alphabet and the sounds so they can learn to read. They'll learn numbers and learn how to write."
Nelson, a Stanley native, is married to Branden Nelson, a KHS graduate now employed with Sandberg Redi-Mix. The couple is expecting a baby in October. "This has been an exciting year," said Nelson. "First child, first teaching job, first house!"
Mrs. Jones moves from
computers to the classroom
The rest of the kindergarten students attend class two doors down the hall from Mrs. Nelson, where Claudia Jones moved in three baskets filled with her favorite picture books. "I leave a lot of books out to peruse," she said. "Even if they're too hard for the kids to read [on their own] right now, they can just look."
A love of children's literature, a keen interest in her children's and foster children's educations, and the realization that educating customers was the favorite part of her former career as a systems software engineer led Jones back to the classroom herself. "I'm a mid-life career change," she said, adding that she earned a master's degree in elementary education in 1998 from Concordia University in Portland, Oregon.
She takes her new career seriously. "In kindergarten, you're laying the foundation for the rest of their education," she said. "Not just academically, but also socially. A major component of kindergarten is teaching the children to
be
in school."
She appreciates her young students. "This is such a
rewarding
job," she said. "They're so interested, and as a bonus, you get a hug on an almost daily basis."
In addition to the hugs and the fun, Jones has goals for her students, including recognition of letter shapes and sounds by the end of the year and sounding out words to decode and read them. "They will also know sight words and do some beginning reading," she said.
She considers reading skills essential to learning math skills. "I view math as another language," she said, "with its own rules and grammar, like English. A good background in language arts leads to good success in math."
When Jones breaks out the math lessons, her students will concentrate on counting, basic concepts of money, and getting a sense for numbers as part of the real world.
True to her focus on social skills, Jones will incorporate lessons on cooperation, mutual respect and empathy in her classroom. "I try to build a sense of community with the kids," she said.
She also wants to enlist community residents to volunteer in her classroom. "They can be parents, families, seniors," she said. "The school-community connection is very important for the kids and for the volunteers."
Jones grew up in western Massachusetts, but served in the U.S. Air Force from 1973 to 1980 and later spent nearly 20 years living and working in the Pacific Northwest, both around the Portland area and at Walla Walla, Washington. She met her husband Jeffrey there, who grew up in a small town with about 300 residents.
After dealing with nine months of rain each year and a troubled economy, the Joneses decided to make some adjustments, leaving son Zebulun who works in the banking industry in Portland, son Zachary who serves as the lead chef in a restaurant near Walla Walla, and Zachary's wife and four children. "We wanted to go where the weather was better," Jones said. "We started looking, and we heard the economy was going great guns in North Dakota."
She accepted a one-year position in the Minnewauken School District last year, teaching kindergarten. When that job ended, she scattered her resume around the state and was called for several interviews, including Kenmare. "We loved the physical setting here," she said, describing the appeal of the refuge lakes and rolling hills of the valley.
The proximity to Minot was also attractive, with her husband taking classes at Minot State University to complete his master's degree in education with endorsements in art and music education.
After living on the east and west sides of the country, Jones was surprised by how much she likes the Great Plains. "I love the fact there are so few people here," she said, "and so much space!"
The couple purchased property in Kenmare, but they are living in their fifth wheel camper until they can build a home. "That will work as long as the pipes don't freeze," Jones said, laughing. "If you see a camper with a bunch of straw bales sitting around it, that's us!"
Anthony Keaveny, KHS math instructor