Thanks for reading some of the latest features about area people and events.
To view every page and read every word of The Kenmare News each week,
subscribe to our ONLINE EDITION!
Mrs. Barnhart moves from kindergarten to library
As a pre-school and kindergarten teacher in Kenmare for 10 years, Jean Barnhart taught a majority of the students now attending grades 1 through 12 in the school district.
9/08/10 (Wed)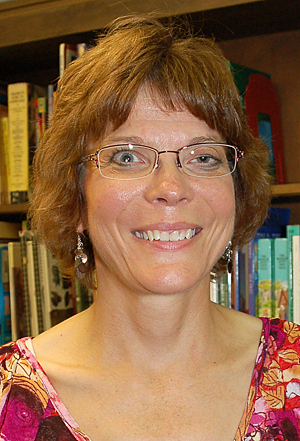 Jean Barnhart, Kenmare school librarian

By Caroline Downs
As a pre-school and kindergarten teacher in Kenmare for 10 years, Jean Barnhart taught a majority of the students now attending grades 1 through 12 in the school district. Barnhart arrived in 1999 with daughters Stephanie and Ashley to join her husband Ken, already employed as an accountant. She launched "Happy Hands" preschool then, before adding part-time kindergarten classroom duties that evolved into a full-time schedule.
This year, she moved out of the classroom to the school libraries. "I needed a change, career-wise," she said. "I love, love, LOVE children's literature, and as my own kids got older, I've developed an appreciation for what older kids read."
Barnhart is now sharing that interest in literature and reading as the school librarian, and she is becoming familiar with the school's book collection as she reconstructs the library at Kenmare High School, following the current remodeling project. "I'm putting the library back together," she said, laughing as she gestured toward stacks of boxes awaiting her attention. "That's a work in progress."
She divides her time between the elementary and secondary buildings. Students in grades kindergarten through three will see Barnhart at the elementary school Tuesdays and Wednesdays from 2 to 3 pm specifically for library time.
Otherwise, she can be found at the high school, working with students in grades 4, 5 and 6 on a regular basis, and welcoming the junior and senior high kids to use the books and other materials available.
Barnhart sees herself moving beyond the stereotypical school librarian. "I'm going to shelve books and check out books, but there's more to my job than that," she said.
She has three specific goals in mind, starting with collaborating with the teachers so students learn strong research skills for all subject areas.
She also wants to help teachers expand their resources for particular classroom units by sharing extra materials for the students to use.
Another goal will create a change in the elementary library, as she identifies each book with a colored label for a particular Lexile reading level.
"Lexile reading levels deal with comprehension, word frequency and sentence length," Barnhart explained, adding that assessments used by the classroom teachers this fall will help the students in first, second and third grades understand what their own Lexile reading levels are.
The identification of Lexile levels for all the elementary library's books is one way the school district is working to improve young students' reading scores.
"If a book is too hard for them to read, they get nothing out of it," Barnhart said. "If it's too easy, they don't gain anything. We want our kids to be challenged and become better readers."
She smiled as she continued, "I know kids who look at a book and pretend they're reading, and I know I don't learn a lot if I read a book that's too difficult for me. This is a way of making the reading fit their individual level and interest."
Students in grades 1, 2 and 3 will be allowed to borrow any books they wish from the library, but they will be strongly encouraged to read books at their own Lexile level, or at one level above or below that level. Barnhart believes the process of identifying all the books by Lexile level will also help her purchase books to fill gaps in the reading levels. "We're trying really hard to boost reading scores in the elementary," she said, "and I have to help at the primary level."
As the district librarian, Barnhart will also handle a variety of audiovisual equipment and other technology for students and teachers. She is interested to see how the use of laptop computers, e-books and cell phones will evolve and merge with the way students already read and research in the library, but she believes strong reading abilities will remain essential.
"Twenty-first century learners will demand [cell phone and e-book] technology to get their books, but at the primary level, they can't use that technology unless they have good reading skills," she said.
In her more immediate future, Barnhart is planning a Scholastic Book Fair for next week and looking for ways to encourage all students to discover the materials available at the library. "I'll take volunteers for the Book Fair," she said, with another smile. "And, parents, if you have ideas and recommendations for me, I'm open!"
Barnhart can be reached by calling Kenmare High School at 701-385-4996 or by email at j.barnhart@sendit.nodak.edu.