Thanks for reading some of the latest features about area people and events.
To view every page and read every word of The Kenmare News each week,
subscribe to our ONLINE EDITION!
Mouse River Park evacuated as flooding deemed certain
Renville County Emergency Manager Kristi Titus faced about 50 grim faces Sunday afternoon when she delivered the news that Mouse River Park would have to be completely evacuated by Thursday at 5 pm because of the expected river flows.
6/22/11 (Wed)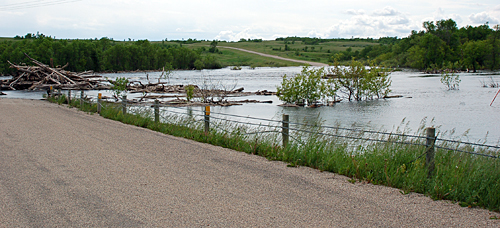 High water . . . The Mouse River has been spilling over the Park's west
entrance for more than two months now, and the river has broadened its
reach as record rainfall continues to plague the watershed. The logs
at left were removed earlier from the box culverts and piled on
the once-dry road to prevent drivers from venturing across the current.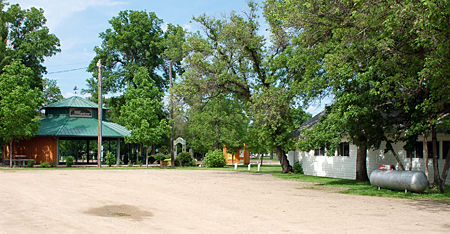 Eerie calm . . . The parking lot near the cafe and gazebo at Mouse River
Park is uncharacteristically empty on a sunny Sunday afternoon. The river currently stands seven feet higher than the Park itself, with a forecast
to go to nine feet or higher in the coming days because of
unprecedented water releases from the upstream reservoirs.
Residents doing their best to endure
roller coaster of emotions
By Caroline Downs
Editor's note: On Monday afternoon, the evacuation date issued for Mouse River Park was changed from Thursday, June 23rd, to Tuesday, June 21st. At press time, the water levels at Mouse River Park were forecast to be over 27,000 cfs by early next week. The historic high flow was around 8,600 cfs.
Renville County Emergency Manager Kristi Titus faced about 50 grim faces Sunday afternoon when she delivered the news that Mouse River Park would have to be completely evacuated by Thursday at 5 pm because of the expected river flows.
But the news didn't really come as a surprise to the crowd, most of whom have been removing personal property for the past several weeks.
"People are saying we're moving!" said Janet Leet of Kenmare, laughing as she described the large trailers borrowed from Adam Schumacher and Bob Mau that she and her husband Chuck parked at their home in Kenmare and used to clear out their Park cabin.
A voluntary evacuation notice at Mouse River Park was activated in early April when water first topped the spillway over the road at the west entrance. Titus and members of the Renville County Water Resource Board encouraged Park residents to protect or remove their furniture, vehicles, pontoons and other items in case of flooding.
The Park's cafe and bar opened briefly in May, but closed again as river levels increased. Campers have not used the Park this summer, with long-standing reservations cancelled. The evacuation was later extended and limited access to the Park to property owners only.
The Leets have been hauling loads to their house for several weeks, and they had additional help on Sunday from James and Ben Ethen. "We had everything out of the cabin already," Janet said, "but we had some heavy stuff and some outdoor items that we needed help with."
She noted the Ethen twins had volunteered their time several days to help other Park residents, including Rose Hanson and Gary and Lois Brevig, all of Minot. According to Janet, several other of the Park's seasonal residents have been making good use of the time. "We've been seeing whatever means of trailers people can get down here," she said.
Walt and Donna Weaver gave up their house in Kenmare a few years ago. They live at Mouse River Park during a portion of the year, travel during the winter months and have stayed at the Park through the voluntary evacuation period.
"We started getting some things ready to move today," Donna said, adding that the couple watches the daily changes in the river's elevation at the flood control gate on the Park's west side.
She praised all the efforts to protect the Park from the antics of the Mouse River this spring, swollen from high spring runoff and reservoir releases in Saskatchewan and frequent rain showers through May and June. "The County and the Water Board have been very good," she said. "They're working on this."
She and her husband planned to do what they could to protect their cabin and household goods, but Donna refused to worry too much. "We'll go with the flow," she said, then smiled as she realized what she said. "Hopefully, it's not the river flow!"
Rob and Vanessa Iverson, and their teenage sons Blake and Kolby, live at Mouse River Park year-round. They stayed through the previous evacuation notices, continuing work on a remodeling project in their house.
"It's been a rollercoaster of emotions," said Vanessa. "The river goes up, then it goes down and you celebrate, then it comes back up."
She said she and her family endured the last round of high water safely as the Park's dike held. "The water has been going down and I planted my flowers, and we thought it was going to be okay," she said, adding that before the excessive rainfall last week, plans were in the works for a Fourth of July party and live music at the Park to celebrate the end of flooding season.
With Sunday's news, the Iversons decided to pack. "We got everything up, and we have a few little things to do yet," Vanessa said Monday morning. "We have options for places to stay. People have been so kind to open their doors to us."
In fact, the outpouring of assistance from friends and acquaintances has been one of the high points of the 2011 Mouse River Park flood for Vanessa. "We want to thank everyone who has offered their help and who has been helping down there," she said. "We've had phone calls and help from people on the street. It's unreal!"
Sons Kolby and Blake, both students at Kenmare High School, have taken several shifts walking the dike, looking for weak spots or evidence of rodent damage.
"They want to help out," Vanessa said. "They told me, 'The whole park is our home.' All their friends come down here and hang out with them, and as stressful as it's been, they've made it fun and had a sense of humor over it."
She's taking a cue from the boys and the friends and relatives who have been so helpful. "We've got to think really positive," she said. "That, and lots of prayers."
Caretaker's duties
Mouse River Park caretaker Darrell Iverson slides his feet into faded green rubber boots every morning now as a matter of course. "I've been wearing them so long, I tried to put on another pair of shoes the other day and they didn't fit!" he said Sunday afternoon.
Iverson has fielded inquiries, requests and phone calls about the Park all spring, delivering plenty of bad news to folks from both sides of the border about their plans to use the Park this summer. "We cancelled the June weddings down here," he said, adding that a late July wedding may still be held on schedule. "And we don't have to worry about the ball tournaments this year."
While the softball field continues to hold water, most of the campground sites remain dry or merely soggy from ground water that has seeped into the Park. Like other residents, Darrell had been optimistic about the Park getting open within the next week or two, but he also maintains contact with several of the Canadian campers who enjoy the Park during the summer.
Their latest news didn't sound encouraging.
"I had guys calling me since Friday from Canada with rain reports," he said. "They all said they just can't believe the water that's coming."
Iverson, whose normal summer routine of dealing with campers and setting up for special events has been exchanged for pumping water, geared up Sunday to shut down the Park. He expected to move the deep fryers, freezers and refrigerators from the Park's cafe onto the stage in the auditorium, as well as other items and furniture from both the cafe and bar. "We'll have to close up all the buildings," he said, "and there's some of our own equipment to haul out."
Like the other residents, Iverson shook his head over the numbers projected for the coming river levels, but he still hoped the dike would hold and the water would recede one more time this season.
"One thing I will guarantee you," he said. "We won't have a Fourth of July party down here this year."
Editor's Revised Note: By the time this story was published on
June 22nd, the inflows had increased again for Lake Darling.
New release projections indicate the outflows will top 20,300 cfs
from Lake Darling by June 23rd or 24th. The city of Minot sounded its
flood sirens for the nine evacuation zones and the inundation area
shortly before 1 pm on June 22nd, five hours before the evacuation
deadline of 6 pm that day. Readings at the Sherwood gauge, coming
from Canada, indicated 30,000 or more cfs in inflows.