Thanks for reading some of the latest features about area people and events.
To view every page and read every word of The Kenmare News each week,
subscribe to our ONLINE EDITION!
Mobile FEMA office locates in Kenmare
As part of the efforts to locate Minot flood victims, the Federal Emergency Management Agency opened a disaster recovery center in Kenmare on Monday.
7/13/11 (Wed)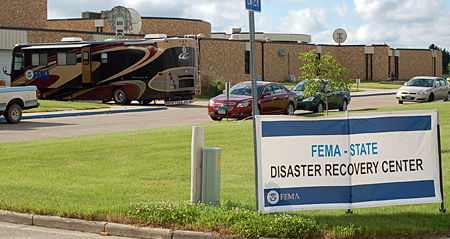 FEMA opened for business at the Kenmare High School Monday morning.
By Caroline Downs
As part of the efforts to locate Minot flood victims, the Federal Emergency Management Agency opened a disaster recovery center in Kenmare on Monday.
The mobile FEMA office is located at Kenmare High School and will be open 9 am to 7 pm daily through Saturday, July 16th. The disaster recovery centers use several locations to provide easier access for residents from the areas that suffered damage in this year's flooding incidents.
Two centers in Minot, located at the Minot State University Student Center and the Minot City Auditorium, will remain open indefinitely, with hours from 8 am to 8 pm daily. All three centers have representatives available to help answer questions about assistance and recovery programs.
Residents who plan to visit a recovery center should register for assistance before their visit. Persons can call 1-800-621-3362 or (TTY) 1-800-462-7585 between 6 am and midnight (CDT) until further notices.
Individuals can also register online any time at www.fema.gov or www.disasterassistance.gov or by smartphone at m.fema.gov.
Noel Boxer, external affairs officer with FEMA, said individual cases could be handled more efficiently if people register by phone or online before they visit a recovery center. "That way we can pull up their file on the computer and answer any questions they might have," he said.
However, a phone bank is available at the Kenmare recovery center for anyone who has not yet completed the registration process.
Boxer reported that as of July 10th, 6,451 Ward County residents and 53 Renville County residents had applied for FEMA disaster assistance, with $10,005,456 approved to date for FEMA grants. "Most of those will go for temporary housing assistance, primarily rental assistance," he said.
More than 2,700 visits had been made to the disaster recovery centers in Minot and Burlington, and the Kenmare center had 20 visitors by late afternoon after opening Monday morning.
"It's good to see folks are coming in there on the first day of business," said Boxer. "We encourage everyone to apply as soon as possible, even if they think their damage is minimal. The sooner they apply, the sooner we can determine their eligibility and the sooner we can get them financial assistance if they're eligible."
Representatives from FEMA housing and individual assistance programs are available at the Kenmare and Minot centers to receive and provide information about individual applications. FEMA mitigation specialists are on hand to provide information and answer questions for individuals about cost-effective rebuilding and repair techniques to reduce property damage in future disasters.
"They can visit us repeatedly," Boxer said. "We're happy to see them."
Small Business Administration
provides disaster help to
homeowners and renters, too
Customer service representatives from the U.S. Small Business Administration (SBA) are also available to homeowners, renters and businesses who visit the Kenmare disaster recovery center. SBA personnel can answer questions about the SBA disaster loan program and assist with disaster loan applications.
"We work closely with FEMA," said Garth MacDonald, SBA public information officer.
However, he noted the name of his agency could be misleading. "We have an Office of Disaster Assistance," he said, "and we're kind of the long-term recovery arm. We're trying to get that message out."
Most homeowners and renters who register with FEMA will be referred to SBA, which can provide access to disaster loans that are the primary source of money to pay for repair or replacement costs not fully covered by insurance or other compensation.
"We provide low-interest loans. If people register with FEMA, most of them automatically receive a package from us," said MacDonald. "If they get this package, they should fill it out and send it in. If we can't approve them for a loan for some reason, then we refer them back to FEMA and they may be eligible for the Other Needs Assistance program."
MacDonald emphasized all homeowners, renters, businesses of all sizes, and private, non-profit organizations should complete and submit the application for a low-interest disaster loan, even if they're not certain yet that they want or need a loan. The loans come with fixed interest rates below 3.00 percent.
The SBA applications can be completed independently of any outstanding insurance claims or settlements related to the flood. "That way, you can start working on your property possibly quicker," MacDonald said.
Homeowners may borrow up to $200,000 to repair or replace their primary residence.
Homeowners and renters may borrow up to $40,000 to replace personal property lost or damaged in the Mouse River flood.
Businesses may borrow up to $2 million to assist with any combination of property damage or economic injury. MacDonald explained that businesses located outside of the flood zone could be eligible for a loan if their economic activity has been impacted because of customers (individuals or other businesses) who were direct flood victims.
Business and non-profit organizations having difficulty meeting obligations as a result of the disaster also have the option to apply for low-interest working capital loans, called Economic Injury Disaster Loans.
MacDonald encouraged all flood victims to complete the SBA paperwork. "Don't limit yourself," he said, adding that applicants do not have to take the maximum amount of money approved for a loan. "If you're approved, we tailor a payment to fit within your budget. We're not going to put you into a loan that you're not going to be able to afford."
He continued, "At SBA, our goal is to try to get you as close to pre-disaster conditions as possible."
Individuals or businesses that want to apply to SBA must first register with FEMA. Then, the SBA applications can be done online at disasterloan.sba.gov/ela or completed with assistance from an SBA representative at the Kenmare site or any other disaster recovery center.
MacDonald said persons could also call 1-800-659-2955 to apply or get questions answered.
Another resource for businesses impacted by the spring and summer floods is the Business Recovery Center open at the Minot Municipal Auditorium Monday through Friday from 9 am to 6 pm. The BRC is specifically designed to provide key financial services to these businesses.
"This is a place where business people can go in and get one-on-one help with their applications," MacDonald said. "With the significance of this flood, a lot of businesses have also been impacted."
SBA representatives at the business recovery center are assisted by personnel with the North Dakota Small Business Development Centers, who can provide counseling for financial, accounting, marketing and other post-disaster challenges; management and technical assistance; business planning to help owners re-establish their operations and plan for the future; and assistance with updating or rewriting business plans.
SCORE counselors, who help small businesses with their disaster recovery, and the Women's Business Center are two other North Dakota agencies coordinating efforts with the SBA.
"These folks are here in the community, long after we're gone," said MacDonald. "It's an untapped resource."
He reiterated the importance of maintaining a sense of community, and the SBA's role in that process.
"We try to keep the community whole, and keep things going during the flood recovery process," he said, adding that losing Minot's population base is one of the biggest concerns for citizens and the business community. "Hopefully, we can help keep people surviving through this tough time and to the other side."
SBA representatives are available at the Kenmare disaster recovery center between 9 am and 7 pm now through July 16th.