Thanks for reading some of the latest features about area people and events.
To view every page and read every word of The Kenmare News each week,
subscribe to our ONLINE EDITION!
Four inches to seven inches of rainfall recorded again Friday
Ward County roads 1 and 2 west of Kenmare were shut down Friday night, following the day's torrential rainfall that led to flash flood conditions.
7/13/11 (Wed)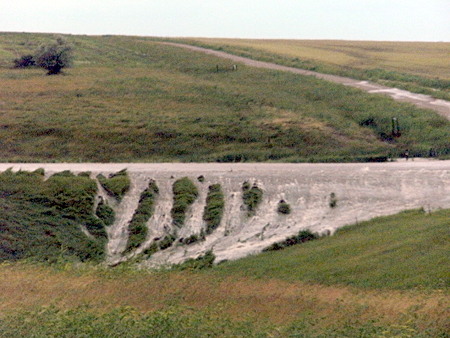 This is not a spillway . . . Runoff spills over the north side of paved
Ward County Road 2 east of Niobe after seven inches of rainfall were
recorded Friday at the Orlan Nelson farm just north of this location.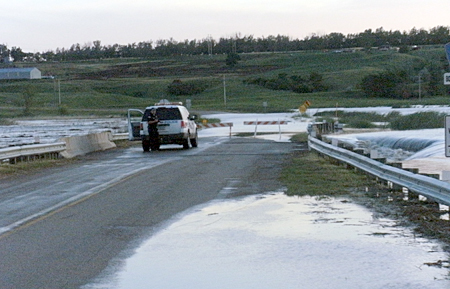 Spillway spills over . . . Water nearly surrounds Kenmare police
officer Bill Cox as he parks his patrol car on the bridge over the spillway
of the Des Lacs Lake at Kenmare's west edge. Water flowing over
the road reached a depth of four feet at one point.
By Caroline Downs
Ward County roads 1 and 2 west of Kenmare were shut down Friday night, following the day's torrential rainfall that led to flash flood conditions.
Kenmare itself received about 1.60 inches of rain, according to Jim Potter, who also reports rainfall amounts to the KXMC television station in Minot.
Showers started in the late morning and continued throughout the day, with thunder, lightning and occasional high wind gusts. The storms wound down after 6:30 pm, and rainfall totals varied widely across the immediate area.
Jackie Schoemer recorded over four inches at their farm north of Kenmare. "We had three and a half inches in almost an hour, and an hour later we got another .90," she said. "I've never seen it come that hard."
Reports from the area north and west of Kenmare into southeastern Burke County ranged from four to six inches.
"I couldn't believe the water," said Bruce Ankenbauer, who saw a wide range of precipitation amounts on his own property west of Kenmare. "We had 1.70 inches at the top of the hill, but at the bottom of the hill, we got four and a half inches."
Orlan Nelson said the wind-driven rain late in the afternoon actually pushed and tilted a rain gauge near the shop at his farm northwest of Kenmare. "You could hardly see the shop one time," he said. "There was a wall of water."
Nelson estimated between six and seven inches fell at his farmstead, transforming much of his yard into a temporary lake.
The rainfall drained into coulees and creeks feeding the Des Lacs Lakes, leading to a rapid rise in water that flooded both Ward County 1 and 2 west of Kenmare between 9 and 9:30 pm.
Kenmare police officer Bill Cox assisted Ward County personnel with closing the roads. He noted water was flowing across Ward County 2 and covered the roadway from the intersection with Ward County 1 almost out to the junction with the Boat Dock Road. A great deal of debris, including cattails, branches and small trees, was floating in the water there.
Water also flowed across the low spillway west of the bridge on Ward County Road 1 where water has been pooled or flowing most of the spring. However, Cox said Friday night that water was backed up from the bridge to well across the spillway, with an estimated depth of four feet at one point.
Cox was stationed on the east side of the barricades to advise drivers of the situation. He made his regular rounds through Kenmare neighborhoods, then returned to the flooded roadway each time. "There was a lot of traffic that had to be turned around," he said.
Ward County personnel opened both roads by 6 am Saturday, according to Cox. Ward County 2 was dry, with debris left scattered across its surface at the time.
As of Monday, water still flowed across the spillway on Ward County Road 1, but traffic was allowed to proceed with caution.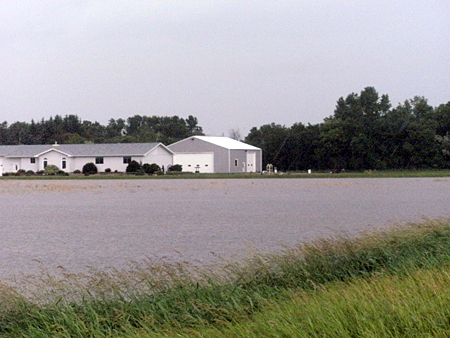 Lakefront living . . . The Orlan Nelson farm (above), located east
of Niobe, and the town of Niobe (below) each had its own lake
following the Friday deluge.
(All photos courtesy of Orlan Nelson.)