Thanks for reading some of the latest features about area people and events.
To view every page and read every word of The Kenmare News each week,
subscribe to our ONLINE EDITION!
KHS basketball team sees return of several experienced players
The Honkers boys basketball team started their season last night with a game at Ray—and several returning players, a situation that head coach Thurstan Johnson appreciates.
12/01/10 (Wed)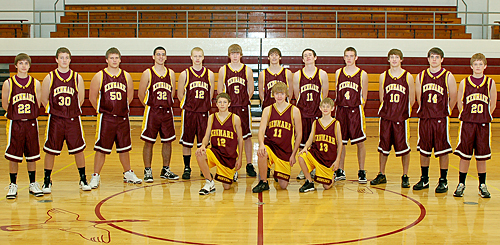 2010-2011 KHS Boys Varsity/JV Basketball Team
By Caroline Downs
The Honkers boys basketball team started their season last night with a game at Ray—and several returning players, a situation that head coach Thurstan Johnson appreciates.
"We return four pretty experienced players with lots of varsity minutes," he said. "Clay Nelson has started for us the last two years. Jon Skjordal and Joey Rodin started last year, and Jon Essler was our sixth man off the bench."
And while the team may not have the tallest players in the district, Johnson is pleased with his players' speed up and down the court, and their shooting abilities. "We should be able to score points," he said.
Seniors Clay Nelson and Jon Skjordal agreed. "We're fast, because we're short," Nelson joked.
"And we've got a lot of heart," added senior Chris Colby with a grin.
With only a dozen players on the varsity roster, including new senior John Fetterhoff, Johnson is looking to develop a bench for the Honkers. "We need to find out who's going to be our sixth and seventh guys," he said.
He has been emphasizing defensive play during practice. "We need to be better defensively," he said. "We want to play aggressive defense and get in people's faces, not give up so many points. Our focus is to play an intensive defense for the full 32 minutes and be consistent at that."
Better rebounding is another key to the Honkers' success this season. "We've got to team rebound," said Johnson. "We want to see all five guys on the floor, boxing out."
Nelson agreed. "Anyone can score, but you've got to stop the other team to win," he said.
Skjordal also wanted to see better rebounding on the court. "For our size, we need to do that to be competitive," he said.
Seniors Colby and Joey Rodin want to see their teammates work together up and down the floor. "We need to be playing together as one," Colby explained.
"It's about playing a little bit tougher and putting yourself on the line," said Rodin, adding that he and the other players needed to be willing to go after the ball rather than give up the floor to the other team.
Assistant coach and new math instructor Anthony Keavney has added another dimension to the Honkers' game with his ball handling drills. "He's a true guard and knows what the position requires," Johnson said, adding that his own experience has been as a post player. "His drills have been beneficial. We're starting to see that."
The two coaches have also sent their players to the weight room, with the results already evident. "We've been doing a lot of strength training," Johnson said, explaining that groups of players use the equipment four mornings a week, beginning at 7:30 am. "And we're even doing some [other exercises] during practice to try to help us out."
With the exception of Minot Bishop Ryan, a squad that lost only one senior to graduation, Johnson believed the District 12 teams are more balanced top to bottom this year. "You look at Bishop Ryan and Berthold," he said. "Then DLB will be tough. Surrey and Mohall-Lansford-Sherwood have good athletes. There's going to be a good mix in the middle to battle for those last couple of regional [tournament] spots."
Kenmare intends to claim one of the berths. "We've been in the district semi-finals the last two years," Johnson said, "but we've got to get over that hump. We want to get to that regional tournament and see what can happen."
Rodin and Colby were looking forward to the challenge of meeting up with Bishop Ryan and Berthold again. "I don't like the loss we took to Ryan last year," said Rodin, "but they've brought back a lot of people."
"They're the powerhouse," added Colby. Then he grinned again. "I think this might be the year we can take 'em down."
The two agreed they'd like the Honkers to achieve a winning record and qualify for the regional tournament. "And I'd like to play in that Fab 14 championship game," Rodin said.
Johnson said the Honkers fans can expect to see some fun basketball in the weeks before post-season tournament action begins. "We're going to be up and down the court, taking care of the ball," he said. "It's going to be a fast-paced, clean type of basketball. We don't want a game interrupted by whistles."
He said the Kenmare team wants their game to flow, with aggressive and smart play. "We can't get into foul trouble," he said. "We have to play straight-up, clean basketball."
The Honkers are led by seniors Clay Nelson, Joey Rodin, Chris Colby, Jon Skjordal and newcomer John Fetterhoff.
Juniors taking flight on the varsity squad include Austin Heidel, Kolby Iverson, Jonathan Essler and Ryan Young.
Sophomores wearing the maroon and gold are Tyler Ellsworth, Mason Ankenbauer and Jace Helmers, as well as Charles Steinberger, pending medical approval.
Freshmen taking the court in junior varsity play include Blake Iverson, Patrick Farrell, Colton Radomski and Kirkland Melby.
Eighth graders filling in on the C-squad for a few weeks until their regular season begins are Hunter Harris, Spencer King, Brett Froseth, Jack Skjordal, Levi Goettle and Austin Redding.
Katelyn Kostad and Alix Kling will take stats for the team.
The Schedule:
Nov. 30--at Ray, 5:45
Dec. 11--at Parshall, 1:30 pm
Dec. 16--at Westhope, 5:45
Dec. 20, 21, 28, 30--Fab. 14 Tournament
Jan. 4--at Bottineau, 4:15
Jan. 6--Our Redeemer's, here, 5:45
Jan. 11--DLB, here, 4:15
Jan. 14--at MLS, 4:15
Jan. 15--Dunseith at Minot Aud., 1:00 pm
Jan. 20--at Surrey, 4:15
Jan. 22--New Town, here, 2:30
Jan. 25--Glenburn, here, 5:45
Jan. 28--at Berthold, 4:15
Jan. 31--Bishop Ryan, here, 4:15
Feb. 4--Divide Co., here, 5:45
Feb. 7--Stanley, here, 4:15
Feb. 10, 11, 12--District (Minot)
Feb. 21,22,24--Regional (Minot)
March 3, 4, 5--State (Minot)
"It's going to be an exciting year for basketball," Johnson said. "Ryan is coming here and DLB is coming here, so a couple of our bigger games will be at home."
Looking at the more immediate schedule, the Fab 14 tournament begins December 20th with games in Kenmare. "Trenton will be tough, and New Town is one of the top teams in the state," said Johnson. "We're looking forward to playing them."
The senior players invited fans to join them from the bleachers and show great sportsmanship, encouraging the team with positive comments and cheers. "Come out and support us," said John Fetterhoff.
"In the good times and the bad," Colby added.
"We have a shot at a good record before Christmas," said Coach Johnson. "When we get into the district schedule, then we have to be ready to go!"