Thanks for reading some of the latest features about area people and events.
To view every page and read every word of The Kenmare News each week,
subscribe to our ONLINE EDITION!
Kenmare hospital has a new doctor
Kenmare newest health care provider is excited to meet area residents of all ages as she realizes a long-held goal of practicing family medicine. "I see everybody," she said. "I like the full spectrum."
10/10/12 (Wed)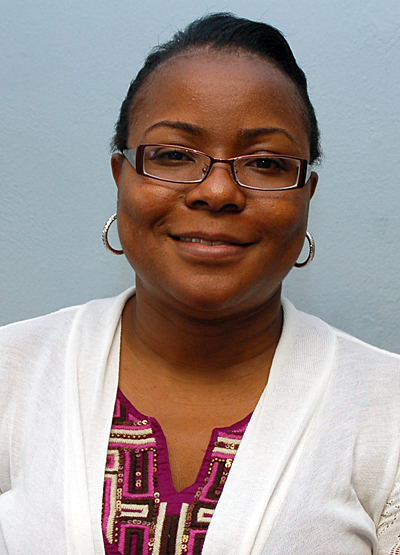 Dr. Olatunji, now practicing at Trinity Community Clinic-Kenmare
By Caroline Downs
Kenmare newest health care provider is excited to meet area residents of all ages as she realizes a long-held goal of practicing family medicine. "I see everybody," she said. "I like the full spectrum."
Dr. Olatunji began working at the Kenmare Clinic in mid-September, after completing her residency at the University of North Dakota Center for Family Medicine in Minot in early September.
Her new position in family practice fulfills a dream she's held since childhood.
"My mom is a nurse," she said. "She did work in a public health clinic at home, similar to family practice."
As a young girl, Dr. Olatunji observed her mother caring for and educating patients of all ages. Sometimes, Olatunji even joined her mother at the clinic to help in whatever ways she could. "She started getting me intrigued," Dr. Olatunji said. "I decided very early I wanted to do medicine."
By the time she attended secondary school, she established a goal to become a doctor and enrolled in the science track to prepare for college. "I liked biology," she said, then laughed. "It helped I wasn't squeamish!"
She continued her education at the University of Ibadan College of Medicine in Nigeria. "This was the first medical school in Nigeria," she said. "It's the oldest, the first and the best!"
She earned her MD degree after six years of medical school and an internship at the Lagos State University Teaching Hospital in Nigeria. "Back home, you get a provisional license for your internship," she explained. "For that one-year internship, you do everything: surgery, OB/GYN, medications, pediatrics. Then you decide what you want to do."
Dr. Olatunji still had an interest in family practice, and she decided to finish her studies in the United States. "I wanted to learn here because they have the best health care system," she said.
To achieve her goal, she joined some of her siblings and other family members living in London, where she spent two years studying and writing her U.S. medical exams. She also did administrative work in a general practice (GP) clinic there. "It was that idea about family practice," she said.
A stint in North Carolina where one of her brothers lived allowed her to finish the exams to study medicine in the United States. The visit also presented the idea of practicing in North Dakota.
As part of the exam requirements, Dr. Olatunji had to complete a series of observations, which led her to Duke University Hospital where she became acquainted with the program director. "She told me about the program in Minot," said Dr. Olatunji, adding that the director emphasized opportunities in North Dakota to work in family medicine. "She introduced me to this place, so I came and looked, and then I stayed."
Dr. Olatunji had an option to complete her residency in New York City, but she preferred to move to the prairie. "It's much easier to practice family medicine in a rural setting," she said.
She finished her exams at the end of 2008 and interviewed that November for a residency position with the UND Center for Family Medicine. She was accepted, but didn't begin there until June 2009, so she filled the time with work for the World Health Organization (WHO) in Nigeria.
"There was an epidemic of polio back home then," she said. "I volunteered to help with the vaccination and education programs there, then I came here."
She and her husband, now an adjunct professor in energy finance at Minot State University, relocated to Minot when she started her residency. She laughed again as she described her parents' reaction to the news. "My family didn't know where Minot was," she said. "They thought it was in Canada."
The two-year residency plan extended to three years as she took leave to give birth to the couple's daughter in October 2011, but now Dr. Olatunji has officially started her first position as a full-fledged health care provider in Kenmare.
"It's been a journey," she said, "a good one, memorable."
A bias toward
preventive medicine
Dr. Olatunji is delighted to finally live her passion for family medicine. "I like family medicine because it's not just one age group, one sex or just surgeries," she said. "I love the preventive health aspect of it. Once we have good family practice, it helps the health of the community."
She also appreciates the chances to meet the community through the families she sees. "You treat everybody and you get to know the whole family!" she said.
She admitted a bias toward preventive medicine, with an emphasis on regular immunizations, routine screenings and healthy eating. "Once we get you to a screening level, we don't have to spend millions of dollars treating problems," she said with a smile.
"The key is preventive medicine and I tell my patients that," she continued, then wagged her finger. "Eat healthy! Less red meat! Quit smoking!"
However, she will not randomly lecture Kenmare residents about their lifestyle habits. She wants to share programs about health topics, but she plans to first become familiar with the town's citizens and their needs.
"Ultimately, my goal is to offer community education," she said. "Once people know what's good and bad for them, that makes for a healthier community."
She has committed herself to the health and well-being of the Kenmare community.
Even with family ties in Nigeria and a long-range goal to practice medicine in her home country someday, Dr. Olatunji and her husband are pleased to stay in North Dakota for the foreseeable future. "For now, I'll try to give something back to the U.S.," said Dr. Olatunji. "They gave me the residency."
Three providers to see
patients in Kenmare
Dr. Olatunji will work a full-time schedule in Kenmare, living in town during her work weeks. She will be responsible for patient care in the emergency room and hospital during those times, and individuals can schedule appointments with her at the Kenmare Clinic by calling 701-385-4283.
She also wants her patients to know she is in the process of changing from her maiden name, which she currently uses, to her married name. "I'm hoping by the end of the year to change it," she said, adding she will be known as Dr. Oni at that time.
Family nurse practitioners Jody Olson and Heather Lautt will maintain their schedules at the clinic and hospital, and the three health care providers will coordinate care for their patients.
"I'm here to help as much as possible," said Dr. Olatunji, "and I want to see what the community needs."