Thanks for reading some of the latest features about area people and events.
To view every page and read every word of The Kenmare News each week,
subscribe to our ONLINE EDITION!
Firefighter Walt Blaze and his fire safety tips are a hit with Fun Zone Daycare kids
Firefighter Walt Blaze was a hit among the daycare crowd when he made his first appearance with the Kenmare Fire Department on Friday.
10/17/12 (Wed)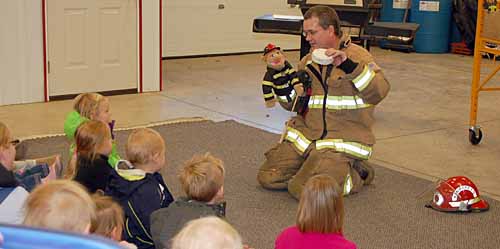 Firefighter Walt Blaze . . . Kenmare Fire Department assistant chief
Nate Condit talks about checking the batteries in fire detectors with
his puppet, Walt Blaze, and children who attend the Fun Zone Daycare.
Walt, who is supposedly allergic to cats and afraid of heights, sparked
plenty of laughter from the young crowd as they learned serious
lessons about fire safety during Fire Prevention Week.
By Caroline Downs
Firefighter Walt Blaze was a hit among the daycare crowd when he made his first appearance with the Kenmare Fire Department on Friday.
"Walt," as he was called by his handler, Assistant Chief Nate Condit, showed up in his own turnout gear and helmet. He perched on Condit's arm and provided a focal point for the kids from the Fun Zone Daycare as Condit reviewed several fire safety tips with the kids.
"Okay, Walt, what the number one thing we want the kids to remember?" Condit asked the puppet.
The kids chimed in quietly as Walt answered, "Don't play with matches."
Walt assisted Condit in demonstrating proper use of electrical outlets and the safe placement of pots and pans on stovetops. The kids laughed as Walt "helped" Condit test a fire detector, and they nodded when Walt told them to remind their parents to check the smoke detectors at home two times each year and replace batteries as needed.
Condit and other members of the Kenmare Fire Department host the students in grades kindergarten through three from Kenmare Elementary School, as well as from the Little Learners Preschool, during Fire Prevention Week each year. During the visit, the firefighters always demonstrate some of their equipment and review fire safety rules.
This year, the department included kids from the Fun Zone Daycare at the request of owner Billie Steen, so Condit planned a different approach with the young children using his firefighter puppet.
"A lot of times, the younger kids get scared when we talk to them," he said. "And, ultimately, with the young groups we want them not to be afraid of us, so I figured Walt was something they could relate to."
Walt took time to shake each child's hand before Condit introduced firefighter Scot Ness.
"I don't want you to be scared of a fireman," Condit told the group. "Scot is going to put on all the gear. He's going to put on his breathing gear, and he's going to put on his mask."
The kids eyed Ness nervously as he hoisted the air tank on his back, then settled the black mask over his face. However, Walt kept up a running commentary about the gear with Condit. The kids watched Walt, who stayed calm, so they stayed calm, too.
"We just want you guys to see what it looks like," Condit said. "Don't be scared if you see that."
Ness waved at the audience after he was completely dressed. Walt and the kids waved back. Then Ness removed his breathing and turnout gear. As Walt talked about Ness being the firefighter behind the mask, the kids relaxed their tense shoulders and waved at him again.
"They do this so they can go in the fire and save people," Steen told her children.
None of the kids cried when they saw Ness, and hilarity was restored when Condit asked Ness to demonstrate the "stop, drop and roll" technique used when a piece of clothing caught on fire. The kids giggled as Ness performed the move, then laughed outright when Walt imitated Ness.
"He can also do a push-up," Condit added, which sent the kids into waves of laughter again as the puppet practiced his push-ups.
The session ended with plenty of smiles all around as the firefighters distributed red fire hats and coloring packets to the kids. The children called out cheerful "Thank yous" as they left the fire hall.
The firefighters hope the kids return with colored pictures to give the department. "We want them to pick out a picture, color it, put their name on it, and take it back to the fire department," Condit explained, adding that all ages of kids who visited the fire hall this year are asked to do this.
He continued, "We're keeping them on file, like a time capsule. That way, they can come back here someday and we'll show them their pictures through the years."
Other Kenmare Fire Department volunteers who assisted with the presentations included Chief Doug Skjordal, Mitch Duerre, Trevor Melin, Dave Hedlin, Dale Hanson, Ron Wirtz, Adam Schumacher and Christian Standard.
National Fire Prevention Week was observed October 7-13. More information and tips about fire safety practices in the home can be found online at www.fpw.org.