Thanks for reading some of the latest features about area people and events.
To view every page and read every word of The Kenmare News each week,
subscribe to our ONLINE EDITION!
Job is perfect fit for new Kenmare librarian
When former Kenmare Branch librarian Pauline Nielsen announced her retirement plans and started encouraging people to apply for her position, Breanna Aldrich had no doubt the job would be perfect for her.
6/12/13 (Wed)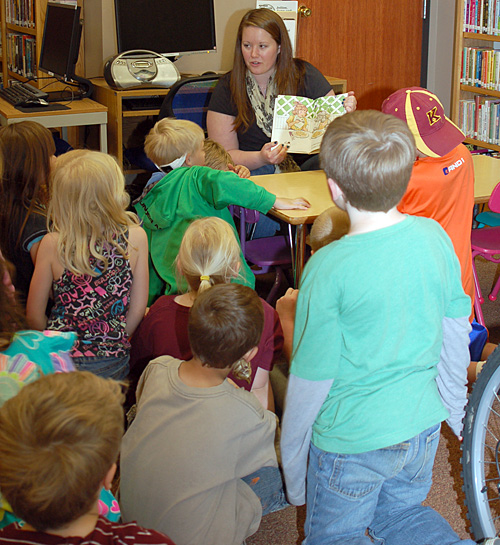 New librarian in town . . . Bree Aldrich shares a book with children during
Thursday morning's Story Time at the Kenmare Branch Library. Aldrich started her
position as the new librarian on June 3rd, following the retirement of Pauline Nielsen.

By Caroline Downs
When former Kenmare Branch librarian Pauline Nielsen announced her retirement plans and started encouraging people to apply for her position, Breanna Aldrich had no doubt the job would be perfect for her.
"I love reading and I love books and I love what the library stands for," she said. "Why wouldn't you want to be a part of that?"
She began her role as the new Kenmare Branch librarian on June 3rd, about 10 months after moving to the Kenmare area from Prairie City, Oregon. She and fiance Jesse Raines live west of town on the Mickelsen farmstead with their daughter, Brooklyn, who just completed kindergarten at Kenmare Elementary School.
"We look at this as a new adventure," she said about the move to North Dakota and her job at the library. "We're excited about getting to know people and building this part of our lives."
Bree, as she prefers to be called, actually got involved with the library shortly after settling into the family's new home. "I talked to Pauline about volunteering here," she said. "With Brooklyn being in kindergarten, I wanted to get out and get to know people."
Pauline urged her to consider subbing behind the desk, and Bree started meeting local library patrons in November. "I thought it was going to be an easy-peasy day," she said of her first subbing experience, "and I don't think I sat down that day at all!"
She laughed and continued. "I'm amazed. I can't believe how many people use the library."
There was a time in Bree's life when even stepping into a library was unthinkable. Originally from Idaho, she graduated from high school in Cody, Wyoming, but she admitted that for many years she hated to read.
"I struggled to read anything," she said, "and I had fights with my parents about it."
However, one story made an impression on her. "I can pinpoint the book," she said. "The Giver by Lois Lowery changed reading for me. Then I had a stepfather while I was in high school who challenged me. He loved literature and he loved to read."
Bree developed into a voracious reader with broad tastes. "I love funny books and period pieces," she said. "I do prefer fiction because I love using my imagination, and I read some non-fiction, mostly biographies, because it's good to know you're not the only one living a chaotic life."
She enjoys the political books published during election years, and she confessed to reading the footnotes referenced in books and magazine articles, which often lead her to do additional research. "I'm not a big science fiction fan," she said, "but I'll give anything a chance."
She wants to share her passions for reading and learning with library patrons, especially children and teens. "I struggle with the idea that kids are so dependent on the Internet and TV for information," she said. "I want to get kids more interested in doing research at the library."
She is considering creating book clubs or similar opportunities for kids. "Something that gets them socially excited about reading," she said. "Maybe book reviews by kids for other kids. I'm looking for ways to engage them."
Of course, she enjoys the summer reading program and related activities already set up for young readers at the Kenmare Branch Library. Story time will continue on Thursday mornings at 10 am. The popular Dr. Seuss and cake decorating events and the annual tour of the Des Lacs National Wildlife Refuge, as organized by Pauline, will remain on the calendar.
"Anything to get kids in here, I'm all for," Bree said.
Library hours will remain the same each week, and the Ward County Public Library Bookmobile will continue making visits to Kenmare on the fourth Monday of each month. "Kids love books on a bus," said Bree.
At the same time, she would like to hear ideas about other ways the library can be used or the types of materials and services it should offer. "I'm open to people who suggest things that would be great for the library or to get people to read," she said.
When she's not reading or working at the library, Bree may be found with a camera in hand. After high school, she attended Northwest Community College in Powell, WY, to study photography and graphic communications. She spent 10 years as a professional photographer, both in a portrait studio and managing an oldtime photo studio. She also worked independently on a limited basis.
After a decade, she pulled back from the business aspect and returned to the fundamentals of photography that sparked her interest. "I enjoy landscapes now and still do a few portraits," she said.
Her former homes in Idaho, Wyoming, Montana and Oregon were all located near mountain country and she misses that terrain, but she appreciates her first experience on the prairie. "Every place has its own greatness," she said. "You have to find the greatness. There's a lot of country to see up here."
Bree considers herself more settled into the community this summer, and she looks forward to her days at the Kenmare Branch Library even as she prepares to handle the load without Pauline's guidance.
"I'm excited to meet everybody," she said, "but learning everybody's names will be my most challenging task."
She continued, "And I hope everyone will be patient with me. I have some big shoes to fill, after Pauline."
The Kenmare Branch Library is open every Monday, Wednesday and Thursday, except federal holidays, from 9:30 am to 12:30 pm, and from 1 to 5 pm. The library can also be contacted by calling 701-385-4090, or by email at library@wardnd.com.
Further information about all of the Ward County Public Library services can be seen online at www.co.ward.nd.us/library.
Bree hopes local library patrons will keep her busy with their requests and interests.
"If I could have the library full of people every day," she said, "I would love that."