Thanks for reading some of the latest features about area people and events.
To view every page and read every word of The Kenmare News each week,
subscribe to our ONLINE EDITION!
Jason Melin is "perfect fit" for management job at Refuge
The Des Lacs National Wildlife Refuge at Kenmare now has a Kenmare native in a management position.
3/06/13 (Wed)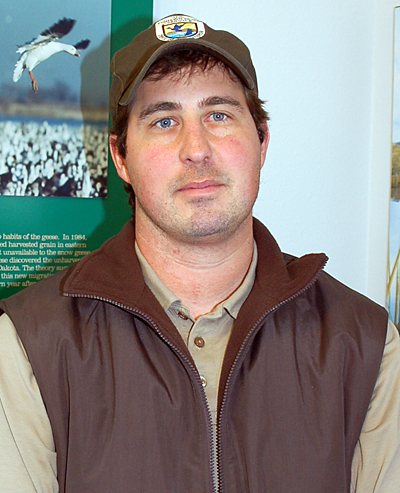 Jason Melin of Kenmare is the new assistant manager
at the Des Lacs National Wildlife Refuge.
By Caroline Downs
The Des Lacs National Wildlife Refuge at Kenmare now has a Kenmare native in a management position.
Jason Melin, an employee in the U.S. Fish and Wildlife fire program, has been hired as the refuge's assistant manager. He started his new role in the same office during the last week of January.
"I see this as putting some long-term stability into the assistant manager position," said refuge manager Chad Zorn. "This position is sometimes seen as a revolving door. A good assistant manager can help the manager with the administrative workload and should be able to help the maintenance staff just as much. With Jason, we were able to find the person who can help both equally."
Melin started working for the refuge as a seasonal employee with the fire program in 1998, just one year after graduating from Kenmare High School and a year into his college studies at MSU-Bottineau.
He went on to earn a bachelor's degree in wildlife and fisheries from South Dakota State University at Brookings in 2001 and returned to the Des Lacs NWR as a career seasonal employee in fire in 2002.
"I like to hunt and fish and be outside, so those were the main reasons I went into that field," he said.
With 10 years of experience in fire, Melin intends to maintain his fire qualifications. "I may try to take one fire assignment per year if we're not busy here," he said.
Zorn considers Melin's fire experience to be an asset in his new position, especially with the refuge facing federal budget cuts. "We're getting prepared for leaner times," said Zorn, "and the fire program is being hit already, so now we have an assistant manager who has the qualifications needed to conduct prescribed burns on the refuge."
Melin's job responsibilities are still being determined. "I know I'll be dealing with water management here at Des Lacs, checking the water levels in the units," he said, "and I'll be working with the cooperators for grazing and haying permits on the refuge. I will also be coordinating and doing our [weed] spraying program."
Zorn noted that Melin will share his time with the Lostwood Wetland Management District, which does not have an assistant manager or any maintenance staff. "He'll spend some time in Mountrail County and the Gooseneck of Ward County on those projects," said Zorn.
Melin's abilities to assist Des Lacs employee Dave Gins with maintenance projects were another factor in his transition to the assistant manager role. "I know I'll be working with Dave and the heavy equipment for any of those projects that come up," Melin said.
He is looking forward to the variety of duties. "Now, I'll be more involved with more management strategies, not just using fire as a management tool," he said. "I'll get involved with a little bit of everything, like the grazing and haying."
As assistant manager, Melin hopes his connections to Kenmare will result in more participation from children and adults in refuge programs, including the new Des Lacs Refuge Friends group.
"This refuge is different than most because it's so close to town," he said. "People can walk right outside and be on the refuge to do their activities, whether it's looking at the waterfowl and other birds or hunting during those seasons."
According to Zorn, there has not been a position funded for an assistant manager for several years. However, the Des Lacs refuge had the opportunity to convert the funds and the maintenance position formerly held by Duane "Doc" Dockter to the management track.
"After much debate about what was needed here, we went that route," Zorn said. "We have another maintenance employee in Dave Gins, with stability there, and this would put some continuity into the management side of operations. This is a solid, core position for the Des Lacs National Wildlife Refuge."
The position was advertised for all USFWS personnel. "Jason had to compete for the job, but he was the perfect fit for the position," said Zorn.
He continued, "He will be able to establish the relationships needed with cooperators and the community. I believe it will be a positive move for this refuge for years to come."
Melin lives in Kenmare with his wife Jessica (Jones), four-year-old daughter Berklee and eight-week-old son Bridger.