Thanks for reading some of the latest features about area people and events.
To view every page and read every word of The Kenmare News each week,
subscribe to our ONLINE EDITION!
Bird Count reveals some firsts and some surprises
Observations during the annual Christmas Bird Count in the area included a number of firsts, as well as some surprises.
3/06/13 (Wed)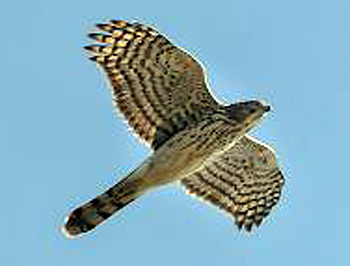 Northern Goshawk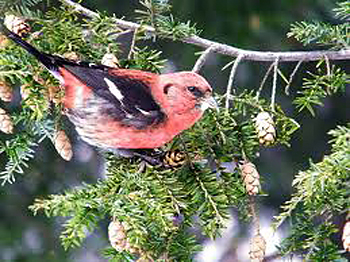 White-winged Crossbill
By Caroline Downs
Observations during the annual Christmas Bird Count in the area included a number of firsts, as well as some surprises.
Numbers just made available this past week reveal Eurasian collared-dove, white-breasted nuthatch, Lapland longspur, common grackle, house finch and red and white-winged crossbills were all observed for the first time at the Lostwood NWR count.
Golden-crowned kinglets were still in the area, and a northern goshawk was recorded for the first time as observers watched it hunting pheasants.
The most surprising sighting of the day was a flock of approximately 570 Canada geese seen flying south near Powers Lake.
Most geese and other waterfowl had migrated through the area more than a month earlier.
Volunteers on the Des Lacs NWR count saw a relatively high number of red crossbills, with 15 of the birds observed, along with 7 white-winged crossbills.
The highest count of ring-necked pheasants was also reported, with 146 individual birds seen, which should please upland game hunters.
The Des Lacs count was conducted December 20, 2012 by nine refuge staff members and local volunteers covering a total of 231.5 miles by vehicle and on foot.
Conditions for the day were clear with calm winds as temperatures ranged from a morning low of -13F to an afternoon high of 10F.
The ground was snow-covered at a depth of three to six inches, with little bare soil exposed.
The observers noted 34 different species of birds and 2,242 total birds, nearly double last year's amount but still just under the count's average of 4,686 birds.
Along with the pheasants, 117 sharp-tailed grouse were seen, along with 22 wild turkeys.
Observers found 1 merlin, 4 great horned owls and 1 snowy owl, but the presence of 3 immature bald eagles was the highest number of eagles ever recorded for the count. Bald eagles have only been observed during seven counts since the event started in Kenmare in 1939.
Three northern shrikes, a relatively small bird that preys on other songbirds, were included in the count.
Numbers of Eurasian collared doves, reported during the past five years, also set a new record, with 27 of the doves seen. Four ravens, which are becoming more common in the region, were also observed.
Totals of some of the area's most common winter birds were higher than in previous years, including 427 snow buntings, 217 Lapland longspurs and 16 horned larks. No longspurs were seen during the 2011 count on the refuge.
The volunteers noted 621 common redpolls and 6 hoary redpolls, a less frequent winter visitor in the area.
Bohemian waxwings were seen fairly often, with 103 counted, while house sparrows totaled 187 for the day.
Other species on the 2012 list included pigeons, yellow-shafted flicker, magpies, crows, chickadees, red-breasted and white-breasted nuthatches, starlings, dark-eyed juncos and two species of finches. Goldfinches winter in the Kenmare area, but lose most of their characteristic yellow coloring during the winter months.
The official count period designated for the nationwide Christmas Bird Count event is the period between December 14th and January 5th. The count is conducted at more than 2,000 locations across North America each year. It began in New York during the late 1800s and has grown into a tradition. The count provides a means of tracking trends in population size and distribution of several bird species.
The Des Lacs count in Kenmare has been conducted nearly every year since 1939.
The Lostwood NWR Christmas Bird Count resulted in 10 new listings for the count, which has been conducted for the past three years with assistance from members of the Lostwood Birding and Nature Association.
Eight volunteers assisted with the count at Lostwood on December 19, covering almost 304 miles by vehicles and foot. Temperatures ranged from 9 to 15 degrees F during the event. Winds gusted between 10 and 20 mph that day, with snow cover at 5 to 12 inches deep.
The 24 different species seen was lower than the Des Lacs refuge count, but the total number of birds seen was greater at 6,752 birds.
Observers counted 4,830 snow buntings in that total, which established a new record for the Lostwood count. The common redpoll estimate of 510 birds set a record as well, along with 17 common ravens.
Lapland longspur numbers were reported at 150 birds, while horned lark numbers totaled 125.
No owls, eagles or other raptors were seen during the Lostwood count, but the species list was similar to the Des Lacs refuge list, with 96 pheasants and 105 sharp-tailed grouse noted.
For more information about the Christmas Bird Counts at the Des Lacs and Lostwood refuges, contact wildlife biologist Laurie Richardson of the Lostwood Wetland Management District Complex at 701-848-2466, ext. 17, or visit her at the Lostwood refuge headquarters on ND Highway 8 west of Kenmare.