Thanks for reading some of the latest features about area people and events.
To view every page and read every word of The Kenmare News each week,
subscribe to our ONLINE EDITION!
Honkers expect to be overlooked but improved on the football field
Kenmare-Bowbells-Burke Central football coach Courtney Seime talks with his players at practice about being overlooked.
8/22/12 (Wed)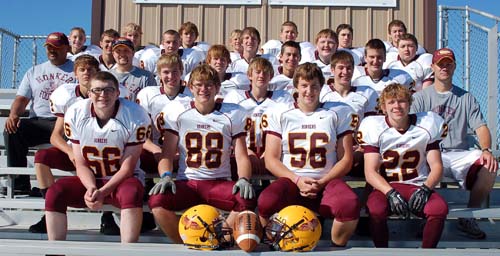 2012 Kenmare-Bowbells-Burke Central "Honkers" football team
By Caroline Downs
Kenmare-Bowbells-Burke Central football coach Courtney Seime talks with his players at practice about being overlooked.
The team finished with an abysmal record last year, winning only one game during the Region 3 9-man season. Over half the players on the 2011 varsity squad were freshmen, while injuries plagued a couple of the older team members.
"This year, we hope they're looking over the top of us," Seime said. "We're going to come out and surprise them."
The Honkers have returned nine of those green freshmen as experienced sophomores, adding depth behind the four juniors and four seniors on the roster. "We've got a lot of boys who have quite a bit of experience," said Seime.
The boys practice with focus and intensity, and Seime likes much of what he sees in those sessions. "Our linemen aren't big, but they've got a little quickness," he said. "And our quarterbacks, running backs and wide receivers are better in those positions."
The Honkers won't impress any other team in the region with size alone, so Seime wants the boys to think and play stronger. "We have to work on getting mentally tougher and physically tougher," he said. "We can't back down. They have to play with no fear."
Fans will watch those players work their way down the field a few yards at a time in hard-nosed football, according to Seime. "We'll primarily run the ball and throw when we have to," he said. "It'll come on four yards a play."
The K-B-BC seniors are looking for a better record with their more seasoned team. "Most of the sophomores have a lot of experience," said tight end Taylor Egeberg. "As freshmen, they got a lot of playing time under their belts."
Egeberg described his younger teammates as hardworking and quick, while senior tight end Mason Ankenbauer called them energetic. Both veteran players were also happy with the addition of former KHS graduate Brock Zietz as an assistant coach for the team. "He's been a good help to our defense," Egeberg said.
"He's definitely a coach that will push you harder," added Ankenbauer.
The team knows they need to be pushed, given the level of competition. "It's going to be a strong region again," said Seime.
"North Star has good athletes back, and Surrey and TGU always have good teams. Every night is going to be competitive, and we're going to have to play to the best of our ability."
Like the seniors, Seime predicts the Honkers' record will improve over last year. "I have confidence the boys will be more successful," he said, "if they believe in themselves and work hard."
K-B-BC roster
The Honkers are led by seniors Mason Ankenbauer, Taylor Egeberg, Casey Lucy and Briot Nehring.
Juniors looking for the end zone this season include Kirkland Melby, Douglas Winzenburg, Austin Undhjem and Blake Iverson.
Sophomores storming the field will be Quinn Chrest, Mark Dean, Tanner Egeberg, Alex Giese, Levi Goettle, Hunter Harris, Spencer King, Austin Redding and Jack Skjordal.
Freshmen suiting up in the maroon and gold include Brandon Burtch, Jordan Hanson, Ty Jesz, Konnor Keysor, Tanner King, Austin Manz and Kyler Melby.
Stats will be managed by Shelby Hass, Morgan Goettle and Jordan Balvitsch, with Hass and Goettle handling video duties as well.
Coach Seime is assisted by Brock Zietz and Guillermo Santizo, who will also be coaching the junior high football players.
Honkers schedule
The Honkers started their season at home last night (August 21), hosting the rival MLS Mavericks. The team will travel to Four Winds Friday night and go back on the road August 31st against Benson County at Leeds.
Fans can watch the team at home September 7th when St. John comes to town, followed by Homecoming Week with the parade and big game against Drake/Anamoose on September 14th.
K-B-BC plays at TGU on September 21st then hosts North Star on September 28th in the final home game. The regular season for the varsity squad will close at Surrey on October 12th, with regional playoff games to follow.
The Honkers look forward to an exciting season, with encouragement from their fans. "It seems like we play better when we have a crowd around to support us," said Egeberg.
"Come out and cheer loud," said Ankenbauer. "It helps us a lot!"