Thanks for reading some of the latest features about area people and events.
To view every page and read every word of The Kenmare News each week,
subscribe to our ONLINE EDITION!
Guided nature Hike includes parts of the refuge that are normally closed
Deer tracks. Damselflies. Purple blazing-stars and goldenrod. Waterbugs and snails. And just enough mud to keep kids happy and mothers watchful.
8/22/12 (Wed)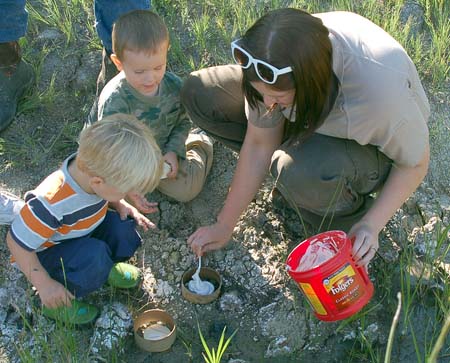 Tracks to preserve and keep . . . Brooks Ones, left, and Tommy
Jewett, center, watch carefully as outreach and education
coordinator Jennifer Jewett covers impressions of deer tracks with
wet plaster during the Guided Nature Hike at the Des Lacs refuge
Thursday night. Kids who attended the activity took the dried
track casts home as a souvenir of their evening spent outdoors.
By Caroline Downs
Deer tracks.
Damselflies.
Purple blazing-stars and goldenrod.
Waterbugs and snails.
And just enough mud to keep kids happy and mothers watchful.
Those were among the discoveries made by the children who attended the Guided Nature Hike at the Des Lacs National Wildlife Refuge Thursday evening.
Jennifer Jewett, education and outreach coordinator, and volunteer Jim Coniglio met the kids and their parents at the Boat Dock Day Use Area, then directed them to travel farther north along a refuge access road.
"We're on a part of the refuge that's usually closed," Jewett told the group as they gathered around her to receive treat bags filled nature journals, plant and animal identification guides and other items useful for the activity.
That part of the refuge was bordered on one side by a marshy area of the lake teeming with invertebrates and by a grassy slope on the other side alive with late season wildflowers, grasshoppers and dragonflies.
As they started, the kids' attention went straight to the small creek running along the access road. The mud, water and rocks seemed irresistible, which was what Jewett and Coniglio had hoped.
"Look around in the mud," Jewett said. "What do you see?"
The kids scrambled to find deer tracks up and down the ditch. "There's more deer tracks over here!" called third grader Elizabeth Moldenhauer.
Jewett asked why the tracks would be present there. "Maybe they were eating this grass," Moldenhauer answered.
"They were looking for food here," added first grader Grace Ones. "The tracks do tell a story."
Coniglio directed the group to make their own plaster casts of the actual deer tracks or from molds he brought along to press into the mud. Those needed some time to dry, but the children were happily distracted with crickets, grasshoppers and other insects active on a trail that drew them up the hill.
Jewett broke out plastic insect collectors that looked like blue tongs with a clear plastic ball on the ends, and the kids went to work, capturing bugs and transferring them into plastic jars for observation purposes.
With their eyes on the ground searching for insects, the kids inevitably found flattened patches of grass that marked deer beds. They also picked up relatively fresh deer scat with their "bug catchers" to examine it more closely before heading back down the hill and across the road to look at the lake water.
Coniglio scooped containers full of what appeared to be murky water from the shore's muddy edge, then filled clear cups and trays with samples of the water and handed the kids each a magnifier. "That's cool," Moldenhauer said as she bent her head over her sample. "They're swimming all around in there."
A variety of aquatic invertebrates held the group's attention for about 10 minutes before the kids remembered the small stream nearby and returned to explore the water again and look at their hard plaster track casts. After about 90 minutes of exploration, the kids headed for home, happy and a little muddy.
"When you have young kids in the group, you have to let them do their own thing," Jewett said, referring to the three preschoolers who attended the hike and checked into everything. "They're learning."
She and Coniglio enjoyed their interaction with the kids, both planned and spontaneous. "I like what they come up with when I ask questions," Jewett said. "It's always fun to hear what they have to say."
Coniglio was pleased that despite the age differences, the kids all participated in the various activities. "They engaged themselves, and if you can get them to be engaged, you can introduce more on top of what they're engaged in," he said. "That's how you create impressions."
Jewett said her plan for the evening was to allow whoever attended the hike to enjoy some unstructured time outdoors on the refuge. "It's important to have that learning time to explore by themselves," she said. "I want to see kids outside and not be scared of it."
The next programs scheduled for the Des Lacs National Wildlife Refuge will take place in October, including the Big Sit birdwatching event October 13th and 14th and the annual Haunted Hayride, still to be scheduled. More information about both activities will be posted at a later date in The Kenmare News and on the Des Lacs National Wildlife Refuge's Facebook page.
Persons interested in these events or other activities at the refuge are also welcome to contact Jewett at 701-385-4046 ext. 221.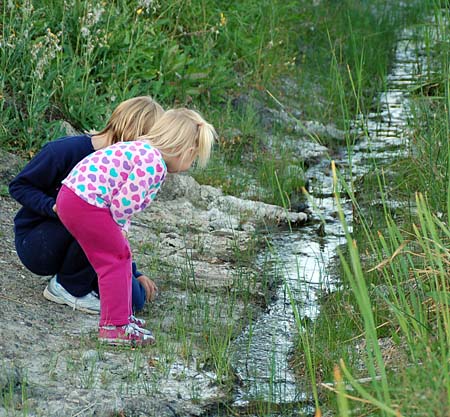 Outdoors attraction . . . A small flowing creek works its magic
on sisters Elizabeth and Kailyn Moldenhauer during the Guided
Nature Hike held at the Des Lacs National Wildlife Refuge
Thursday night. The girls walked up and down the water's
edge, finding deer prints and other animal tracks.