Thanks for reading some of the latest features about area people and events.
To view every page and read every word of The Kenmare News each week,
subscribe to our ONLINE EDITION!
Holiday run of illness
Walking around Kenmare these days, everyone is coughing, aching, sneezing or complaining about a lack of energy. Or so it seems.
1/09/13 (Wed)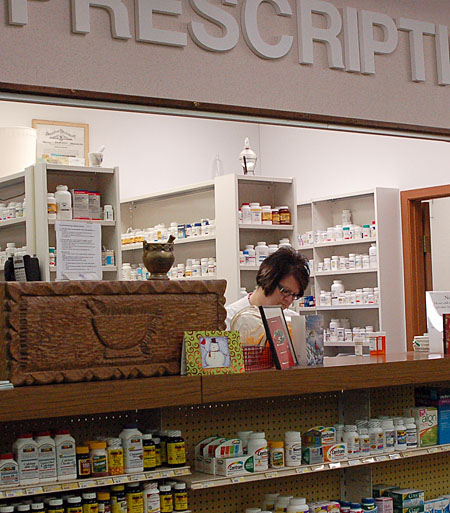 Looking for relief . . . Pharmacies across the state have been busy
with this winter's outbreak of illnesses. Above, Kristi Anderson works
behind the prescription counter at Kenmare Drug.

By Caroline Downs
Walking around Kenmare these days, everyone is coughing, aching, sneezing or complaining about a lack of energy.
Or so it seems.
Cold and flu season has struck with a vengeance, arriving a few weeks early according to some records. The trend extends beyond Kenmare's city limits across the state, where the number of confirmed influenza cases jumped from 625 during the week ending December 28, 2012, to 1,079 for the week ending January 4th.
Hospitalizations to treat confirmed flu patients in the state nearly tripled during the same time period, from 18 to 52.
In fact, the flu is garnering national attention for its coverage and severity this season, with the Centers for Disease Control and Prevention reporting "widespread activity" for the flu in 41 states last week, up from the 31 states a week earlier.
North Dakota was one of the 10 states added to the "widespread activity" category.
Drugstore and clinic
are overrun with patients
Rita St. Croix, a pharmacist at Kenmare Drug, has seen that "widespread activity" for herself. She said the counter has been busy for several weeks with customers requesting prescriptions and advice about over-the-counter medications. "It affects every age group," she said, "and it just hangs on and on."
Even as she spoke Thursday, Becky Kostad and her sixth grade daughter Jeneca approached the counter to pick up a prescription to treat flu symptoms. Jeneca said her illness began just before the holiday break from school.
"It started with a stomachache and worked its way up," she said, speaking in a voice thick with congestion.
Becky said she had been fighting a cold since before Christmas. "Usually, it's over in two or three days, but not this time," she said, adding that the family's holiday visit to Montana turned into a shopping trip for cold and flu remedies.
St. Croix nodded her agreement. "It's just constant," she said about the requests for over-the-counter medicines. "We're well-stocked."
St. Croix noted two varieties of the illness seen among customers at the drug store beyond the typical fever, congestion and coughing symptoms. "There's an intestinal type, with nausea, vomiting and diarrhea," she said. "Some people have had to go to the emergency room and required medications for that. There's a third strain where people just ache."
Several of the Kenmare Drug customers were sent with prescriptions from Trinity Community Clinic-Kenmare, where so many appointment requests came in that the receptionists had to start booking different days.
"Most of what we're seeing here are cold and cough symptoms," said Becky Gilseth, LPN. "People are having the symptoms longer."
"There is more Influenza A and B floating around in the community," added Vicki Lofgren, Clinic RN.
Family nurse practitioner Jody Olson said her appointments ranged from infants to elderly patients, with no particular age group singled out.
"At least, they're coming in," she said. "I'm seeing lots of congestion and a cough. The cough seems to be the primary symptom that brings people here."
Flu has stayed out of school
Like the Kostads, the flu knocked down Christie Condit and two other members of Condit household during the Christmas break. "It was mostly respiratory and just nasty," she said. "I spent the weekend before Christmas in bed with a sore throat, and it went on from there. It took a week before I felt fairly normal."
That holiday run of the illness, however, may have spared the Kenmare schools from many attendance issues. "In this building, it hasn't been that bad," Monica Kjos, elementary school secretary, said on Friday. "In grades kindergarten through six, we've had maybe seven, eight or nine kids out each day before Christmas, which is not a great amount."
Students returned to the school schedule on Wednesday last week, with a few absences reported. Some of those were because of families still traveling for the holidays.
"We've had a few kids leave from school, before Christmas," said Kjos. "Those were for cold-like illnesses, and some was for stomach flu. When it happens, it tends to run through [the kids in] the family."
"We're not seeing many absences at the high school," said Kathy Mickelsen, KHS secretary, adding that only one student in grades 7 through 12 had called in absent because of the flu on Friday. "Our absences are about the same."
Both secretaries noted several students, as well as most staff members, were vaccinated for the flu during a clinic conducted by First District Health Unit public health nurse Melissa Burud in October.
A common practice at both schools is regular handwashing. "The kids always wash before they come into the lunchroom to eat," Kjos said, "and we remind them constantly when they come out of the bathroom."
"We encourage handwashing at the high school," Mickelsen said. "All the seventh and eighth graders wash their hands before they go through the [lunch] line, and we have hand sanitizer for the students to use in the classrooms and the bathrooms."
Elementary principal Janis Gerding noted the students demonstrated consistent handwashing and other good hygiene behaviors they'd learned. "When they have to cough and sneeze, they do it into their arm," she said. "The kids have obviously been taught, and they know what they have to do."
"I hope it stays this way," Kjos said about the low occurrence of illness. "It's so hard for those little ones when they get sick."
Maple View and Kenmare
Community Hospital
see little flu so far
Kenmare's assisted living and long-term care residents have also been fortunate so far this flu season. Connie Schmit, director of nurses at Maple View of Kenmare, said neither the staff nor the residents there had experienced much illness as of last week.
"We've been fairly lucky," she said. "We've had some sinus-type of illnesses, but we've pretty much kept that away from our residents."
She said that if a resident does become ill, he or she is confined for at least 24 hours. "Even if they're feeling questionable, we'll put them in isolation, just in case," she said.
The majority of residents, as well as the staff members, received the flu vaccine from FDHU earlier in the fall. "Everyone has a chance to get it," Schmit said. "A couple residents choose not to, but most get vaccinated."
Because of the high risk for health complications among Maple View's residents, Schmit discouraged any visitors with cold or flu-like symptoms from entering the facility. At the very least, such individuals should wear a mask while making their visits at Maple View.
"I know that seems unfriendly, but it's easier than getting everybody sick," she said.
She recommended frequent handwashing and the use of hand sanitizer for visitors as well.
Like Maple View, Kenmare Community Hospital residents have remained relatively clear of the flu so far this winter. Hospital administrator Shawn Smothers was pleased with that result, especially given the high number of people she knows with colds and flu where she lives in Minot.
"We're doing very well here, and we've been very lucky," she said. "The virus is maybe not in this area yet, but we do know it's in Minot."
Hospital residents and staff members had the opportunity to get the flu vaccine last fall. "We encourage it for all of them, and the majority of them take [the vaccine]," said Smothers. "We've heard that in Minot, the vaccine is about 60 percent effective for the flu strains coming out, but the chances with it helping you are better than your chances without it."
Fever as a helpful symptom
Ward County is one of the seven counties in the state (six in the western half) with 50 or more cases of confirmed flu, and FDHU officials, along with the North Dakota Department of Health and the CDC, believe the season has not peaked yet. Statewide, over 300 of the cases reported last week occurred in children under 10 years old, with another 199 cases occurring in 10- to 19-year-olds.
Six different strains of flu are being monitored by the state health department, but other flu-like illnesses can have similar symptoms.
Olson said most persons with symptoms should see a doctor or other health care provider if a significant fever was detected, or if they were experiencing trouble with breathing or shortness of breath.
"The recommendation is not to treat a fever unless it's over 102 degrees," said Olson. "As long as you stay adequately hydrated, a fever is a sign your immune system is working well. Fever means your body is fighting the infection on its own."
She agreed with Lofgren and Gilseth that anyone with symptoms should stay home, rest and drink plenty of fluids. "Don't take your kids or yourself out if they or you are coughing or sneezing," Olson added.
Vaccine still available
Fortunately, some basic behaviors can reduce an individual's chances for getting the flu or a cold. "It sounds too simple, but handwashing, handwashing, handwashing will prevent or lessen the transmission," Olson said. "We always see more colds in winter because people are in enclosed areas together, like sporting events and family events at holidays."
Other basic good health habits, such as getting plenty of sleep and covering coughs and sneezes, will also reduce spread of the diseases.
Flu vaccine is available in Kenmare, and Lofgren and Gilseth encouraged anyone who had not received a flu shot yet to stop by the clinic. Insurance can be billed for the dose.
Melissa Burud at First District Health Unit still has vaccine available. She can be called at 701-385-4328 for vaccination appointments on Tuesdays or Thursdays. Clients have their choice of the nasal spray vaccine or the shot, both of which are covered by insurances.
"It's never too late for the vaccine," she said, "but remember, it does take two weeks to be completely considered effective."
The North Dakota Department of Health recommends the flu shot for children ages 6 months to 18 years and all adults, especially those over the age of 65 and those of any age with chronic health conditions. Adults and caregivers who are around children younger than 6 months should be vaccinated to avoid spreading the disease to those infants, who cannot be vaccinated.
Even though treatments are available, whether through prescriptions, over-the-counter medications or natural remedies, Kenmare's health care workers all agreed winter flu and colds could be avoided or lessened with one basic behavior.
"There's nothing wrong with good old soap and water," said Olson. "Just get into the habit of washing!"