Thanks for reading some of the latest features about area people and events.
To view every page and read every word of The Kenmare News each week,
subscribe to our ONLINE EDITION!
Diverse landowners group grows
When North Dakota's 63rd Legislative Assembly opened this week, landowners affected by energy development in the northwest region of the state had a voice speaking on their behalf through the Northwest Landowners Association.
1/09/13 (Wed)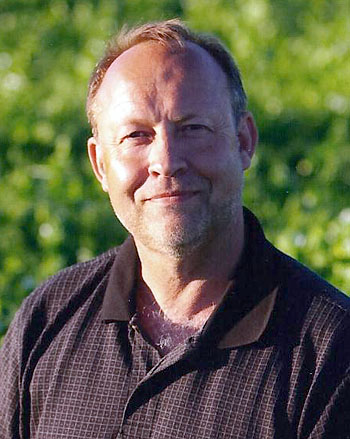 Troy Coons, NWLA Vice-Chairman
Northwest Landowners Association strives
for fair and equitable treatment
By Caroline Downs
When North Dakota's 63rd Legislative Assembly opened this week, landowners affected by energy development in the northwest region of the state had a voice speaking on their behalf through the Northwest Landowners Association.
At 350-plus members strong, the NWLA seeks to represent a broad range of property owners. "We're diverse," said vice-chairman Troy Coons of Donnybrook, who helped organize the group in 2010. "We have members from Bottineau over to the Ray-Tioga area and from out-of-state, and we're from every kind of background."
Speaking for such a varied membership can be difficult, especially given the wide array of issues related to oil and gas exploration and production in the region.
However, the NWLA board has fostered a single vision for the group. "We founded this for fair and equitable treatment, which is one of the things I've thought about from the beginning," he said. "Treat me and my property with respect. These landowners have been stewards of the land for three, four or even five generations now, and when something comes and invades that, they need a way to address it."
He emphasized the group does not oppose energy development in the state's oil-producing counties. "We're not trying to stop this, and we're not trying to inhibit this," he said about the current drilling activity and pipeline construction. "People come to us with all kinds of bad stories, but I know a lot of good stories, too. Good does come out of this."
Instead, the group has focused on addressing landowners' rights in the development and production operations, especially the rights of surface owners who have to live with the changes that occur when a well or pipeline is going to be sited on property once dedicated to farming or grazing.
NWLA bill passed
in 2011 session
The organization developed out of the 2009 legislative session when Coons and a few other landowners impacted by drilling activity decided to express their concerns to legislators. "Myself and three or four other guys went down and spoke," said Coons. "We learned if you go in there by yourself, you're not as effective. If you go in representing a group, and your information is concise and put together, you do better."
After the NWLA organized in 2010, Coons and other board members represented legislative proposals from the group for the 2011 session. Their ideas developed into a House bill addressing notice of oil and gas drilling operations, compensation for loss of agricultural production and income due to oil and gas production, damage and disruption payments to affected surface owners, and the obligation to pay oil and gas royalties.
Known as HB 1241, the bill eventually passed in both chambers, with two amendments.
The bill was signed into law by Governor Dalrymple on April 25, 2011, and is described by the Legislative Council as "AN ACT to create and enact a new section to chapter 38-11.1 and section 38-11.1-04.1 of the North Dakota Century Code, relating to notice of oil and gas drilling operations and compensation for loss of agricultural production and income caused by oil and gas production; to amend and reenact sections 38-11.1-02, 38-11.1-04, 38-11.1-08, and 47-16-39.1 of the North Dakota Century Code, relating to damage and disruption payments for damages caused by oil and gas production, agreement with offer of settlement, and the obligation to pay oil and gas royalties; to repeal section 38-11.1-05 of the North Dakota Century Code, relating to notice of oil and gas drilling operations; and to provide an effective date."
Coons, NWLA chairman Myron Hanson of Souris, and other board members made their presence known in Bismarck during the session. They testified about the bill in committee hearings and met with legislators and members of the North Dakota Petroleum Council to reach a consensus about the bill's major points.
"It takes a lot of time," said Coons. "You have to be familiar with the system."
Group has eight proposals
for legislators to consider
Depending on sponsorship among legislators, the NWLA would like to see action taken to:
1. Require oil companies to use a closed loop recovery system for capturing all drilling fluids, cuttings and other components generated from drilling operations;
2. Require the installation of flow meters and pressure cut-off switches on all oil and salt water transmission lines, with the lines adequately bonded to cover damages caused by leaks;
3. Grant private surface owners the same surface use requirements the State Land Department mandates for state land, including an increased topsoil reservation, and predefine site size and access and require additional agreement(s) for any increased land use;
4. Increase the setback for drilling and production operations adjacent to occupied dwellings from 500 feet to 1,320 feet (a quarter mile);
5. Establish an independent oversight study to determine compliance and enforcement of North Dakota Industrial Commission rules;
6. Require both parties in a damage settlement negotiation submit to mediation if an agreement cannot be reached within one year of the completion of a well;
7. Clarify the damage notification section in North Dakota Century Code;
8. Establish a definition for "commencement of operations" in NDCC.
According to Coons, the proposals are based on common sense approaches and mutual respect between the surface owners and the oil and gas development companies. He expected some proposals could garner outside support from organizations with overlapping interests.
"We may have support from the Farmers Union, Farm Bureau or other groups on particular issues," he said, "but you've got to stay true to who you're representing."
For the 2013 legislative session, concerns of the NWLA will be voiced by Derrick Braaten, a partner in Baumstark Braaten Law Partners, Bismarck. Coons noted the NWLA board and members will be participating throughout the session, but working through a lobbyist will streamline the process.
"Most of the testimony will come from the membership," Coons said, adding that NWLA members would also be coordinating efforts with Braaten to research and prepare information for legislators.
The NWLA board has stayed active the past two years with its mission to educate landowners about resource issues and to maintain the network of information among mineral owners, landowners, operators and occupants about resource development. Through regional and annual meetings, as well as continued communication with the Petroleum Council and the North Dakota Department of Mineral Resources, Coons noted a list of 38 issues was developed for potential legislation.
"People email us and call us with their concerns," he said. "They come with such a wide range of things."
Through further discussions with members and among the NWLA board, the topics were combined and prioritized to concentrate on eight items selected for proposed introduction during the 2013 legislative session.
"They're all important, from number one to number 38," said Coons. "These eight tend to be the ones most people talked about [at NWLA meetings]. It's a very hard process, but with membership support, these have found their way to the front of the list."
Coons emphasized all eight issues may not be acted upon or even introduced during the current session. These topics would be the starting points for possible legislation, however. NWLA board members were still working last week to revise the final proposals.
NWLA board members
provide information
More information about the NWLA, including details about membership, is available online at www.nwlandowners.com. The organization can be reached by email at contactus@nwlandowers.com.
As the legislative session progresses, Coons expects to keep NWLA members updated on the progress of the proposals. He encouraged landowners with further questions to contact him at 701-482-7865 or Myron Hanson at 701-243-6386.
Other board members are also available to answer questions and provide information about NWLA. Individuals serving for 2013 include Galen Peterson of Maxbass, secretary; Bob Grant of Berthold, treasurer; David King of Kenmare; Bryan Ankenbauer and David Bird, both of Bowbells; Aaron Jacobson of Noonan; Daryl and Betty Belik of Tioga; Jim Dahl and Thomas Wheeler, both of Ray; Lance Kjelshus of Souris; and Daryl Peterson of Antler.
After working last fall and through the holidays to develop and articulate the NWLA proposals in a way that best represents the organization, Coons was looking forward to the legislative process.
"We're trying to stay very true to our issues," he said. "That's the key."