Thanks for reading some of the latest features about area people and events.
To view every page and read every word of The Kenmare News each week,
subscribe to our ONLINE EDITION!
Hair stylist picked the right profession 52 years ago
Sharon Inman of Cutters Corner has a full schedule this Friday, including permanents and color jobs.
12/28/11 (Wed)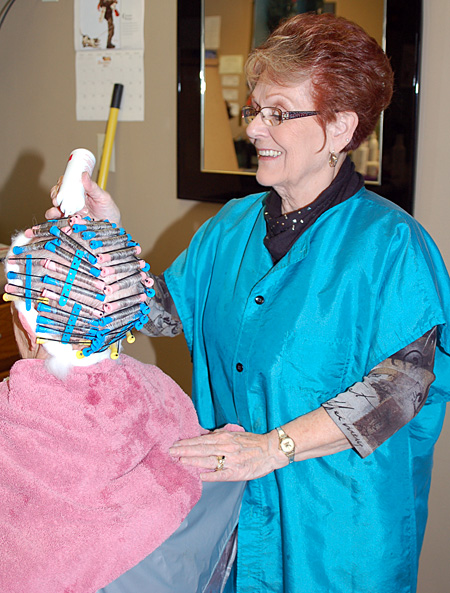 Putting the scissors away . . . Kenmare business woman Sharon Inman, right,
of Cutters Corner will exchange her scissors, combs and permanent solutions
for retirement on Friday, after 52 years as a hairstylist. She intends to remain
in Kenmare at this time, but has no other specific plans for her future.
By Caroline Downs
Sharon Inman of Cutters Corner has a full schedule this Friday, including permanents and color jobs.
When her last customer leaves late that afternoon, Sharon will hang up her scissors for good and retire after working 52 years as a hairstylist.
"I have never, ever not wanted to go to work, so I figure I picked the right profession," she said. "I've been around a while."
Sharon's interest in styling hair started with women's magazines from the 1940s and '50s. "I was little, and I would be looking in the magazines and seeing all the pretty women," she said. "There were all these pretty complexions and all these pretty eyebrows and all these pretty hairdos. I wanted to make women look like that."
Sharon herself never had a haircut until she was 12, long after she started dreaming over the magazines. She couldn't recall her own mother or grandmother visiting a salon, but instead remembered the home perms. "My mom and the neighbor lady would give perms," she said, "and they would all end up looking like poodles. In fact, the look was called 'The Poodle.'"
She grew up in the Tagus area near Berthold, but moved to Salem, OR, when she was 15 to live with an aunt and uncle there. She was on track for a career in the hospitality industry after completing a school work program at a hotel during her senior year. However, when she graduated she received a scholarship to attend a beauty school in Salem, so she pursued her passion for cosmetology instead.
"Those are the only two things I ever wanted to do," she said, "and those are the only two things I've ever done."
She earned her license in 13 months, which allowed her to style hair and give manicures, pedicures and massages. She returned to Berthold after graduating to visit family, and treated her grandmother to a coloring job. "It was a temporary color that made white hair look more silver," Sharon said, "only it turned her hair blue. My grandfather and my brother teased her, but she didn't mind it."
Back in Oregon, Sharon's first job offer, to manage a shop in nearby Corvallis, was exciting for the 19-year-old. "You can't refuse that when you're starting out," she said. She continued living with her relatives in Salem, but joined other working girls in riding a bus every day to her job.
Within a few months, she was offered a position at a shop in Salem. "It was in the ritzy part of town," she said. She earned a reputation for being one of the few stylists in town who would deal with long hair. As she continued her training at shows in Portland, she would also enter the competitions to style models' hair.
In 1963, she met and married Robert Inman of Salem, who worked in a bakery across the street from the shop where Sharon was employed.
Sharon stepped away from full-time work behind her stylist's chair for a while. "After I got married and had two little girls at home, I was blessed to not have to work outside the home," she said. However, she maintained her license and filled in at the shop occasionally.
The Inmans left Oregon for Berthold in 1972. By August 1973, the couple was divorced and Sharon moved to Kenmare with her daughters. She found part-time work at the beauty shop in Murray's store and also worked for Vee Bryan at a shop in Bowbells.
In 1981, Sharon took a position for Sandy Nelson at The Beauty Nook, working two days a week until accepting a full-time job after another stylist left.
Sharon stayed at the shop after Connie Livingston purchased the business in 1991 and worked there two more years before deciding to strike out on her own.
"I'd always wanted to have my own shop," said Sharon, "and I decided if I don't do it now, I never will."
She rented space and opened Cutters Corner in the front portion of the laundromat on Kenmare's west side square on August 17, 1993, where she offered all services for hair as well as a "mini-spa" with pedicures, manicures and massages. She later sold her massage table to a massage therapist who moved to the area, but she continued to run her salon until water damage to the laundromat and her shop, the result of vandalism, forced her to close in the summer of 2008.
"I was getting ready to celebrate my 15th anniversary at the shop," she said.
Sharon wasn't quite ready to step away from her profession yet, so she rented space at Shear Creations, owned by Jennifer Mau, to serve her customers.
Three years later, she has decided to end her styling career. "I don't know why I've chosen now to leave," she said. "It's not because I don't enjoy it or because of health problems."
Instead, she misses many of her longtime customers who have passed away or moved to another city as they've aged, or who spend their winters in the South. "It's not fair to Jen to hold up that chair for me when I might have just a couple of customers in a week," said Sharon, "and there's a new start to the journey I'm on. I'm going to be doing something different. I just don't know what it is yet!"
Styles come and go
and come again
Even after more than 50 years in the business, Sharon studies the trends, most of which she has seen once, or even two or three times, in her career. "I don't like the styles of today," she said, "the long straight hair, parted in the middle. We had that back in the '60s and '70s, too, and everybody looks the same."
Then she offered her best tips for women who do choose that style. "I don't think anyone looks attractive with their hair parted in the middle because the first thing you notice is the nose," she said, adding that few women seem to want their nose highlighted. "If you want straight hair, do what looks best, which is usually parting the hair off to one side."
Sharon herself wore long hair for several years, then cut it before moving back to North Dakota in the 1970s. "I cut it short so I could wear a beanie here in the winter," she said, then admitted she never did wear hats very often. She kept the short hairstyle, though.
She laughs over the "big hair" days of the 1980s and believes soft curls in any length soften almost every woman's features. "We've seen straight hair come and go before," she said. "I think we'll see softer curls coming, more wavy styles. The girls walking the red carpet in the last couple of years have been doing flat hair in big waves. I remember doing those as finger waves when I was in school. We had to do those to pass our state boards."
Sharon did her share of waves, thanks to Dippity-Do gel, and even learned to give permanents with the old clamps that she never actually used on a customer, but she had to teach herself to use curling irons and flat irons in her shop when those items came onto the retail market. "I thought I would never learn how to use one of those things," she said, smiling, "but you just do."
The right path
After she moved to Kenmare, Sharon dedicated some of her time to her interests in the food and hospitality business, and worked part-time jobs at the Lakeshore, Wayne's Bar & Grill, Danny's Bar & Grill and South of the Border. Most recently, she accepted a position at Beer Bob's which she plans to continue.
"You see different people than you'd see in the shop," she said. "Food and wine and hair. What a combination, but it's been good to me!"
She became involved with her daughters' and community activities, beginning with helping to bring the ArtTrain's national tour to Kenmare. She served as president of the Music Boosters, a leader for 4-H and the Brownies Girl Scout troop, a Sunday school teacher and deacon at Nazareth Lutheran Church, president of the Kenmare Association of Commerce, a board member for the Lake County Historical Society's Pioneer Village, and a volunteer with the American Cancer Society's regional organization.
"The biggest challenge of my life was raising two daughters," she said, "but they turned out very well and I'm very proud of them." Sharon still devotes time and attention to her daughters and, these days, her grandchildren.
She is also well-known as a member of the Lakeview Art Club and a practicing artist, as well as a former art instructor with the late Vernell Hanson. "When we lived in Oregon, my mother-in-law got me started on tole painting and rosemaling," she said, "but the art club here got me into canvas."
Sharon considers her stylist work as art, in a more practical form. "It's creativity, creating as you go," she said, laughing about the customers who trusted to do "whatever" with their hair. "I like what I do, and hopefully I've made someone feel better about themselves when they leave."
When she looks back at her 52-year career, she thinks of only one moment that made her hesitate. When she was 19, just starting her work as a hairstylist in Oregon, she was offered a job to work on a cruise ship, which she refused.
"I've been blessed all these years, to know and work with so many different people, the little kids and the families," she said as she spoke with affection about her customers through the decades. "I feel I've taken the right path. There's another plan out there for me now, and I'm ready."