Thanks for reading some of the latest features about area people and events.
To view every page and read every word of The Kenmare News each week,
subscribe to our ONLINE EDITION!
Berthold kids say classrooms are squished
Students at Berthold Elementary School like their classes and their teachers just fine, but they feel crowded in their building. Just ask them.
1/04/12 (Wed)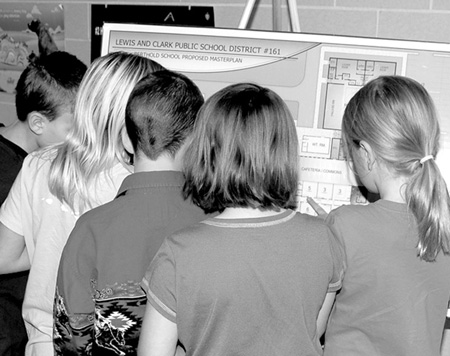 Talking over the new school . . . Elementary students on a break
at Berthold Elementary School gather around a copy of the proposed
renovations and additions and talk to each other about the changes they
want to see. The students are aware adults in their school district will
vote for or against the building project on January 9th.
By Caroline Downs
Editor's note: Thank you to Berthold Elementary School principal Melissa Lahti and her teaching staff for providing a way for these student interviews to take place. At the request of the school, use of student names has been limited.
Students at Berthold Elementary School like their classes and their teachers just fine, but they feel crowded in their building.
Just ask them.
"The classrooms are squished and I've heard they are going to build a lot more homes," said a fifth grader. "The classrooms have too many desks and you can barely walk through. In the cafeteria there are way too many kids and you always bump into each other."
A fourth grader listed her frustrations. "In the classrooms, we're really stuffed," she said. "In the cafeteria, we don't really have our personal space. In the library, I have noticed we have been running into each other, and in the bathrooms, we're fighting over the stalls."
The students move around each other carefully. They manage the tightly orchestrated cafeteria schedule with assigned seats, and they tolerate the limited number of bathrooms. "In our bathroom, we only have two stalls," said fifth grader Kara. "I don't expect 20, but five would be nice."
It's no wonder they're excited about the proposed renovations and additions to their school. They talk about the changes often and stop to review the master plan posted in the hallway outside the business office.
Students like the proposed plan
Most of the kids have seen the plan and formed opinions about what needs to be done.
First graders want to make sure there is enough classroom, gym and lunchroom space.
The second graders made a similar list, but they considered a new cafeteria to be the top priority, followed by larger bathrooms, more classrooms and a bigger library. The second grade class also wanted to see a classroom for art lessons and supplies.
Some third graders worry when they look at the second grade, which is divided between two teachers for part of each day because of the number of students. "They have a lot of kids and they might need more classrooms," said Seth. "Otherwise, we're going to have some big classes in smaller classrooms."
Seth, Aspen and several of their friends agreed a separate room for computer classes would be helpful. "Right now, [our teacher] comes into our classroom with a cart," explained Aspen.
She pointed out the cart, loaded with individual computers and parked in the hallway.
"I think our computer teacher would like her own room, too," said Seth.
Many fourth graders looked forward to a larger lunchroom. "One time, I knocked someone's milk over because we were so squished," said Megan.
"And one time, an older kid's tray spilled on me," said Sara. "Someone bumped into him and he bumped into me."
The two girls, like many of their classmates, realize the impact new students will have, especially if a proposed housing development for Berthold is completed with the 200 to 300 homes now under consideration. "It would be good for us to get bigger classrooms," Sara said. "I want our class to stay together."
Fifth graders feel the pinch everywhere and they predicted more students would be joining them. "In kindergarten, our class had 16 kids," said Kara. "Most years, we have a couple kids moving in."
"This year, we started with 21," added her friend Abby, "but we had two move out. More and more students are moving in, so we will have to fit desks and more kids in the rooms, so we need more space to do that."
Sixth graders, who would be eighth graders by the time the school building project is completed if passed, offered their own observations about the crowding problems. "We're increasing in kids and decreasing in classroom space," said one boy. "The classroom, cafeteria, library and bathrooms seem like they're getting smaller every day."
Michelle was concerned about the library. "We have more books than we have bookshelves," she said.
"The lunchroom is getting very small," added one of her classmates, "because we have tables that look like picnic tables and the benches are getting fuller."
Grace talked about the bathroom situation. "We only have two bathrooms for each gender," she said, explaining that one set of boys and girls bathrooms was located in the high school hallway. "After lunch, there are three classes of girls who want to use this one. It gets crowded in there!"
Some of the sixth graders could see problems with the gym schedules during their coming junior high seasons, and most of them wanted more seating for home games and events like concerts.
Grace considered the classroom situation. "We need more classrooms," she said. "We need a safe learning environment."
Kids want adults to go vote,
yes or no
Many students knew the estimated cost for the changes was $12 million. In fact, in the special election scheduled for Monday, January 9th, voters will decide whether or not to approve the district for incurring debt up to an additional five percent of its assessed taxable valuation in order to pay for the project.
The other question posed to voters on the ballot is whether to approve the $12 million needed in general obligation bonds on a 20-year repayment schedule.
The Lewis & Clark School District board released numbers estimating the cost to homeowners at approximately $313.65 per year in additional property taxes, given a house with a market value at $100,000.
For landowners, the increase in taxes was estimated at $196 per quarter, on average.
"Some parents might not want higher taxes," said one fourth grader, while one of his classmates said the cost might be too much.
Students agreed across the grades that adults who can vote, should go vote on Monday. "If they didn't vote, they would be kind of upset because they wouldn't get the input to say yes or no," said one second grader.
"It's for the good of the town," said a third grader. One fourth grader maintained that voting would insure the school board knows what everyone wants, while one of her classmates said voting would make the decision fair to other people.
Several fifth graders mentioned they wanted adults to vote for the project because more space was needed. One girl said voters could "...help each other make money for the equipment we need to add on, like lumber, bricks, etc."
Members of the sixth grade class added their plea for the voters' approval, although many acknowledged the difficult decision.
"Adults have the say," said one boy, "and they need to vote. We need to get all the votes we can, whether in favor or not."
Two second graders offered one last message to the adults in their school district. "It's very important we get [the school] built on," said Kari.
"It's kind of important," Patrick added, "to us kids."