Thanks for reading some of the latest features about area people and events.
To view every page and read every word of The Kenmare News each week,
subscribe to our ONLINE EDITION!
Former county tax director takes Kenmare building inspector job
There's a new inspector in town, and city officials hope his presence will help building projects large and small progress more smoothly.
1/30/13 (Wed)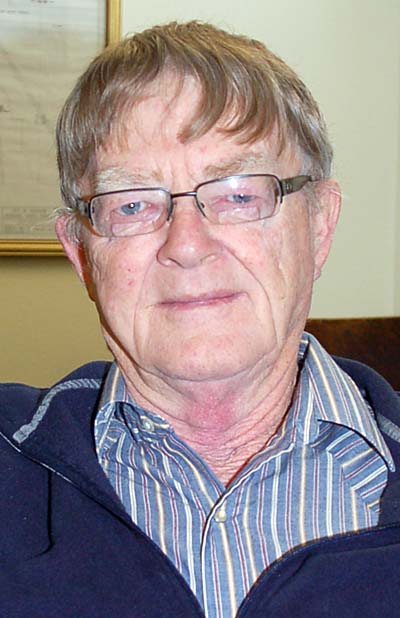 Kenmare building inspector Don Siebert
By Caroline Downs
There's a new inspector in town, and city officials hope his presence will help building projects large and small progress more smoothly.
Don Siebert, longtime tax director and building inspector for Ward County who also served as Kenmare's city assessor for 28 years, has accepted a position as Kenmare's building inspector.
Siebert is familiar with the Kenmare area, having been raised in Tolley and working as the tax director in Bowbells before transferring to the same position in Ward County more than 32 years ago. He and his wife Linda moved to Kenmare after their Minot home was damaged in the 2011 Mouse River Flood.
"I was looking for a part-time job, to have something to do," he said with a smile. "I think [mayor] Roger Ness was interested in getting something here before any large scale development begins. He got excited when he found out I was interested."
Siebert may be the first official building inspector to work for the city of Kenmare. "There hasn't been one in my years [with Ward County]," he said. "Jim Ackerman used to check lot lines, I know, and Mike Thompson has been doing the work as best he could."
Siebert doesn't plan to scrutinize every square inch of a construction project, but he does intend to do what he can to improve the process for both the city and for residents with building projects in mind.
"Mainly, my job is to make sure the building plans are complete and that the siting of the lots is done properly," he said.
He wants to look out for the interests of everyone involved. "Some projects require certain inspections depending on the type of building," he said.
He listed several other construction aspects under his review, including proper back-filling on lots, foundation construction, and heating and air conditioning installation.
"This way, property owners can reap the benefits of having something built properly," he said. "If they sell their property, the new owners can have confidence that everything was built properly."
Siebert has had a long interest in construction techniques and practices, stemming from his own work as a young man with various contractors, including Reishus Construction out of Mohall.
"I've also been interested in planning and zoning [work]," he said. "I've done a lot of that kind of thing, and I'd like to help out the city on that end, too."
Siebert has been a member of the North Dakota Building Officials' Association for more than 30 years, and he plans to continue updating his knowledge by attending training sessions. He noted other building officials in the region, including his former colleagues in Minot, have offered their assistance as well, an attitude that is common in the profession.
"We all help one another with problems that come up," he said.
Building permit
application process
Anyone in Kenmare with intentions to build a deck, a garage, an extra room or an entirely new house needs to visit with Siebert.
"They should get their plans together and visit with the contractor if they're going to use one," he said. "Then they should bring everything in to me to review, in case there are some changes that need to happen."
He can provide information about the setbacks, yard space and other requirements found in the city's ordinances, as well as the state's building codes. "The state has building codes for everything except fences and non-heated storage buildings," he said. "[Property owners] can talk to me or work with their building planner or architect. Every building is different."
Siebert will provide the necessary application forms for a building permit and review the completed applications before they are submitted to the Planning and Zoning Commission. "That should make those meetings go smoother," he said.
Smaller projects, like decks and sheds, may not require much consultation with Siebert. "The property owner can just make the application for those," he said.
After the Planning and Zoning Commission approves a building permit application, Siebert will be in communication with the property owner about the next steps to take, depending on the type of project.
He also plans to make regular inspections of projects underway in town. Some will be scheduled with the property owners, while others will be surprise inspections.
"If I drive by and see something, I'll come back and stop there," he said. "Most contractors are reputable. You find a few that aren't, but that's minor."
Hours on Mondays,
Weds. and Thursdays
The Kenmare Planning and Zoning Commission meets the first Monday of each month at 6 pm in the city council chambers, if building permit applications have been submitted during the previous month.
City auditor Barb Wiedmer said the request for permits has increased during the past year, with 51 building permits issued in 2012 for several million dollars' worth of construction projects, including the west side square revitalization and the new Gooseneck Implement building. "The number of permits seems to have skyrocketed," she said.
The Planning and Zoning Commission also hears requests regarding annexation or zoning changes and for conditional use permits.
Siebert will be available at Kenmare City Hall to discuss building and construction projects every Monday, Wednesday and Thursday from 10 am to 12 noon in the city council chambers.
Appointments with Siebert can be scheduled by calling Wiedmer at 701-385-4232. He is also willing to be called at 701-240-9863 to schedule appointments outside his regular office hours.
"People can drop in," he said, "or if that time doesn't work out for them, they can call me for a more convenient time."