Thanks for reading some of the latest features about area people and events.
To view every page and read every word of The Kenmare News each week,
subscribe to our ONLINE EDITION!
Elkhorn Financial is new business on the square
The New Year will see a new business begin operation in Kenmare.
12/26/12 (Wed)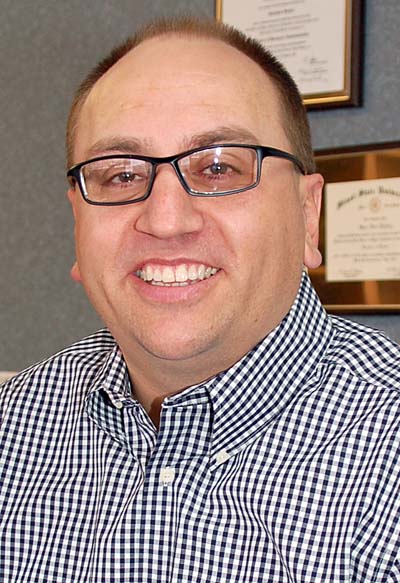 Gary Ryberg, Elkhorn Financial in Kenmare
Certified Financial Planner offers
investment products, farm and crop insurance
By Caroline Downs
The New Year will see a new business begin operation in Kenmare.
Elkhorn Financial, owned by Gary Ryberg, will open its doors January 2nd to provide insurance and financial products to customers.
"I'll be handling investments and insurance, with more concentration on crop insurance and farm policies on the insurance side of things," said Ryberg.
Ryberg's office is located on the north side of the business square, in the former American Family Insurance building. Ryberg purchased the office from agent Ardell Lund, but he is not affiliated with American Family Insurance.
"I'll be independent on both the investments and the insurance," he said. "That way can tailor the product and services to the customer's needs."
Back from the big city
Ryberg is a Bowbells High School graduate who is returning to the area after spending 15 years away. He earned a bachelor's degree in finance from Minot State University, then a master's degree in business administration from the University of North Dakota before moving to Denver in 1997 to work for J.P. Morgan.
In 2001, Ryberg relocated to Dallas to take a position with Fidelity Investments, then transferred to the Fidelity office at Minneapolis in 2006.
After spending his career with major corporations, Ryberg is more than ready to strike out on his own. "I was burned out on living in a big city," he said. "There are pros and cons to everything, and the cons were outweighing the pros."
He was also ready to leave the company setting, which he described as slow to change. "I'll give you an example," he said. "In October, we had two meetings about a meeting."
Ryberg had come to the point where he focused more on his clients' needs than on the company's bottom line. "Ultimately, I wanted to take the chance to do this on my own to better assist individuals," he said.
He admitted he had been criticized at work for not selling products at levels established by the company, but he also knew some of his clients had no use or desire for those products. "I'm very customer-oriented," he said.
For Ryberg, establishing his business in Kenmare provided a way to live closer to his family and friends in the area. "I've been trying to get home for a while," he said. "This gives me the opportunity to see my nieces grow up and be involved in their lives."
Then he smiled and added, "The biggest benefit is being able to enjoy the outdoors again more than just one week a year when I'm here on vacation."
Ryberg likes riding his mountain bike and doing all types of hunting, although pheasant season may be his favorite time of year. Despite the demands of setting up his new office, he has made time for four or five pheasant outings. "I absolutely love pheasant hunting from Thanksgiving all the way through to the end of the season," he said.
Lifelong interest in
insurance and finance
Working with investments and insurance is another passion of Ryberg's. He has been familiar with the insurance business since childhood, with his parents Allen Ryberg and Tammy Ryberg running an insurance office in Bowbells at the time. "Growing up in my parents' insurance agency sparked my interest," he said, "and when I was young, I developed an interest in how finance works."
That interest led him to invest the time necessary to become a certified financial planner, or CFP. "It's a little rare here," he said. "I believe there are two in Minot and two in Williston, but in the rest of northwestern North Dakota, I'm the only one."
His past 15 years' worth of experience with clients ranging from wealthy CEOs to blue collar laborers has prepared him for his new career as an independent agent. "I can help anybody from a novice to someone who puts together a comprehensive financial plan," he said. "If you need a second set of eyes to review an IRA or a 401(k), I'm willing to give you that advice. If you just want to dip your toe in the water with investing, I can help you get started."
Customers who choose to invest with Ryberg can expect to be charged on a fee-only basis calculated on the total amount of money invested, not per transaction.
Door opens January 2
Ryberg is looking forward to being a Kenmare businessman and a resident in the community, living in the apartment built above his office. "The question is, 'Why not Kenmare?'" he said. "There has always been such progressive thinking here."
He intends to join the Kenmare Association of Commerce immediately, but other community matters interest him as well. "I enjoy politics," he said. "I may eventually try to serve on the city council. You can have an affect that way. At Fidelity, I was just a badge number and a calling code."
Ryberg is completing a few renovations in his office, but he welcomes customers beginning January 2nd, with office hours between 8 am and 4 pm. "And since I'm living in the building, my availability will be greater than that," he said.
He named his business, complete with elk antler sheds as part of the office decor, in honor of his favorite president, Theodore Roosevelt. "I think [he's] the greatest president who ever lived," said Ryberg, "so 'Elkhorn Financial' is a play off of [Roosevelt's] Elkhorn Ranch in North Dakota."
Anyone with further questions about Elkhorn Financial and the services offered can contact Ryberg at 701-385-4585.
Of course, with the coffee pot switched on every morning, Ryberg invites visitors to the office. "I'm hoping people stop by and shoot the breeze," he said, "whether it's about sports, hunting, finance, whatever!"