Thanks for reading some of the latest features about area people and events.
To view every page and read every word of The Kenmare News each week,
subscribe to our ONLINE EDITION!
Dakota Blessings Art Studio opens here
A new addition festooned with blooming flowers and a large Dakota Blessings sign at the home of Jane and Lance Kalmbach has attracted more than a little attention since June. Now, the public is invited to an open house at Dakota Blessings Art Studio, 503 1st Avenue NE in Kenmare, on Thursday, August 27th from 5 to 8 pm.
8/19/09 (Wed)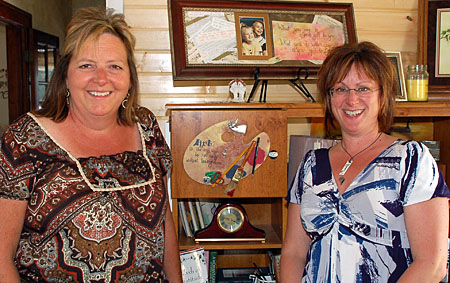 Artists Tami Gravesen and Jane Kalmbach welcome the public
to see their work at an open house scheduled at the Dakota Blessings
art studio in Kenmare on Thursday, August 27th.

By Caroline Downs
A new addition festooned with blooming flowers and a large Dakota Blessings sign at the home of Jane and Lance Kalmbach has attracted more than a little attention since June.
Now, the public is invited to an open house at Dakota Blessings Art Studio, 503 1st Avenue NE in Kenmare, on Thursday, August 27th from 5 to 8 pm.
The event will feature original drawings and paintings in pastels, charcoal, acrylics and oils by Kalmbach, and notecards representing her selected work. A collection of the ivory piano keys she and partner Tami Gravesen have repurposed as bookmarks, car charms or pendants with miniature paintings and beading will be available for purchase, along with homemade caramels. Caroline Downs will also be on hand to share some of her published fiction and creative non-fiction writing with interested readers.
Everyone is welcome to tour the studio, visit with the artists, and enjoy refreshments at their leisure.
Kalmbach and Gravesen have received numerous questions about the studio from several local residents following a feature article about their new business venture published in the
Minot Daily News
earlier this summer. "People are curious," said Gravesen.
"A lot of people have asked," added Kalmbach. "This is a way to celebrate the new room!"
Dakota Blessings begins
The two women started collaborating years ago with church and Sunday School activities, and encouraged each other in their passion for the arts. Last fall, after noticing how well Kalmbach's notecards sold with customers, Gravesen suggested the piano key bookmarks and charms as another smaller, lower-cost way for Kalmbach to share her art.
Kalmbach agreed only if Gravesen would do the beading, and Dakota Blessings was born. The two launched their website www.DakotaBlessings.artfire.com by late December, featuring the piano keys on the main pages with additional gallery pages of Kalmbach's paintings. They have enjoyed the exposure and comments they've received from customers across the country, including Oklahoma, Arizona, Montana, Oregon, Wyoming and even Massachusetts, where a client requested custom bookmarks for a special occasion.
"There's no way someone from Massachusetts would ever find our product without the website," said Kalmbach.
Music and books are a major interest for both women, so using recycled ivory piano keys to make artistic bookmarks seemed only logical. "We're using things we love and promoting reading," Kalmbach said. "We've had a lot of kids want one once they've seen them."
Gravesen's brothers Sean Schoen and Stan Schoen and Kalmbach's husband Lance have all helped with the endeavor, lending their time and efforts to cleaning and preparing the keys for painting. Kalmbach prefers to use acrylic paints for her tiny works of art and usually has her own ideas for a picture or theme she wants to portray. However, Gravesen's beading combinations often provide another source of ideas.
"We work off each other," explained Kalmbach. "She'll bead something and, boom, it inspires me."
Gravesen uses a variety of beads, including glass, metal, gemstone, acrylic and even some specialized charms. "The beadwork has evolved with the bookmarks," she said.
As Pride of Dakota members, Dakota Blessings had a table at that organization's event held during the North Dakota State Fair. They also showed their work at the Prairie Arts Show held at Lake Metigoshe August 8th and 9th. "The response from people has been incredible," Kalmbach said. "A lot of people comment on the name."
Gravesen recalled a statement from a teenage visitor to their table at the State Fair. "She looked at Jane's painting that says 'Breathe' and said, 'That
was
a Dakota blessing,'" Gravesen said.
She and Kalmbach enjoy designing requested pieces, with pendants a popular item lately. They are also known for giving the piano keys as gifts, including one to the owner of a miniature Brahma at the State Fair who was delighted at the tiny rendition of his bull on a bookmark.
The repurposed piano keys marketed by Dakota Blessings Original Art are sold locally at the Pizza Hub and the Cenex C-Store, as well as at the Front Door in Bottineau. Bulk orders are welcomed, with discounts given.
Through the fall months, Dakota Blessings is scheduled for appearances at several area arts and crafts shows, including the Mouse River Park Fall Festival on September 5th, the Lakeview Art Club Fall Arts and Crafts Show at the Kenmare Memorial Hall on October 3rd, ArtFest in Minot on October 17th, the Big One Craft Show in Minot on November 6th and 7th, the Pride of Dakota show in Minot on November 14th, the Mohall Arts and Crafts Show on November 21st, and Light Up Night in Kenmare on November 27th.
Gravesen and Kalmbach have also been invited to exhibit and sell their work at a kiosk in the new shopping mall opened at the Minot Air Force Base.
Meet the artists
Gravesen laughed as she described herself as a "hippie beader." "I'm doing the same thing now that I liked when I was 12!" she said.
She has explored a variety of arts and crafts styles since childhood, crediting her mother, a skilled crafter herself, and a high school art teacher for supporting her interests. Through the years, she has occasionally taken classes or workshops from various artists and she is a former member of the Lakeview Art Club, but she is primarily self-taught.
She chuckled again as she listed the media she has tried and enjoyed, which include tie-dying, woodworking, batik, painting, card-making, stained glass and beadwork. "I'll see something I like and think, 'Oh my goodness, I could make that,'" she said.
Gravesen, who also works as an assistant librarian for the Ward County Public Library, and her husband Mark will see the youngest of their three sons leave for college this week. "Now, I'm going to be able to find some time," she said, adding she wants to return to her former work in stained glass and learn about creating fused glass pieces.
She draws inspiration from the encouraging remarks of other people, as well as patterns and designs she sees in nature. With a new puppy in the house, she spends more time outdoors. "I catch myself saying that a walk or two a day makes for a much better bulldog, and that also goes for me!" she said.
Kalmbach, who has operated a piano studio from her home since 1989, returned to a lifelong passion for painting about six years ago. She has studied with Vern Skaug of Minot and Tam Goodman of Rugby, as well as experimented with various techniques and media on her own.
Like Gravesen, Kalmbach finds inspiration during time spent outdoors, especially as the colors of the prairie change with the seasons. "Teaching kids also inspires me, their excitement and pride in themselves," she said, "and reading books on faith, inspiration and creativity, or even quotes that I see written somewhere. I love that!"
She works in chalk pastels, acrylics, charcoal, oils and watercolors, on canvas, paper, bark and bones. She has exhibited her work in shows held at Kenmare, Minot, Bottineau, Mohall, Harvey, Tolley, New Town and Pekin. She has done countless commissioned paintings and often donates her art to benefit community organizations, including Kenmare GooseFest, Mouse River Loop Pheasants, the Domestic Violence Crisis Center in Minot and Minot Public Library.
Kalmbach serves as secretary of the Lakeview Art Club and is cofounder of the Kenmare Summer Arts Institute, a new program for young artists in the region. She has also taught art classes at the Kenmare and Bowbells elementary schools under a North Dakota Council on the Arts Teacher Incentive grant since 2006.
New studio paves
the way for art
While Gravesen and Kalmbach sell at shows and from their website together, Dakota Blessings studio itself is actually Kalmbach's personal working space.
Kalmbach has painted at home for the past few years, using a small sun room on the east side of her house when weather and temperatures permitted. She credited the new studio in large part to encouragement from her father, Melvin Christiansen.
"The studio never would have been built if not for my dad," she said. "Every winter, I would ask him if there was some way I could heat that old sun room."
She paused and smiled. "I loved my little sun room," she said, "but finally last winter, Dad said we just needed to tear it off and build something new. I was making do, thinking I would have extra bedroom space when our kids were gone, but my dad kept on with it."
Kalmbach agreed to the renovation after realizing the benefits the studio could offer her daughter Sarah, an artist and a senior at Kenmare High School. "If I want my daughter to grow up and believe in her artistic talent, I have to believe in myself," said Kalmbach.
As she and Lance decided to move forward with the building project, Kalmbach discussed various ideas for the space with her father. She credited Lance with suggesting the large windows that allow natural light to enter from the north and south sides, and the bay window that covers the east wall--abundant lighting for a painter.
Shawn Sundin was hired as the contractor for the project, and Kalmbach praised his work. "When I told him basically what we wanted, he came up with ideas to keep it simple," she said. "He listened to me."
Once plans were settled for the new studio, the work progressed rapidly, thanks to cooperation and inventory from Farmers Union Lumber, Kenmare. Kalmbach's father started tearing down the old sun room in March and Sundin began construction in late April, finishing by mid-June. Kalmbach laughed at her impatience to claim the new space. "As Shawn was packing up his tools, we were moving in!" she said.
And, as planned, Kalmbach shares the studio with her daughter. Each artist has her own work table, with brushes, pencils and canvases arranged as she pleases. "It's Sarah's room, too," said Kalmbach. "Now, I wish I'd done it five years ago!"
While the studio showcases a great deal of Kalmbach's work, she does not keep regular business hours for customers. However, she welcomes friends, neighbors and visitors to town who have an interest in art to come to studio. "I would like people to call if they have an idea for a painting they want to talk about or if they want to see what I have on hand," she said. "I'll be more than happy to make a cup of coffee and show them what I have available!"
Kalmbach can be reached at 701-385-4528, while Gravesen can be contacted at 701-385-4071. In addition to their upcoming shows, the two women are considering classes to offer from Kalmbach's studio or Gravesen's workroom, depending on local interest.
Caroline Downs
Writer invited
to Dakota Blessings
Caroline Downs will be joining Kalmbach and Gravesen at the Dakota Blessings open house as a guest author. Downs, writer and feature editor at
The Kenmare News
since November 2000, recently had a short story released in
The Girls
, an anthology of stories collected for middle grade readers and published by Blooming Tree Press, Austin, TX.
Downs revisited her childhood love for writing after becoming a science, language arts and reading teacher in Worland, Wyoming, in 1990. By 1993 she was involved with the Wyoming Writing Project, where she facilitated numerous workshops and classes for other teachers of writing around the state. In 2001, she earned an MFA from Vermont College, Montpelier, VT, in writing for children and young adults, after studying with children's authors Sharon Darrow, Marion Dane Bauer, Carolyn Coman and Louise Hawes.
She enjoyed writing with and for her students, and the move with her husband Doug to North Dakota in 2000 allowed her to extend her writing to readers of Kenmare's weekly newspaper. With Kalmbach, she is cofounder of the Kenmare Summer Arts Institute, leading writing and readers theatre workshops for young artists in the area.
In addition to almost nine years of publication in The Kenmare News, Downs has an essay published in the anthology Gifts from Our Grandmothers, edited by Carol Dovi, and articles about the local refuges and wetland management districts published in a commemorative issue of North Dakota Outdoors in 2003. Her current work is focused on a middle grade novel manuscript.