Thanks for reading some of the latest features about area people and events.
To view every page and read every word of The Kenmare News each week,
subscribe to our ONLINE EDITION!
City Council looks at downtown lighting and other improvements
New lighting for downtown Kenmare remains a question mark for the city council.
12/12/12 (Wed)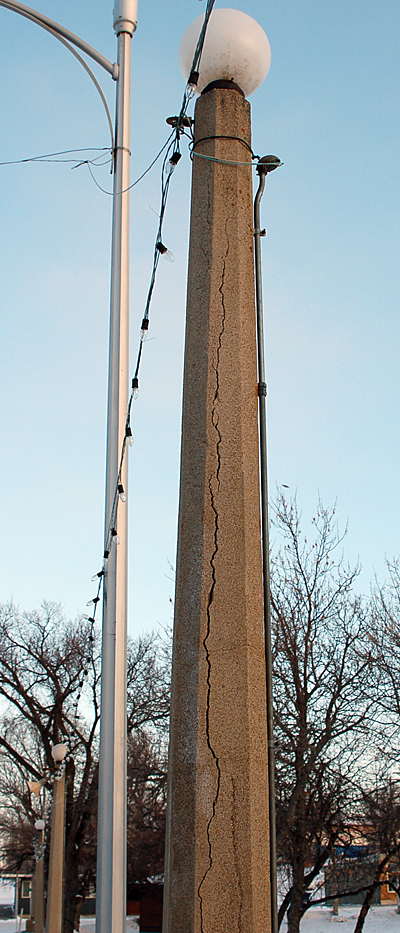 Cracked up . . . The decorative lamp posts around the perimeter
of the park square all show cracks after many decades of service.
This lamp post on the west side is cracked from top to bottom.
By Terry Froseth
New lighting for downtown Kenmare remains a question mark for the city council.
During the past several months, the city council has held brief discussions on the proposal to replace all the street lights and lamp posts surrounding the downtown business square.
Council president Chuck Leet said the committee has a few ideas. The biggest issue may be how the new lighting gets paid for.
With rebuilding of the west side of the business district underway, there is also growing sentiment towards expanding the improvements all around the park square.
At Monday's council meeting, Mayor Roger Ness commented, "We better look at sidewalks and curbs too. There's a lot of it down there that's not very good."
There was discussion of creating a special assessments district for downtown businesses, or the city as a whole. Ness stated that all of the downtown merchants should have a say in what happens.
"Is it time to do everything as one big district?" Ness said. "Are we going to do it right? Is it time to do it all and do it nice?
Funding the lights through city sales tax collections was also mentioned.
Leet said the committee will bring proposals to next month's meeting.
Building inspector wanted
Kenmare needs a building inspector. Alderman Troy Hedberg said Public Works Director Mike Thompson, who is serving now as building inspector, has discussed the duty with the personnel committee. Hedberg said Thompson told the committee he does not want the building inspector position, does not have time for it, and is not qualified for it.
Hedberg suggested talking to other communities, such as Crosby and Berthold, about sharing a building inspector.
Engineer's report
The city engineer's report from Ackerman-Estvold was presented by Justin Froseth.
He reported work on demolition of the old water tower was 95 percent complete, with site clean-up work remaining to be done next spring. The council approved a $21,780 progress payment on the demolition work.
Froseth also reported they are also working on securing a $1.2 million performance bond from the contractor working on the new development north of the old landfill.
In other action:
• Permits were approved to the Kenmare Fire Department and the Kenmare Fire Department Auxiliary for raffles to be held during the annual coyote hunt.
• An ordinance regarding the Lakeview Cemetery was passed on second reading. The cemetery was previously unmentioned in the ordinances.
• An ordinance regarding annexation was approved on second reading.
• An ordinance regarding municipal limits, extending to one mile rather than 1/2 mile, was approved on second reading.
• An ordinance regarding a $100 fee for transient merchants was approved on second reading.
• Alcohol license were renewed for 2013.
• A Fund Itt $1500 matching grant for business appearance improvement was approved for M&K Pizza Hub for a new entrance door.
• The personnel committee submitted salary recommendations.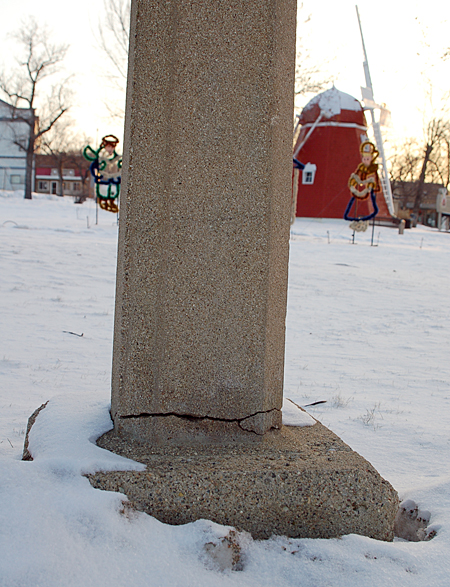 A lamp post on the west side of the city park
is cracked across its base.