Thanks for reading some of the latest features about area people and events.
To view every page and read every word of The Kenmare News each week,
subscribe to our ONLINE EDITION!
Bombers looking to be region contender and fun to watch
The Berthold Bombers boys basketball team is looking to be a contender again in District 12 and Region 6 action.
12/13/12 (Thu)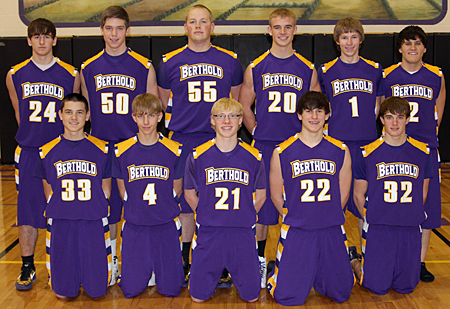 2012-2013 Berthold Boys Varsity Basketball Team
By Caroline Downs
The Berthold Bombers boys basketball team is looking to be a contender again in District 12 and Region 6 action.
"We've got a really solid core back this year with a lot of experience," said head coach Brock Teets. "They have regional tournament experience, regional final experience and state tournament experience."
He described the team as one of the smallest in the region. "But we're scrappy," he said, "and there's a lot of pride deep down in these kids. They like to win. They like to compete."
After graduating dominant shooters like Dan Yale and Alex Bloms, the Bombers are playing a more balanced offense this year. "We're going to have five or six different leading scorers," Teets said. "We've got five guys on the court who can all score, and score in double digits."
According to Teets, the Bombers have a new look this season, playing more of an up tempo game with the returning players changing some positions. "We have kids playing in new roles," he said.
He wants to see his players gain confidence in those roles, on both offense and defense. He would also like to see a stronger bench. "We need to bring them along," he said. "The way we want to play, we need to have our bench contribute."
Despite being one of the few teams in the district without an All-District player returning this season, the Bombers are working to uphold the school's basketball tradition. "I told them this is your turn to make your own history," said Teets.
He said fans could expect to see plenty of shooting. "We're going to shoot a lot of threes and we're going to try to spread the floor and create opportunities for our guys," he said. "Definitely, the pace of the game is grueling, but we're fun to watch."
Berthold undefeated so far
The Bombers have opened the season with three wins at home, starting with a 74-49 victory over Garrison November 30th.
Berthold topped Velva December 4th, 58-43.
Three Bombers scored in double digits that night, with Mitchel White at 16 points, Cale Neshem 11 and Jaeden Jenson 10. Austin Lee added 9 points, Logan Gunderson 7 and Adam Knudsvig 5.
On Friday, Berthold defeated Stanley 69-37.
Jenson and Gunderson each logged 16 points and Stetson Carico scored in double digits with 11. Lee added 9 points, White 7, Ryan Ross 6 and Knudsvig 2.
Teets appreciates the team's winning record so far, but he knows the schedule is loaded with competition. "This region, year in and year out, even though it hasn't produced a state champion for a while, is the most balanced," he said. "Every year, there are at least eight teams that have a chance to be the region champion."
He reeled off a list of likely contenders, including DLB, Rugby, Bishop Ryan, Westhope-Newburg, Our Redeemer's, Glenburn and TGU. "Any night in this region, it's a dogfight," he said, naming injuries and luck as factors in each team's success, along with skill.
"It also depends on who's hot at the end of the year," he added.
Roster features 27 players
The three seniors leading the Bombers squad this season are Logan Gunderson, Jaeden Jenson and Cale Neshem.
Five juniors wear the purple and gold, with Stetson Carico, Adam Knudsvig, Wyatt Limke, Ryan Ross and Mitchel White.
A dozen sophomores fill the Bombers' ranks, including Ethan Hennessy, Austin Lee, Marshall White, Will Burke, Jared Hamilton, Tyrell Mollerud, Jordan Nelson, Colton Ryan, Garrett Dahle, Shayd Dalen, Nick Helfrich and Austin Kilene.
Seven freshmen are taking their first flight on the team, with Tucker Hennessy, Clay Hornberger, Colton Bredahl, Lucas Brown, Marco Guerrero, Braydon Lautenschlager and Jamisen Ogle.
Teets is assisted again this season by coaches Shane Gunderson and Todd Lee.
Rachel Birdsall, Shelby Hennessy and Madison Moen will handle stats for the Bombers team.
Bombers' schedule
Berthold will finish play in the Stanley Tournament and round out the December schedule on the road against Drake-Anamoose on the 17th. The JV and C-squads will play those Minot Central teams on the 20th.
The Bombers get back into action in January at Parshall on the 3rd, then welcome Tioga to the home court on the 7th.
District 12 games begin January 10th at Bishop Ryan and continue at Surrey on the 15th. Kenmare plays in Berthold on the 18th, followed by a Super Saturday game against Bottineau on the 19th at the Minot Municipal Auditorium.
Berthold will host Ray on the 21st, then travel to Our Redeemer's Christian School on the 24th, and close the month with a home game against Mohall Lansford Sherwood on the 29th.
The Bombers take on the DLB Lakers February 2nd at the Minot Municipal Auditorium, then host Glenburn on the 5th. Berthold will travel to Turtle Lake for the last regular season game on the 11th.
The District 12 tournament will be played February 14, 15 and 16 at the Minot Municipal Auditorium, followed by the Region 6 tournament February 25, 26 and 28.
The Class B state boys basketball tournament is scheduled for March 7-9 at the Dome on the Minot State University campus.
Although their appearance in the 2012 state tournament is a powerful memory, the Bombers are looking at the new season game by game. "We're a work-in-progress," said Teets. "We're definitely a team that's going to be better as the year goes on."
He continued, "Be patient with us. We've got a long ways to go, but we're going to be fun to watch!"