Thanks for reading some of the latest features about area people and events.
To view every page and read every word of The Kenmare News each week,
subscribe to our ONLINE EDITION!
Bombers always have Hope
When the Lewis & Clark-Berthold team took the floor of the Minot Auditorium to warm up for the opening game of the Region 6 tournament on March 8th, the sight of their dark purple jerseys decorated with "4 Hope" and a basketball in white brought extra cheers from most Bombers fans.
3/17/10 (Wed)
Team shows support for first
grade teacher Hope Brown
as she fights cancer
When the Lewis & Clark-Berthold team took the floor of the Minot Auditorium to warm up for the opening game of the Region 6 tournament on March 8th, the sight of their dark purple jerseys decorated with "4 Hope" and a basketball in white brought extra cheers from most Bombers fans.
One of those fans, Hope Brown, who was diagnosed with a form of liver cancer in February, was completely taken by surprise.
"I was sitting [in the bleachers] on the end when they came out," she said. "They always wear white, and when I could read the shirts I thought, 'Oh my God!'"
She continued, "I was so proud, and I just started sobbing my heart out."
Hope, who is the mother of senior guard Josh Brown, was diagnosed with cancer in the bile duct of the liver on February 17th. "They tell me it's not curable but it's treatable," she said. "But I'm just going to knock it out!"
She first went to the doctor a few days earlier after friends called members of her family, expressing their concern for her tired condition and lack of energy. Once doctors in Minot confirmed the presence of the cancer, they set her up for tests at Mayo Clinic on February 23rd, which led to treatments back in Minot after she returned.
As a first grade teacher for the past 29 years, Hope was reluctant to share her class with a substitute. "Right now, that's what I miss the most," she said, explaining that her immune system is weakened, both from the cancer and the chemotherapy regime. "I can't be there with them."
However, she refused to miss a single minute of the Bombers' drive for the district and regional championships and a second consecutive appearance in the Class B State Boys Basketball tournament. "I told the doctors in Mayo and I've told every doctor and nurse I've had, I will not miss a game," she said. "I would not miss it, no way!"
Even the night of her biopsy in Minot, she was released from the hospital at 6:30 pm and in her seat at the gym by 7:10 pm. "I love basketball, and those boys out there, those boys are all my children," she said.
She described how the 10 seniors on the team have been together since they were her students in first grade. "I'd take them anywhere with me," she said. "We do. They go to the lake with us, they're at our house. They're all just best friends."
She continued, "I know they're good kids, and I'm so proud of them. Just for the way those guys have helped Josh through this."
True to her promise, Hope has not missed a Bombers' game. She arrived for the District 12 championship game after being discharged at 7:15 pm from having her port installed for chemotherapy, then endured her first round of the treatment the next day. The second round of chemo was finished a couple hours before tip-off of the regional semi-finals game played March 9th.
The players know she's there, too, just like she's been since watching them shoot hoops at recess in first grade. "She's always been one of our biggest fans," said senior forward Matt Yale. "She's been to all of our games forever. She's cheering the loudest. She's a Bomber 100 percent."
Yale had spoken with Berthold head coach Brock Teets about Hope's situation and expressed his wish to do something to show the team's support, but he never expected the coach would make such a statement with the new warm-up jerseys. "We wanted to do something nice for the family," Yale said. "But then we came into the locker room and saw them all laid out."
He continued, "It's special when you put it on. What's on the front means more than just the 'Bombers.'"
Senior guard Lyndon Bloms said the new shirts meant a lot to all the players. "She's been a huge part of us," he said. "This is a way we can show her we're behind her 100 percent in what she's going through."
"I think she appreciates it a lot," added senior forward Michael White. "We're hoping it makes a difference!"
Teets said that in his two years with the team, he'd seen Hope's positive influence on the players and what she means to the community and the elementary school. "Josh talked to me about [the diagnosis] one day before practice," said Teets, "and the news just hit me in the stomach." He called Soltis Business Forms in Minot with the design idea for the shirts on March 4th and had the new jerseys ready for the team on the 8th.
He also shared a thank you note with the team before Thursday's championship game that Hope wrote for the players. "I had each team member read the note before the game," he said. "I think that had something to do with our focus. We broke on [the word] 'Hope.'"
Hope said she and her husband Jay, Josh, and the couple's older son Chris, a former Bomber now finishing a degree in elementary education at Minot State, have appreciated the support from the team and the town. "You get a different attitude," she said. "You appreciate everything more now."
She laughed as she said she hasn't had to cook her own meals since the diagnosis. "My family and I cannot thank the community of Berthold enough for their support and their prayers," she said. "We live in the best community."
For Yale and the rest of the Bombers, encouraging one of their most devoted fans merely reflects the team spirit the players have lived by all season. "When you look at the big picture, we're playing a basketball game," he said. "She's battling something that's bigger than all of us put together."
As for the Bombers' upcoming trip to the state tournament, Hope expected nothing less. "Since they were six years old, they were going to State, telling me while they were out on the playground," she said, describing her former students shooting baskets and wearing headbands like the older players. "This is a dream come true!"
Additional information about Hope's treatment and progress can be found online at www.caringbridge.org/visit/hopebrown1.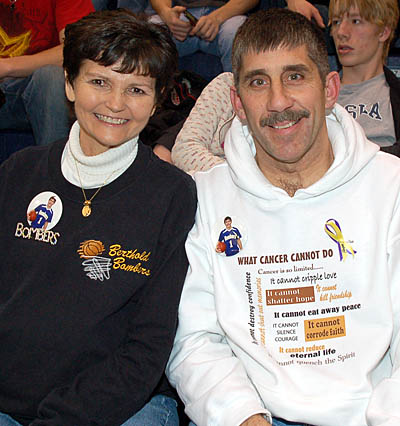 Hope and Jay Brown cheer the Bombers at the
Region 6 championship game, played in Minot March 9th.