Thanks for reading some of the latest features about area people and events.
To view every page and read every word of The Kenmare News each week,
subscribe to our ONLINE EDITION!
Young team to take the field for Honkers
With only four seniors and two juniors returning to the Kenmare-Bowbells-Burke Central 9-man varsity football roster, head coach Courtney Seime knows he'll be counting on strong performances from the sophomores and, especially, the 12 freshmen who suit up for practice every day.
8/24/11 (Wed)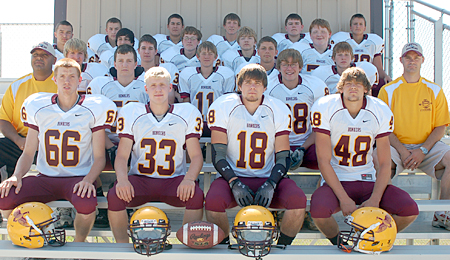 With only four seniors and two juniors returning to the Kenmare-Bowbells-Burke Central 9-man varsity football roster, head coach Courtney Seime knows he'll be counting on strong performances from the sophomores and, especially, the 12 freshmen who suit up for practice every day.
"There's a lot of playing time ahead of those freshmen," he said. "They're going to get into the ballgame, and they're going to have to give what they can contribute to the team."
The senior Honkers believe those freshmen can contribute plenty. "They're so high energy, and they can run the ball," said defensive end and lineman Jeremey Peterson.
"We want them to work hard and earn their place on the team," added left guard and fullback Brennen Christensen.
Twenty-two players reported for practice, with over half of them being members of the freshmen class. Seime doesn't consider that to be an obstacle. "It's a good bunch of freshmen to have," he said. "They've got some athleticism in that class."
In fact, the entire team is looking at the season as an opportunity to build toward the future. "We want to win, but we're extremely young and we accept the fact that we're going to struggle." Seime said. "But they're a team and they're having fun playing football together."
The fun started with the first practice on August 10th and continued through the conditioning and tackling drills. "They know they're going to have to step up and do the best they can," said Seime. "Some of them were nervous when we started hitting, when they had to go up and take down seniors."
He nodded his approval as he added, "And they
did fine
. They found out they could play against those older guys."
The early season conditioning has been important to the experienced players. "We've got to be able to last the whole game without being tired," Christensen said.
He and Peterson recognized the importance of the senior leadership on the team. "It's kind of nerve-wracking," said Peterson.
"We need to work harder than we used to show the younger guys a little hard work pays off," added Christensen. "There's a lot of pressure, but it feels good to step up and take our role as seniors."
In general, the Honkers are fielding a smaller team than in past seasons. Coach Seime said the players are working in the weight room after practice, though. "They know they're not going to get bigger during the season, but they can get stronger," he said. "Lifting weights will naturally make them faster and stronger."
He likes the strength he sees in the front line, which includes seniors Brennen Christensen and Jon Essler, juniors Taylor Egeberg and Mason Ankenbauer and freshman Spencer King. "There's some size and athleticism on that line," he said.
Speed will be the key to the Honkers' game plan, which will focus on running. "Looking at our conference, there are a lot of teams with big kids," said Seime, "so hopefully we can be quicker. Getting of the ball quicker and
making
the contact instead of
receiving
the contact will be the key. No matter whether it's offensively or defensively, we have to be the instigators."
He's relying on speed in the backfield from senior running back Ryan Young. "He's spent some time in the weight room, and I can tell he's filled out," Seime said. "He'll be our go-to guy when we need a couple of yards."
With the new conference alignment, K-B-BC will play in Region 3. The MLS Mavericks and the Surrey Mustangs are the only teams the Honkers have faced in previous years. According to Seime, his players were looking forward to matching up against both squads. "We know them, we know what they do," he said. "Our boys know their boys really well."
The other teams are unknown quantities at this point, although Seime pointed to reputations of the programs at TGU, St. John and North Star. "They've had some pretty dominant programs in the past few years," he said. "I don't think there's going to be a slouch team in our conference."
Christensen and Peterson only know most of the other teams by reputation, but they want to see the Honkers be in the mix and finish the season in the playoffs. "It's a great feeling when you make it there," said Christensen, who was a sophomore when K-B-BC played in the 2009 post-season.
Seime recognized his team wants to earn a playoff berth, but securing one of the four slots will not be easy. "It's a realistic goal, but we'll have to work extremely hard to make the playoffs," he said. "Let's be competitive and, at the end of the game, use our conditioning to outlast the other team. When the final horn sounds, we'll see what the score is."
Honkers roster and schedule
The flight of the Honkers this season will be guided by seniors Brennen Christensen, Jonathan Essler, Jeremey Peterson and Ryan Young.
Juniors Taylor Egeberg and Mason Ankenbauer will contribute their experience on the field.
Sophomores wearing the maroon and gold helmets include Blake Iverson, Kirkland Melby, Colton Radomski and Doug Winzenburg.
Twelve freshmen will step up to the varsity ranks this season, with Jordan Balvitsch, Quinn Chrest, Mark Dean, Tanner Egeberg, Colton Gandrud, Alex Giese, Levi Goettle, Hunter Harris, Spencer King, Xavier Maureaux, Austin Redding and Jack Skjordal.
Coach Seime is assisted this season by returning coach Guillermo Santizo of Kenmare and newcomer Mitch Greenwood of Bowbells, who is also coaching the 7th and 8th grade K-B-BC squad.
Stats duties for the Honkers will be handled by Joy Jacobson, Katie Ringsaker and Sydney Wheeling, with video coverage by Morgan Goettle and Shelby Hass.
The Honkers opened their season last night against Mohall Lansford Sherwood on the road, and will play their first home game on Saturday, August 27th, at the KHS field against Four Winds, beginning at 1 pm.
K-B-BC will cap a week of Homecoming festivities on Friday, September 2nd, against Leeds/Maddock, with kickoff set for 7 pm. The team will travel to St. John on September 9th and to Drake on September 16th to play the Tri-County Raiders.
The Honkers play at home on September 23rd when TGU comes to town, then make the long trip to North Star on September 30th. K-B-BC closes the regular season with home games on October 7th against Dunseith and October 14th against Surrey.
Seime enjoys the atmosphere of the Friday night football games, and he encouraged K-B-BC fans to make their presence known. "Kids like to perform," he said. "If nobody's there, their performance is going to tank. We need our fans, whether it's here in Kenmare or on the road. We would appreciate the support from the community, whether we're winning or losing."
The senior Honkers agreed. "We need a big crowd," Peterson said. "It helps a lot!"
"We're small and people don't expect a lot out of us," Christensen added. "But come out and watch!"