Thanks for reading some of the latest features about area people and events.
To view every page and read every word of The Kenmare News each week,
subscribe to our ONLINE EDITION!
Young students treated like celebrities in Bismarck
The Kenmare second graders who are championing the convergent lady beetle as North Dakota's official state insect discovered they were famous when they arrived in Bismarck to testify before the House Political Subdivisions Committee.
1/26/11 (Wed)
The Kenmare second graders who are championing the convergent lady beetle as North Dakota's official state insect discovered they were famous when they arrived in Bismarck to testify before the House Political Subdivisions Committee.
"We were treated like celebrities," said teacher Tami McNeiley. "Everybody wanted our pictures!"
"My cheeks hurt from smiling," said student Megan Zimmer, who smiled again at the memory.
Fellow student Jaden McNeiley said even the cab driver who delivered them to the Capitol Friday morning knew about them. "At first, when we got in, he was kind of mopey," Jaden recalled. "Then he asked where we were going and when we told him, he asked, 'Are you the ladybug kids? Can I get your autographs?'"
But while the four second graders, including Logan Redding and Isabel Schwab, all laughed about those celebrity moments in Bismarck last week, their focus remained on the goal of having Hippodamia convergens designated as the state's insect.
And when they showed up for the committee hearing, they were prepared, starting with a catchy theme song and ladybug red T-shirts encouraging everyone they met to support the lady beetle.
Their schedule for the day was full, beginning with a tour of the state capitol with Representative Glen Froseth of Kenmare, who helped them draft the bill last spring and then submitted it for the legislature's consideration this session. The students also spent some time rehearsing their testimony in the North Dakota Hall of Fame, surrounded by portraits of the state's best known politicians, sports heroes, musicians and actors.
The kids admitted to feeling a little nervous before the hearing, but other adults who worked in the Capitol encouraged them. "One lady came up to us while we were practicing and said the representatives were just normal people," Jaden recalled.
"And the people [in the hearing] were nice," said Logan. "They were actually normal!"
The hearing took place at 11 am and began as Rep. Froseth introduced the bill. The students followed, distributing portfolios of information they had prepared about the benefits of lady beetles, which included letters of support from an NDSU entomologist and from Dr. Arthur Evans, entomologist with the Smithsonian Institute.
Jaden took the podium first to talk about lady beetles' impact on farming and the environment, including a story about a Kenmare-area farmer who had trouble with aphids in a barley field. He couldn't seem to shake the pests with any of his usual pesticides, and finally gave up. "He left for a week's vacation," Jaden continued, "and when he came back, he saw the lady beetles had moved in and eaten all the aphids. He thought that portion of his barley was lost, but it wasn't."
Isabel spoke next about the convergent lady beetle, found in North Dakota. "These are good for the environment," she said. "And one female lady beetle can lay up to 500 eggs in her life."
Megan followed her to describe a variety of ways lady beetles benefit humans. When she finished with her testimony, she looked at the committee members and asked, "How many of you are thinking about ladybugs and smiling right now?"
Logan continued the testimony with a list of interesting facts about lady beetles. "My favorite fact is that there are 5,000 types of ladybugs worldwide and 400 are found in North America," she recalled.
To the students' surprise and delight, two entomologists spoke to the committee in support of the bill, including Daniel Waldstein with the NDSU North Central Research Extension Center in Minot and Representative Marvin E. Nelson of Rolla, who works as an agricultural consultant.
Even more amazing was the presence of young Karli "Bug" Krantz of Bismarck, a fifth grade student who took time off from school in order to testify on behalf of her favorite insect. Mrs. McNeiley said Karli had watched news stories about the Kenmare kids' efforts and wanted to help, given that she was devoted to ladybugs, too.
The Kenmare group was grateful for her participation. "She came and told a couple of facts about ladybugs," said Isabel.
The hearing also included a video presentation of the Kenmare students and closing remarks by Mrs. McNeiley. "I talked about how this was an important program for our children," she said, "to understand how they can have a voice in this government and how they represent other young people in our state."
The committee was bowled over by the presentations and applauded when the hearing ended. "One person kept on shaking and shaking and shaking our hands," said Megan. "I was a little scared, but it was actually pretty fun."
"I felt proud of myself," Isabel said.
"I felt tall at the podium," added Logan. "They said this was one of the best presentations they heard!"
Most of the representatives in the hearing wanted their photos taken with the students. "The camera flashes were endless!" said Jaden. "This whole experience, I can't even come up with a word for it. It was so awesomely awesome!"
Mrs. McNeiley took pride in her students and said they represented Kenmare and the state well. "They were so professional, so articulate, so polite," she said. "They conducted themselves in such a good manner. This has been the most incredible experience in all y years of teaching. If you compare this to sports, this was the Superbowl!"
After the impromptu photography session ended, the students left for a special tour of the Governor's Office with First Lady Betsy Dalrymple. Then they joined Rep. Froseth and other representatives to participate in the activities of the House floor session. "We got to push the buttons for the votes," Jaden said.
"I sat with Glen Froseth," Isabel whispered.
In the excitement and flurry of the day's schedule, the kids missed lunch, but kind capitol staff members shared cookies with them and First Lady Dalrymple offered them candy from a dish on the Governor's table.
The kids were accompanied on the trip by their parents and returned home during the weekend. They reunited at school Monday to relive their moments at the Capitol. "I asked Mrs. McNeiley is she had a time machine for us to go back to that day," Isabel said.
As far as McNeiley knows, the students will not be called upon to testify again. Now, like other citizens with an interest in legislation this session, they will watch for progress of HB 1219. "If it passes and goes to the Senate, we want to go down there for the vote," said McNeiley.
As of Tuesday morning, no action had been taken yet on the bill. The status of HB 1219 can be tracked on the North Dakota legislature's website at legis.nd.gov/assembly/62-2011/bill-text/house-bill.
"My dream," Logan said, "is that it will go on to the Governor to be signed!"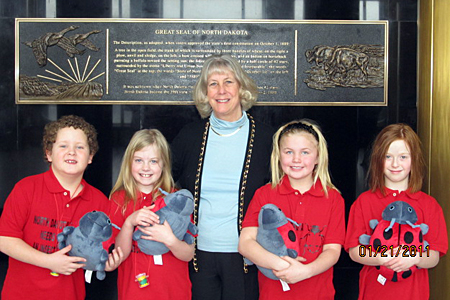 First Lady and the Lady Bug kids . . . Kenmare second graders, l-r,
Jaden McNeiley, Logan Redding, Megan Zimmer and Isabel Schwab
view some of the state capitol sights with First Lady Betsy Dalrymple.