Thanks for reading some of the latest features about area people and events.
To view every page and read every word of The Kenmare News each week,
subscribe to our ONLINE EDITION!
Work starts on fitness trail
Work got underway Monday on Kenmare's long-delayed fitness trail.
8/31/11 (Wed)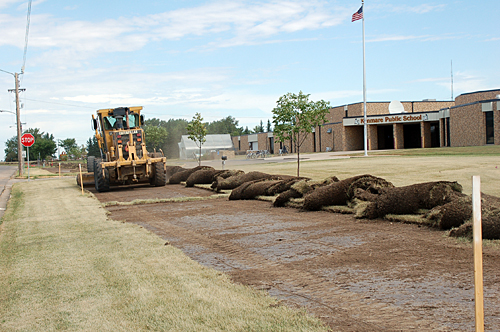 Starting down the trail . . . A motor grader peels away the grass
in front of the Kenmare High School along the path of the first portion
of Kenmare's fitness trail. Below, looking from the north, the trail
forks to the left and the right to encircle the entire school grounds
for a distance of about one mile.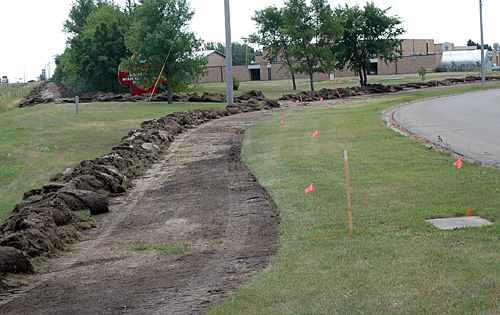 By Terry Froseth
Work got underway Monday on Kenmare's long-delayed fitness trail.
Turf and top soil were peeled away, and a gravel base for the pathway could be set by week's end.
The initial phase of the walking/biking path will encircle the Kenmare High School grounds for a distance of approximately one mile.
Delayed in the spring of 2010 because of wet weather, the project was delayed again in the fall of 2010 because of wet weather. Even wetter conditions this past spring delayed the start of the project until now.
Original plans called for the trail to be 10 foot wide and paved with a three inch layer of asphalt. Plans may change, however, as Kenmare's Scenic Trail Committee is also considering the feasibility of using concrete for the entire length of the trail.
This first phase of the trail system was estimated to cost $155,000.
Funding has been in place since the fall of 2009. The trail committee secured commitments of $50,000 from Fund Itt, $50,000 from Kenmare Veterans Club, $25,000 from Kenmare Public School, $20,000 from Kenmare Community Development Corporation, and $10,000 from Kenmare Park Board.
Future plans are to extend the fitness trail throughout the community.
The committee was approved in 2010 for a $170,000 grant from North Dakota Parks and Recreation for the next phase of the trail system.
That section of trail would extend north from the high school grounds along U.S. Highway 52 to the South of the Border restaurant, come back south to the swimming pool along Central Avenue, then head east along the alleyway and street north of Pioneer Village until it intersects the north-south portion of the trail.
It is estimated the committee will need $120,000 to $140,000 as a community match to the state grant.