Thanks for reading some of the latest features about area people and events.
To view every page and read every word of The Kenmare News each week,
subscribe to our ONLINE EDITION!
Wheels and Meals asks for your votes to win $10,000
For the next three weeks, the easiest way to make a $10,000 donation to Kenmare Wheels and Meals is by spending a few minutes on Facebook.
9/25/13 (Wed)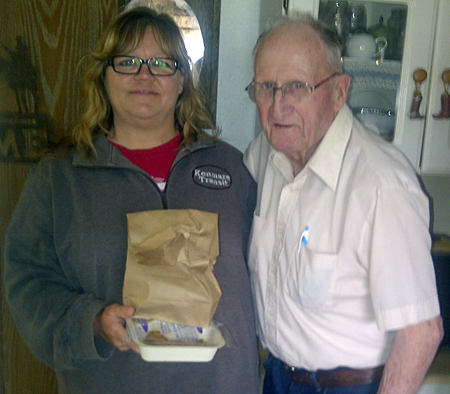 Wheels and Meals now in the national spotlight . . . Kenmare Wheels
and Meals public transit driver Angela Jones delivers a meal to
Kenmare senior Grant Steen at his home. The Kenmare Wheels and Meals
program has been selected as North Dakota's finalist in the 50 States
for Good event sponsored by Tom's of Maine, which is awarding $10,000
to each of 15 winners receiving the top votes in a Facebook campaign.
By Caroline Downs
For the next three weeks, the easiest way to make a $10,000 donation to Kenmare Wheels and Meals is by spending a few minutes on Facebook.
That's right, Facebook, where you can vote for Kenmare Wheels, Meals and Home Care Deals as one of 15 winners in the 50 States for Good initiative sponsored by Tom's of Maine.
Each state is represented by one non-profit organization selected for Tom's of Maine annual community giving program. The 15 nonprofits with the most votes received by October 15, 2013, will each receive $10,000 to develop and grow their community projects and services.
"We are THE North Dakota finalist," Kenmare Wheels and Meals Inc. program director Linda Freeman said, adding the FARRMS sustainable agriculture project based in Medina represented the state in the event last year.
"What I'm asking is that people go to Facebook and vote," she continued. She laughed as she admitted she is not a frequent Facebook user herself, but this opportunity may change her mind. "People can vote once daily and vote for our organization to be among the top 15 high vote-getters. And then, if I can get people to pass this on to their relatives and friends, that's even better!"
Kenmare and North Dakota residents can represent the state's entry in this program by voting daily at 50statesforgood.com. A Facebook account is required for voting.
While $10,000 may not seem like much money for the budgets of some agencies and businesses, Freeman said the contest award would provide a tremendous boost to the Kenmare Wheels and Meals programs.
Tom's of Maine stipulates the award must be directed toward services and activities that benefit the population in need, not for salaries or administrative costs.
Freeman agrees. "We would probably use the majority of the money for meal services in our three-county area," she said. "If there was any left over, we would use it in the home care program."
Freeman submitted the 50 States for Good nomination earlier this year. A panel of leaders in the nonprofit community selected the 51 finalists, including Kenmare Wheels and Meals, from among nearly 1,000 nominations.
Judges for the nominations included Sam Davidson, president of Cool People Care, the nonprofit strategist and Huffington Post columnist Lisa M. Dietlin, assistant features editor for Mashable.com Matt Petronzio, and star of "The Vampire Diaries" and nonprofit founder Ian Somerhalder.
Local opportunity
for $10,000 boost
Freeman is excited about the selection of Kenmare Wheels & Meals, Inc. in the 50 States for Good program this year, which is the first time voting for the final awards is done on the interactive platform of Facebook.
"A desire to do more for a favorite nonprofit can often be hindered by a lack of time to volunteer or financial means to make a donation," said Susan Dewhirst, goodness programs manager at Tom's of Maine. "50 States for Good makes it easy for anyone to have an impact and directly help organizations that are bringing goodness to communities in a variety of creative and inspiring ways."
To date, the 50 States for Good community giving program has benefited 5.5 million people and dozens of communities through projects as diverse as tree planting, sustainable hiking trails, a community orchard and meals for neighbors in need.
Tom's of Maine is a leading natural products company focused on oral and personal care. The company has a long-standing commitment to supporting people, communities and the living planet.
For over 42 years, TOMs has sponsored hundreds of nonprofit efforts by giving 10 percent of its profits back to organizations that support human and environmental goodness and by encouraging employees to use 5 percent (12 days) of employee time to volunteer. More information can be found online at www.tomsofmaine.com or at www.facebook.com/TomsofMaine.
Freeman hopes her friends and neighbors in Kenmare visit those websites every day between now and October 15th to show their support for Wheels & Meals.
"This agency runs on a shoestring," she said, "so if we received [the $10,000 award], we would be able to direct that to our services. The opportunity for $10,000 to be spent the way we want to spend it is amazing!"
Further information about Kenmare Wheels & Meals, Inc., including details about the specific programs offered, is available online at www.wheelsandmeals.org.
Three programs help keep people living in their own homes
Small things can make a big difference in quality of life
By Caroline Downs
Kenmare Wheels and Meals director Linda Freeman highlighted the value and necessity of the three programs they offer as she completed the 50 States for Good application for a $10,000 award.
"When I do an application like this, I just tell it like it is," she said. "Our number one goal is to help people stay in their homes as long as possible."
She likes to share a story about one client who lives in Columbus and has used the Wheels and Meals programs for years. "She was getting meals and she was doing okay in her home, but then the delivery person reported that she couldn't get out of her home and she was so depressed," said Freeman.
After some investigation, Freeman discovered the woman had a problem turning the key to start her pickup or to unlock her apartment door because of severe arthritis. She didn't want to beg rides from friends because she cherished her independence, so she chose to simply stay home and be alone.
Freeman researched the problem until she discovered a plastic device to slip over keys with an attachment that would actually turn the key when pushed by the operator. "Right away, the woman was out and going wherever she want to go again," said Freeman. "It was one probably $4 item and it changed her life!"
Meals
Freeman witnesses that type of impact nearly every day as she administers the three programs offered by Wheels and Meals, and she believes the combination of those programs caught the attention of the judges.
She acknowledged the meal service is accessed by a relatively small number of people, with an average of six or seven participants in Kenmare each day, and an average of 150 meals per week served at all sites, including Lignite, Glenburn and Mohall, or delivered in those four communities as well as Columbus and Flaxton.
Still, the impact is important. "Those who are taking advantage of this service are doing so because they need it," Freeman said. "More and more, I think proper nutrition keeps people healthy."
Home Care
When area residents combine the meal program with the home care program, Freeman sees even more success. "It's a private pay service, so we don't limit who can use it," she said. "We'll go where the need is, and right now we're in Sherwood, Powers Lake and Bowbells along with Kenmare."
The home care program averages about 10 clients per month, with one home care provider on the payroll and a substitute ready to be called when necessary.
Home care services include light or heavy housecleaning, cooking, visiting and personal care--whatever the clients need for as long as they have those needs. The provider will also assist other caregivers for the client by giving them breaks or checking on the individual.
"We don't limit it much," said Freeman, noting that her staff is not licensed to administer medications or offer health care. "We try to keep it flexible. Often this is for someone who has been in the hospital and they just need a little help for a week or so before they're back on their feet. It's been going very well. Everybody seems thrilled we're doing this."
Public Transit
The third program offered by Wheels and Meals, public transit, reaches the broadest audience, averaging 161 one-way rides each week. "That does include work rides outside of our regular service hours," Freeman said.
She emphasized the transit is open to anyone of any age who wants to use the service, which costs $1.50 per trip for as many stops as the rider chooses to make around Kenmare.
"It's not a senior citizens-only service," she said. "Our riders run the gamut all the way from children to seniors and in-between."
She noted the transit program used to serve persons ages 60 and older the majority of the time. "Now, the rides are about 50 percent by the general public under age 60 and 50 percent by seniors," she said, "and we're inching up to a 60-40 split."