Thanks for reading some of the latest features about area people and events.
To view every page and read every word of The Kenmare News each week,
subscribe to our ONLINE EDITION!
Two more Kenmare veterans make visit to WWII Memorial
Two Kenmare area World War II servicemen stood with nearly 90 other North Dakota veterans at the national memorial built to honor their service.
9/22/10 (Wed)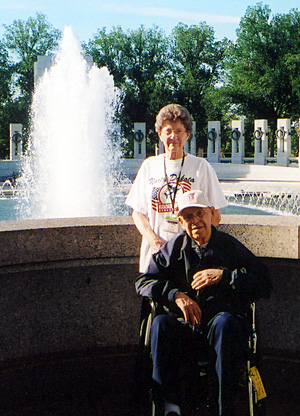 Clifford Kling and his wife Pearl at the National
WWII Memorial in September 2010 with the
Roughrider Honor Flight from Bismarck.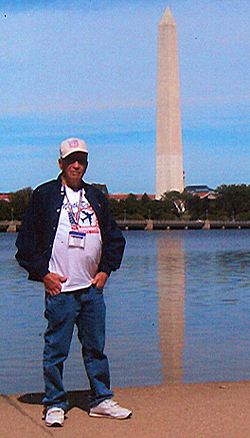 WWII veteran Lyle Hanson on the National
Mall in Washington, D.C. during the September
2010 Roughrider Honor Flight from Bismarck.
By Caroline Downs
Two Kenmare area World War II servicemen stood with nearly 90 other North Dakota veterans at the national memorial built to honor their service.
Clifford Kling and Lyle Hanson joined the Roughrider Honor Flight from Bismarck September 10th and 11th, flying to Washington, D.C. to tour the nation's capitol and especially to visit the National WWII Memorial.
Clifford was accompanied by his wife Pearl, who worked hard to convince him to apply for the all-expense paid trip. "We tried to get him to go last time [on the April flight], but he said no," Pearl explained. "This time, his sons and grandsons talked him into going. They told him what an honor it would be and kept talking until he said he would go."
Lyle became interested in the Roughrider Honor Flight after one of his sons learned about the opportunity. A few phone calls and an application later, he found himself booked for the September 10th flight.
That flight was the fourth Roughrider Honor Flight based in Bismarck. The group left North Dakota early Friday morning with a send-off led by Lieutenant Governor Jack Dalrymple and Governor Hoeven's chief of staff Ron Rauschenberger, and arrived at Dulles International Airport shortly after noon. From there, they were divided into three groups to visit several memorials on the Washington Mall and take a bus tour of the city.
"There were just so many impressive things," said Pearl, who said the trip was Clifford's first visit to Washington, D.C. and her first time back in over 20 years.
She and Clifford enjoyed the Vietnam and Korean War memorials, and especially the Franklin Delano Roosevelt Memorial. "FDR was in office when [World War II] started, and we would listen to his 'Fireside Chats' on the radio," Pearl said. "Some of his words from those talks were engraved on the granite at the memorial."
Lyle enjoyed the expanse of the National Mall and took in the views from the Lincoln Memorial and the Washington Monument. "I've never been to the East Coast in my life," he said. "I just couldn't hardly believe I was walking around Washington!"
He also took advantage of the driving tour to record impressions with his camera. "Everything was so clean and nice," he said, laughing as he admitted he took 140 pictures. "Every time we stopped at an intersection, I snapped the camera. There were all those beautiful buildings!"
The veterans on the Roughrider Flight made a group visit to the National WWII Memorial Saturday morning and spent nearly two hours at the site.
"Oh my, it was fabulous," Pearl said, "and the other tourists at the Memorial, they all congratulated the boys for their service. Clifford was surprised by that. When [he and other soldiers] came home from the war, they didn't have a big hoopla for the boys."
Lyle described the WWII Memorial as another beautiful site on the Mall. He was especially interested in the fountain along one side of the Memorial, with its back wall covered by gold stars, each representing a specific number of American service men and women killed during World War II.
Further stops were scheduled for the Roughrider tour group that day, as they visited the Iwo Jima Memorial, took a tram tour over sections of the capitol, and witnessed the precise ceremony for the changing of the guard at the Tomb of the Unknown Soldier in Arlington National Cemetery.
"They do that 365 days a year, night and day, rain or snow or whatever," Lyle said. "I never realized that."
The national cemetery also made an impact on Clifford. "He was very impressed by all those crosses and the monuments," Pearl said.
The Roughrider veterans left Washington, D.C. early that evening and arrived back in Bismarck by 9 pm. "The Governor and his wife met us when we came home," Pearl said, "and there was a celebration with a band and so many people! Clifford was really pleased."
Kling goes to European Theater
Clifford Kling of the Donnybrook area was inducted into the U.S. Army on July 7, 1942. He trained in South Carolina and was shipped to North Africa by December, where he served under General George S. Patton. Clifford served as a truck driver in the 2nd Armored Division and saw action in Sicily, Normandy, northern France, Rhineland, Ardennes and central Europe.
He was involved in the D-Day invasion, the Battle of the Bulge, and the occupation of West Germany and Berlin. The 2nd Armored Division blazed an offensive deep into Germany during the spring of 1945, overrunning 3,000 square miles and capturing over 45,000 prisoners in Nazi territory by April 19th. Later, Clifford's unit worked to liberate prisoners held in the concentration and work camps.
Clifford was discharged October 15, 1945, and returned to Donnybrook. He worked for the Soo Line Railroad until he started farming in 1949, which he continued until he retired. He married Pearl in 1947, and the couple raised their family. Pearl also taught for 20 years, instructing students in rural school classrooms and at Kenmare Elementary School.
Hanson serves at war's end
Lyle Hanson trained with a U.S. Army infantry unit in Louisiana, after being drafted as soon as he turned 18 in 1945. During a furlough spent back at the family farm northeast of Kenmare, he learned the United States bombed Hiroshima and Nagasaki, but Lyle's tour of duty had just started. He shipped out in August with about 10,000 other troops to Okinawa. Instead of performing combat duties, he built field hospitals to treat Japanese prisoners.
Later, after a single day's training, he became an anesthetist for one of the hospitals and assisted the doctors in surgery. "We would do two or three operations every morning, mostly removing shrapnel," he said. "We worked on a couple of GIs, too."
He chuckled at his brief training in the medical field. "I tried to do my best," he said, "and I didn't hurt them."
The field hospitals closed as patients could be moved elsewhere, so Lyle was assigned first to guard duties and then to the kitchen. "One day, they pulled us out, looked at me and said, 'You're a cook,'" he recalled. "I was the head cook every other day!"
He played down his role in the war. "I was just more or less at the tail end," he said, adding that a bigger story is told by all the soldiers who served in the Pacific Theater before him, especially in the fierce battles of 1945. "If I'd gotten there a month or two earlier, I wouldn't be laughing about it. But for me, it turned out to be quite an experience."
The only combat Lyle saw came from a renegade Japanese soldier on Okinawa who appeared in the hills above the Americans' camp one day and strafed the tops of the tents with some kind of automatic weapon. "It kind of took us by surprise," said Lyle, "and I don't know what his reason [for doing that] was."
Lyle was discharged November 30, 1946, and returned home to farm with his father for a couple of years until taking over the operation. "I farmed all my life, until I retired 20 years ago," he said. He and his wife Elveria, married 58 years, raised six children.
Opportunity for ND veterans
Pearl admitted the whirlwind Roughrider tour was tiring, with plenty of walking involved for her, but she enjoyed the time she and Clifford could spend there. "I'm glad we went. We wouldn't have seen it otherwise," she said. "And that fact there are that many veterans left [in North Dakota], after all this time. They're all in their 80s, or more."
Clifford's initial resistance to the trip gave way to appreciation for the opportunity. "He is very happy now that he had a chance to go," said Pearl, "and to think that it's all free for the veterans is just amazing!"
Lyle appreciated his first visit to Washington, D.C., and now he's considering what he would like to see if he could return, perhaps with his wife. "I'd like to go back there and climb up the Washington Monument," he said, "and I'd like to see [the Mall] at night sometime. Everything would be lit up then."
The Roughrider Honor Flight is based in Bismarck and serves veterans primarily in central and western North Dakota. Approximately 300 service men and women have been escorted to Washington, D.C. from Bismarck, with another 800 WWII veterans traveling on earlier flights from Grand Forks and Fargo.
The National WWII Memorial was completed in 2004, and the majority of the men and women who served in that war never had the opportunity to visit the site. Of the 69,000 men and women who served in WWII from North Dakota, an estimated 6,000 are still living.
Each Roughrider Honor Flight trip costs approximately $150,000, which is funded privately. Information about making a tax deductible donation or applying to travel on the next Honor Flight can be found online at www.rrhonorflight.com or by calling 701-373-5416.