Thanks for reading some of the latest features about area people and events.
To view every page and read every word of The Kenmare News each week,
subscribe to our ONLINE EDITION!
State oil director says boom could last 15 to 20 years
N.D. Oil and Gas Division director Lynn Helms noted the impact of oil activity directly on Main Street, as he spoke to an audience at Bowbells.
10/20/10 (Wed)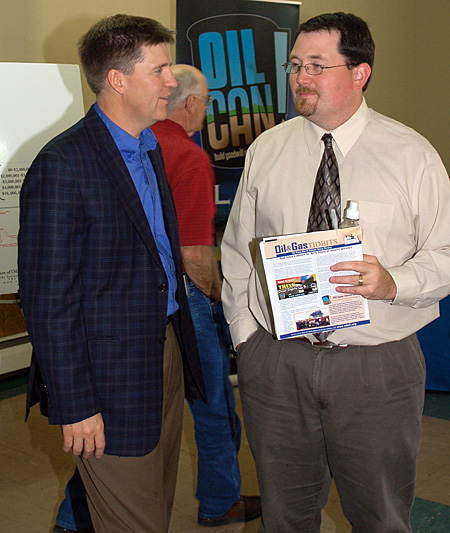 Oil Can! build goodwill in North Dakota . . . Kenmare
businessman Jamie Livingston, right, talks with North Dakota
Petroleum Council presdient Ron Ness at the Oil Can! town hall
meeting held in Bowbells October 5th. About 50 people attended
the event to hear about the latest news and trends
in the state's oil producing counties.
Federal interference could end it all too
N.D. Oil and Gas Division director Lynn Helms noted the impact of oil activity directly on Main Street, as he spoke to an audience at Bowbells.
"I've been counting the trucks going by while everyone else was speaking, and I'm up to 41," Helms said at the Bakken Basics Town Hall Meeting held in Bowbells October 5th.
Helms offered a broad picture of oil and gas development trends and their impact in the oil-producing counties. "We're on a record-setting pace for well permits," he said. "We're on track to issue about 1400 permits this year, and now, virtually 100 percent of those get drilled."
With 144 drilling rigs operating in the state that day, he attributed the interest to several factors, including new technology available to extract oil from the Bakken formation, low natural gas prices, and problems associated with drilling in the Gulf of Mexico.
"There's a race to Williams and McKenzie counties to drill middle Bakken wells right now," he said. "But you have to remember this is an industry that's fluid, and shifts a lot. I don't expect there will always be 145 rigs drilling. What we do expect is a range from 100 to 165 rigs operating for the next 15 years."
He continued by referring to the demands placed on county commissioners, city councils and township boards. "The current rig count is driving 15,000 jobs, a housing shortage and infrastructure problems in western North Dakota," he said, "and we've asked volunteers who meet once a month to plan for an unprecedented oil boom."
Further information about historical and current drilling activity, as well as Helms's monthly "Director's Cuts" reports, can be seen online at www.dmr.nd.gov/oilgas.
Given the 99 percent success ratio of new wells drilled in 2009, Helms acknowledged a rosy picture of the future of oil and gas development in North Dakota. He took a moment to describe some of the risks involved, however, and cited tax proposals and cap and trade issues raised by legislators in Washington, D.C. He also referred to national efforts to place hydraulic fracturing under regulation by the EPA.
"That would stop the business," he said as he urged members of the audience to speak out against such a change to their legislators. "We want this to be sustainable and we want this to last for 20 years."
Kenmare should
see more action
A map of the original oil in place (OOIP) as estimated by a study done of the Three Forks Formation, beneath the Bakken layers, revealed a clear bulls eye directly over southeastern Burke County with Kenmare included in the outer rings. Helms described the area as a potential target for drilling, and community leaders at the meeting took notice of his comments.
"The oil potential is just unbelievable," said Kenmare businessman Jamie Livingston, who was impressed by discussions about the technology used for oil extraction and the way that technology keeps evolving. "Basically, they've just scratched the surface. It looks to me like the Three Forks will be the formation that will affect Kenmare the most."
Ralph Hoversten, executive director for the Kenmare Community Development Corporation, agreed but he noted the fluctuating nature of the oil business. "It's something we have to prepare for, but it's hard to predict," he said.
According to Hoversten, planning for some of the expected changes has started in Kenmare. "Getting the land use plan funded with the city council's help is very important," he said, adding that a portion of the funding will be covered by a state grant.
He noted planning problems experienced by other communities in the region. "Having an industrial area set up is important," he said. "They're going to come and set up shop where they need to. We want to be ready for that and not have to play catch-up."
Hoversten expects housing for oil field workers, such as "man camps," may be one of the first issues the city has to address. "There have been people inquiring," he said, emphasizing that nothing firm has been determined at this point. "They're looking our way, and our work force needs to be prepared."
He suggested that immediate impacts would be felt by local restaurants which may have to expand their hours to meet the demand, gas stations and law enforcement.
"And then we may have to look at getting more sustainable housing if workers want to have their families move here," he added.
Livingston
could see the potential for job creation. "Once all the drilling is done, there are plenty of long-term jobs that will continue," he said.
Hoversten would also like those long-term jobs to be based in the Kenmare area, but he acknowledged Helms's concerns about federal regulation and the potential negative impact it would have on oil and gas development in North Dakota. "The state is very pro-business and pro-oil, but things are not as easy as they appear," he said. "This oil play looks like it
is
long-lasting, but whether or not it gets this far is the question."
Sharing information
and seeking input
Nearly 50 area residents, landowners and business leaders attended the meeting, where the North Dakota Petroleum Council promoted its Oil Can! theme.
The event featured an all-star cast from the state's oil and gas industry, including Ron Ness, president of the North Dakota Petroleum Council; Kathy Neset, geologist and owner of Neset Consulting based in Tioga; Steve Pine, landman with Great Northern Energy; Justin Kringstad of North Dakota Pipeline Authority; and Lynn Helms, director of the Oil and Gas Division of the North Dakota Department of Mineral Resources.
With six Oil Can! meeting scheduled recently, the event's organizers were working to listen to landowners and stakeholders from the state's oil-producing counties, share updated information about progress in the oil patch, and continue answering questions about the changing landscape and job scene in the western half of the state.
Vicky Steiner, a director with the North Dakota Association of Oil and Gas Producing Counties, facilitated the session and shared a presentation about the way revenues from the five percent oil and gas production tax are distributed to counties and school districts. She showed increases in that revenue, especially during the past two years, and emphasized the need for the next legislative assembly to review the formulas and make appropriate adjustments.
She also referred to the current Upper Great Plains Transportation Study taking place in the oil-producing counties, with results expected to be released in December for use by state agencies and the the legislature.
More information about the oil and gas tax revenues can be found online at www.ndenergy.org.
ND Petroleum Council
goes to the public
Ness
took the floor next, saying that nearly 20 similar town hall meetings had been held during the past three years to inform and hear from the state's residents.
"With all this oil activity, there are going to be issues, impacts, opportunities and challenges," he said. "Until you've been out here, you really don't grasp the size and the scope of what's taking place."
Ness
reviewed recent activities of the ND Petroleum Council, including community events like the Bakken Rocks CookFest and educational events like the legislative tour through oil country offered in September. The ND Petroleum Council is behind the new "Drive Safely" campaign, with new billboards placed on highways throughout the western region reminding all drivers to be cautious in oil country. The Council is also closely following ongoing studies by North Dakota State University regarding the economic impact of the current oil boom.
"We need to invest in the Bakken to make it sustainable for the long term," said Ness, "and then we need to educate our young people for the jobs available."
Ness
described current job opportunities in the oil and gas industry as long term, high skill and high wage. "These jobs are changing as the technology changes," he added.
Ness
closed his portion of the meeting by urging the audience to support Measure 1 on the upcoming general election ballot, which would establish the Legacy Fund and deposit 30 percent of oil and gas tax collections into a permanent trust fund for the state's use. "Our generation must do this," he said. "We're going to save some and we're going to spend some. I think the revenues will be there to do both."
Further information from the Petroleum Council can be located at www.ndoil.org.
Bakken geology responds
to horizontal drilling
Neset talked about starting her oilfield consulting business back in 1979, when she first arrived in Tioga. She described the geology of the Bakken and Three Forks formations and discussed the types of drilling technology used today to extract oil from layers of shale that refused to yield their treasure to the vertical wells drilled a couple decades ago. In fact, she called the Bakken layer an "unconventional reservoir" and proceeded to show how horizontal drilling and hydraulic fracturing worked to release the oil.
She also interspersed comments about the role of geologists during exploration and drilling operations. "Working on a rig is like working in a lab," she said as she talked about a typical day on the clock. "I encourage girls to study math and science. The potential for high-paying jobs is there for them!"
The landman's job
Pine described the landman's role as the liaison between oil companies and landowners. "I'm the face you usually put with the activities," he said. "Or, as I like to say, there's no grease without a lease!"
As the audience laughed, he encouraged landowners in the crowd to plan ahead and seek legal counsel regarding mineral and surface interests as the Bakken play continues to be developed. "Now, they're telling us we'll see a well in every section of western North Dakota as time goes by," he said.
He also referred surface and mineral owners to the Petroleum Council's website at www.ndoil.org, where links to the Royalty Owner Information Center and the Surface Owner Information Center will provide the starting point for answers to their questions.
Pipeline activity
Kringstad started with a brief description of the state's new Pipeline Authority, established by the legislature in 2007. "We're a unique state agency in that we regulate pipeline activity, but we have no say in siting and permitting," he said. The Pipeline Authority works with industry representatives, lawmakers, regulators and the public to facilitate development of pipelines and related facilities to support the production, transportation and utilization of the state's energy-related commodities.
"We face two challenges," said Kringstad as he talked about the predictions for future oil and gas production in North Dakota. "One is to move oil and gas out of the Williston basin to the market and the other is to move oil and gas within the Williston basin."
Kringstad reviewed pipeline and rail projects already underway or proposed as solutions for both challenges, including the Enbridge Bakken Expansion Program, the TransCanada Keystone-XL Marketlink Pipeline, the Quintana BakkenLink Pipeline, and the "Baker 300" expansion project. "We're seeing the potential to move 700,000 barrels of oil per day, with pipeline only," he said.
Current oil production is over 320,000 BOPD.
He spent a few minutes discussing improvements in natural gas production, too, with the Hiland Gas Plant project now under construction in McKenzie County and expansions in development for the Pecan Prairie Rose Pipeline. "The state is down 44 percent in flaring [natural gas]," he said. "We
are
making progress."
Kringstad invited members of the audience to review more information, including several maps of pipeline projects, from the Pipeline Authority at www.pipeline.nd.gov.