Thanks for reading some of the latest features about area people and events.
To view every page and read every word of The Kenmare News each week,
subscribe to our ONLINE EDITION!
Souris Basin wants to help with new businesses and new business ideas
So you've always wanted to own and operate your own laundromat, specialty coffee bar, car wash, dog grooming service or auto body shop?
5/09/12 (Wed)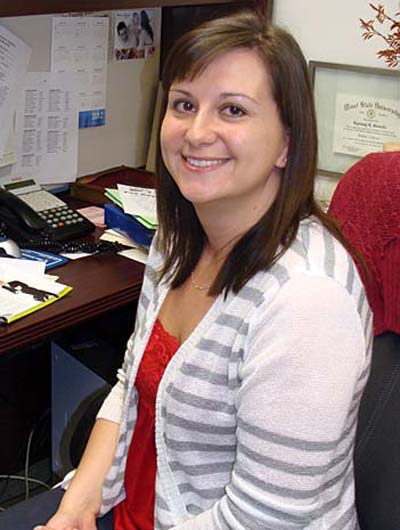 Business is her specialty . . . Lyndsay Ulrickson,
development specialist with the Souris Basin Planning
Council, is looking for potential business owners
interested in talking about funding options to
develop their products and services.
By Caroline Downs
So you've always wanted to own and operate your own laundromat, specialty coffee bar, car wash, dog grooming service or auto body shop?
Lyndsay Ulrickson, development specialist for the Souris Basin Planning Council, wants to meet you. She is looking for new businesses and new business ideas that may need the kind of help the SBPC can provide.
"The more people who know about us, the more we can do," she said from her office in Minot last week.
Ulrickson isn't kidding. "There's a wide variety of programs and assistance we can provide," she said, "both for brand new businesses and existing businesses with additional growth needs."
The Souris Basin Planning Council was formed 40 years ago and operates as a non-profit corporation serving a seven-county region, including Ward, Burke, Renville, Mountrail, Bottineau, Pierce and McHenry counties as well as the Three-Affiliated Tribes and the City of Minot. The SBPC was established to respond to the needs of local governments and other development interests in order to advance the continued progress of the region.
Ulrickson often considers "progress" in terms of new businesses, and she is passionate about making connections with new and potential business owners.
She described the situation of an individual in Minot who is investigating the possibility of starting a nutrition and diet supplement business. "You can come in completely green," she said. "You can come in with the idea for a business you want to do. We don't help with business plan writing, but we can share resources that do."
Start with
an Action Grant
Ulrickson recommended potential business owners in those cases take advantage of the SBPC's Action Grant, which benefits new and/or small businesses with limited funds for research and development. According to the SBPC Action Grant brochure, the funds "...are intended to encourage the use of outside expertise to improve a business and can be used to gain knowledge, study ideas or concepts or acquire patent protection."
"These grants can be used for something like marketing research or feasibility studies," Ulrickson said. "It's a matching grant, and we'll pay up to $2,000, but every little bit helps."
Action Grant funds can also be applied toward product testing, product development and business plan development.
Ulrickson rattled off a list of recent Action Grant recipients, including a daycare facility and Sonja's Old-Fashioned Delicacies in Mohall and Mojo Roast in Westhope, which was an established business with a need for funds to test new products.
Intermediary and SBA 504 loans
The Souris Basin Intermediary Relending Program has been popular throughout the region with private businesses as well as cities and other political subdivisions. "It's a good program for new and existing businesses," Ulrickson said. "There are not a whole lot of restrictions for what you can use the money for."
The program was designed to support creation and retention of permanent private sector jobs, expand the economic base of an area, and enable local governments to improve infrastructure and public facilities. Loan amounts range from a minimum of $10,000 to a maximum of $150,000.
Ulrickson suggested new businesses could use such a loan to purchase equipment and building facilities or to cover development costs. Existing businesses might use the loan for repair, lease or material expenses.
She was also excited about the ability of SBPC to act as an SBA certified lender for the SBA 504 loans. The SBA 504 lending program is designed for fixed-asset financing, including land acquisition and improvements, new construction, purchase of existing or build-to-suit facilities, renovation or restoration, or long-term equipment and machinery purchases.
"With all our programs, we team up with a local lender, and right now our minimum interest rate is four percent," she said. "The more money you borrow, the more money you save."
Try the Revolving Loan Fund
The Souris Basin Revolving Loan Fund offers another financing program, with the goal of assisting in the creation of permanent private sector jobs. The minimum loan amount starts at $5,000, with a maximum amount of $127,000 and the job/cost ratio goal of one job created or retained per $10,000 loaned.
"You could use this for equipment or inventory or land acquisition," Ulrickson said, "and even for building improvement or acquisition. We would still want to see some type of equity."
New Flood Recovery Loan Fund
A fifth program, the Flood Recovery Loan Fund, is new for the SBPC and will be available through September 2014. "This fund is for any business that was flood-impacted," said Ulrickson, "whether that was through a loss of employment or a loss of income.
These funds can be applied toward land and building acquisition or improvements, equipment, fixtures, inventory and limited working capital. Minimum loans begin at $5,000, with a maximum amount of $60,000 and a job creation and retention goal similar to the Revolving Loan Fund.
"We're involved in flood recovery projects in Ward, Renville and McHenry counties," Ulrickson said. "Right now, I'm working with Renville County on a grant program and we will be requesting funds from the state to do individual assistance for folks who were flooded. Hopefully, we will have the applications available for that within the next couple of months."
Take advantage of
technical assistance
In addition to the various types of financial assistance SBPC can provide to businesses, technical assistance is available. Ulrickson said her office could help with grant writing, as well as administration of state and federal grants.
"We're not always aware of a lot of the grants that are available," she said, "but if somebody has a grant program where they want to apply, bring that information in and we can help."
She described a current agreement with Dakota College at Bottineau where the SBPC administers a grant for the Entrepreneurial Center for Horticulture. "There's a lot of behind the scenes work to do for that," she said, "and a lot of places don't have a staff member who can focus time on all the reports and other paperwork that's necessary."
The SBPC offers those same services, along with website development, to cities within their region working on large projects, such as beautification or infrastructure. Land use planning and zoning services are available as well.
"Our executive director handles that, and we do charge a fee, depending on the needs and size of the project," said Ulrickson. "And if we feel like we're not a good fit for a particular business or project, we'll refer them to another partner of ours."
Ulrickson and SBPC
ready to offer help
Eight months into her job with the Souris Basin Planning Council, Ulrickson admitted it was in her nature to be generous with people. "No matter what job I've had, I've wanted to be helpful," she said, "and I just think there should be more opportunities for new businesses."
She lived in Rolette and attended college in both Bottineau and Minot before earning her degree. "I definitely have a passion for small towns, after growing up in one," she said.
She arrived at her new office with ambitious plans for the position. "I know our website needs updating," she said, "and I would love to do some sort of a blog to share information about business resources, and then there's our Facebook page."
She continued, "I have big hopes for getting the word out and doing more to help more people! More people should know about us."
Ulrickson intends to get herself out of the office and on the road to visit small businesses throughout the region. "I want to find out what they knew when they started, what they didn't know, and what they wish they'd had available to them," she said.
Then there are the housing needs across the region which demand her attention. "We don't have housing programs, but I would love to get financing for some type of housing program going," she said. "Housing relates to job creation and job retention, and I want to get a proposal together for that."
She caught herself and smiled. "I need to find more time," she added.
One activity she does have time for in her schedule is meeting with community development organizations, business or chamber of commerce associations, and other interested groups. "We'd love to bring our materials and talk about what we have to offer," she said.
Persons or businesses with questions about any of the Souris Basin Planning Council programs or opportunities are encouraged to contact Ulrickson at 701-839-6641 or by email at lyndsay@sourisbasin.org.
Further information can also be found on the Council's website at www.sourisbasin.org and the Souris Basin Planning Council Facebook page.
Ulrickson emphasized her interest in helping individuals who were uncertain about how to start or grow their businesses in the region.
"What about the businesses that don't exist because people had an idea but they didn't know how to open that business or they didn't know how to fund it?" she asked. "There are too many people out there who don't start the businesses they've dreamed about because they don't know about us."
City of Kenmare and its businesses benefit
from SBPC programs and funds
Mayor Roger Ness big fan of SBPC
By Caroline Downs
Kenmare mayor Roger Ness is a big fan of the Souris Basin Planning Council.
He should be. He has been a member of the Council for the past 10 years as one of the four representatives from Ward County, as well as a member of the Executive Board.
And he has seen the financial benefits the SBPC provides to businesses and communities throughout the region. "There's a wide variety of different programs available," he said.
The city of Kenmare itself has benefited from some of the Community Development Block Grants the SBPC administers for infrastructure and other major projects. Ness listed the water tower, the sewer project, the new fire hall and the Kenmare Housing Authority as past recipients of those funds.
"Some of that money has been cut now," he said, "and every town has needs for infrastructure repairs, but the Council still has money that can do well for smaller projects."
Kenmare businesses
have benefited
Like Lyndsay Ulrickson, development specialist for SBPC, Ness encouraged small business owners to investigate funding and loan opportunities through the Council. "If you have any idea for a business at all, contact them with any questions," Ness said. "You would be surprised at what's available."
SBPC executive director Greg Hagen mentioned the Kenmare One Stop, Eagle Operating, Inc., and Commercial Group West as local businesses that had taken advantage of Council programs. Ness also listed the North Dakota Envelope Company and Creative Industries, and according to the SBPC annual report, the Quilt Inn was involved in one of the Council's financial projects during 2011.
"There are so many different tools they can use," said Ness. "There are so many different aspects they can cover, so many different funds and so many different loans."
He noted some of the business funding programs have not been tapped recently, with few applications and requests coming to the Council. "The way this works for us is to get the money loaned out," he said. "We really like to see the loans go out!"
New directions,
still dedicated to business
First established in 1972, the SBPC has evolved through the decades. The related organization Northwest Venture Communities Inc. launched 10 years ago to coordinate a "grassroots" regional effort to reduce poverty and improve the quality of life throughout the area.
Ness said the Council has started providing zoning and land use planning services to communities. Hagen described the new Vision West ND project to help counties and communities in western North Dakota to address immediate short-term needs related to the challenges of oil and gas development in the area.
"And now we have a new person on the [SBPC] staff just for work with the Flood Recovery Loan Fund projects," Ness said. "The Council has changed its look in the past couple of years."
Despite the changes, the Council remains committed to assisting new and existing businesses throughout the seven counties served. "If anyone out there has any inkling about going into business, the Souris Basin Planning Council will put you in the right direction," Ness said.
He suggested that interested persons should contact Ulrickson at the SBPC office by calling 701-839-6641 or emailing lyndsay@sourisbasin.org.
Barb Wiedmer, executive director for the Kenmare Community Development Corporation, also has information available about several of the SBPC programs and can be reached in Kenmare at the city auditor's office or by calling 701-385-4232.