Thanks for reading some of the latest features about area people and events.
To view every page and read every word of The Kenmare News each week,
subscribe to our ONLINE EDITION!
Self-taught crafters offer gifts you won't find in stores
With successful Christmas sales behind them, local crafters Jessica Melin and Holly Kohler are looking forward to expanding their respective lines of handcrafted gifts through the winter and spring months.
12/22/10 (Wed)
With successful Christmas sales behind them, local crafters Jessica Melin and Holly Kohler are looking forward to expanding their respective lines of handcrafted gifts through the winter and spring months.
The two women used the holiday shopping season to offer their products in the region. Melin, a native of Kenmare, launched Dakota Vintage Aprons in October to sell the aprons she creates, along with rosette hair accessories, customized hand-stamped teaspoons and recipe card holders made from antique table forks.
Kohler moved to town from Mandan last summer and started showing her Jewelry by Kohlersdesign lines at area craft shows during the fall.
Both women also sold their items, along with Sassy Satchels sold by Jayette Young, at a temporary shop located in the basement below Wild Styles Salon & Spa during December.
Apron pattern leads to sewing room and new business
Melin had never operated a sewing machine until she was inspired by an apron pattern she discovered online in August. She admitted she was looking for a hobby to fill the time when her husband Jason, a senior firefighter at the Des Lacs National Wildlife Refuge, was sent out-of-state. "I was searching the Internet and I found the ruffled [apron] pattern," she said. "It all snowballed from there. I bought myself a sewing machine and THEN taught myself to sew, and of course I couldn't start my projects until my sewing room was done so now I'm taking over half of Jason's man-cave in the basement!"
She credited her mother, Lee Jones, and friend Joy Corey for helping her get started, and she had her sewing machine ready to go in September. She exhibited a line of aprons at the Lakeview Art Club's annual fall arts and crafts show in Kenmare the second weekend of October, and also displayed her work at craft shows in Mohall and Bottineau, and at Kenmare's Light Up Night.
Melin has been excited about her designs for aprons. "That first night, I couldn't sleep, with all these ideas rolling through my head," she said. "My mom has always worn aprons, so now I'm bringing the apron back!"
Finding time to sew has been a challenge for Melin, who has a two-year-old daughter Berklee and works four days a week as a hygienist and an assistant for Dr. Ganes at the Kenmare Dental Office. "I do a little bit every night and sometimes during my lunch hour," she said, laughing as she added that she usually waited for Berklee to fall asleep before turning on the sewing machine.
Melin's current line includes single and ruffled half aprons, full aprons, and children's aprons, all made up in vintage or reproduction fabrics. "That's been fun and interesting, finding places to buy the fabrics," she said. "I buy some online at Etsy and eBay, and at fabric stores, if they have that vintage style."
Her favorite place to find fabric, however, is at a rummage sale, especially one hosted by a woman who retiring from her own sewing machine and selling off her stash of fabric. "That's when I hit the jackpot!" said Melin.
She is constantly revising her patterns and developing new ones, mixing her chosen fabrics with a variety of ribbons and lace styles in several color combinations. "My favorite part of this is finding the fabric," she said, "and putting together things you wouldn't think looked good, and they do!"
She will be developing more children's apron styles, as well as aprons for men, and she's looking forward to a project with her artist brother to design unique graphic images for the apron pockets. "I'm not going to make anything, though, unless I love it," she said.
Melin also uses her vintage fabrics to create the rosettes, which can be worn as headbands or on bobby pins. She re-purposes the old spoons and forks as kitchen accessories and searches auctions and rummage sales for her supply. "A lot of people have been digging into their basements to find these for me," she said.
The weeks leading up to Christmas have provided strong sales, but Melin wants to sell her products year-round. To that end, she hopes to join the Pride of Dakota network, to develop a type of "apron party" event for individuals to host in their homes, and to eventually establish a website to promote her aprons.
Interested customers are welcome to contact Melin with their requests or to view her fabric and patterns. "They can call, and come and see what I have," she said.
Melin can be reached at 701-385-3155 or by email at dakotavintageaprons@hotmail.com. "I'll definitely take orders," she said.
She sees the irony in her appetite for antique and vintage goods. She confessed that she used to tease her mother, Lee Jones, about shopping for and collecting antiques, but Melin has developed similar interests as an adult. "It's kind of a joke in my house," she said. "I love old stuff. I can't get enough of old stuff!"
And while she never borrowed from her mother's apron collection as a child, she does wear aprons now. "I wear one when I cook and when I clean," she said, laughing, "and sometimes just to look cute! You need one for every day of the week."
Bracelet challenge
becomes a jewelry career
Holly Kohler and her daughters Haley, a sixth grader, and Abbey, a kindergartner, joined husband and father Al in Kenmare last June. Al had taken a job at MW Industries the previous November, but Holly stayed with the couple's daughters in Mandan to finish the school year.
After settling into the family's rented home and the community, Kohler finally brought out her collection of handcrafted bead jewelry at the Mohall Craft Show and Kenmare's Light Up Night in November. However, she has operated Jewelry by Kohlersdesign as a business since 2007.
"I was just going to make a few pieces of jewelry for me, my mom and my sisters," she said as she talked about getting started shortly after her mother was diagnosed with kidney cancer three years ago. She saw a bracelet online with the green awareness beads for kidney cancer but could only afford one, so she purchased it, studied the style, and spent two hours in the bead section of a craft shop finding the materials she needed to make more.
After returning home, she realized she had no idea about how to put the beads together, so she watched online tutorials about basic jewelry design and crafting with beads, then made the bracelets and presented them to her family, much to their surprise. "You have to understand, I did not have a creative bone in my body," she said. "I'd never made anything!"
Kohler had just ended a career in health care because of her own chronic health conditions, so when her oldest sister, who worked in an oncologist's office, requested more bracelets for a Relay For Life team to sell, Kohler agreed to make them. "I was having a hard time not working, so this was something to occupy my hands and my time," she said. "I made 50 bracelets, in all colors of beads, and they made $500 for their team. I was ecstatic!"
Her sisters proved to be her cheerleaders in jewelry production. "They said, if you can make bracelets, why can't you make this?" she said. "Once I figured out how to do one thing, the sky was the limit!"
She creates her pieces based on other designs or color combinations she likes or around specific pendants or beads, using components in silver, crystal, wood, glass, gemstone and other materials. She appreciates a challenge, and now makes necklaces and earrings along with the bracelets that first captured her interest. In fact, her products include religious jewelry, custom lanyards for name badges, jewelry sets, Med-Alert bracelet attachments and memory bracelets complete with angel wing beads, in addition to her wedding and cancer awareness jewelry.
She enjoys designing unique pieces that will not be found commercially, tailored to a customer's tastes and color choices. "It's rewarding for me, especially if it's for a bridal party," she said. "You know they're not going to find the jewelry you make for them in a store anywhere else."
Kohler never backs down from a request, including a tiara her cousin wanted for a recent wedding. "People give me a challenge and I figure out how to make it," she said. "Lately, I've been doing metal stamping."
In the family's Mandan home, Kohler had her own room for jewelry making, but she is limited to space in her living room in the Kenmare house. "[Creating jewelry] can be full-time," she said. "I drop the kids off for school and then I sit down and start beading. When I look up, it can be three o'clock!"
Although she has only done two shows so far in this area, Kohler sold her work at shows and open houses in the Bismarck-Mandan area during the past couple of years. She teaches jewelry making classes and has been contacted to do commercial sales, although she has not committed herself to such a large market yet. She currently takes orders through her website at www.kohlersdesign.com, with customers from as far away as both coasts, and she had an Etsy shop online named Kohlersdesign that she may reactivate.
Kohler would like to have her own workshop again someday, and perhaps even a storefront or permanent location in a store for her jewelry. In the meantime, she would be happy to take orders for events such as prom, weddings, anniversaries or other events in customers' lives. "I like to help [customers] personalize their special days," she said.
As she says on her website, she strives to make her pieces in the most cost-effective way possible for her customers by researching the best prices and quality for her supplies. She also donates a portion of her sales to charity. "I've always been about paying it forward," she said. "It's a driving force in my life. I've never really had to get help myself, but I've always liked to help somebody out."
She entered one show because her booth fees would help support the Central Dakota Humane Society. She's been known to support other causes, too, usually anonymously. "I know where I get my thanks, and it's from above," she said. "God calls me to do that kind of stuff, and I love it!"
One young customer insisted on helping her, though. After she repaired the chain a few times for a silver pendant belonging to the seven-year-old son of a friend, the boy presented her with a handful of cash. She refused payment, but he insisted and told her he'd read her website. "He said, 'I wanted to make sure I gave you some money so you could donate it to somebody,'" Kohler recalled.
More information about Kohler's jewelry work is available on her website. She can also be reached by email at kohler_holly@yahoo.com or by calling 701-471-3941.
"I take pride in the fact that my jewelry is going to be unique," she said. "It's not the exact same thing you'll see somewhere else on somebody else."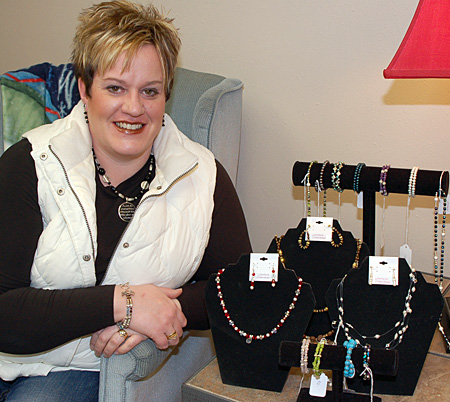 Holly Kohler of Jewelry by Kohlersdesign