Thanks for reading some of the latest features about area people and events.
To view every page and read every word of The Kenmare News each week,
subscribe to our ONLINE EDITION!
Quilt Inn motel goes smoke-free
"It's been a long process," said Janeen Melgaard, manager of the Quilt Inn in Kenmare. "It took over a year, but I'm happy we finally did it. Guests call now to make reservations, and they're happy it's smoke-free."
5/16/12 (Wed)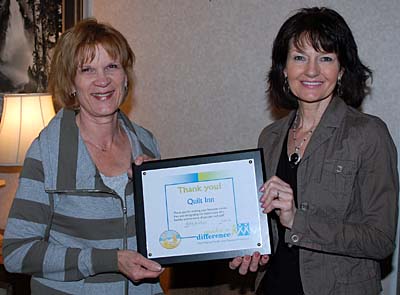 Smoke-free stay available in Kenmare . . . Ruth Ganes, left,
of the Kenmare Tobacco-Free Coalition presents Quilt Inn manager
Janeen Melgaard with a plaque from First District Health Unit
Tobacco Prevention recognizing the motel's efforts to declare
itself a smoke-free business. Six rooms where smoking was
formerly allowed at the motel were cleaned, renovated
and declared smoke-free as of the end of February.
By Caroline Downs
"It's been a long process," said Janeen Melgaard, manager of the Quilt Inn in Kenmare. "It took over a year, but I'm happy we finally did it. Guests call now to make reservations, and they're happy it's smoke-free."
Melgaard was speaking May 8th with members of the Kenmare Tobacco-Free Coalition as they presented the Quilt Inn with a recognition plaque from First District Health Unit Tobacco Prevention. The Quilt Inn was declared smoke-free at the end of February 2012, and the Kenmare Coalition wanted to publicly thank the motel's management and staff for that decision and for providing a healthy environment for patrons and employees.
Melgaard said six formerly smoking rooms at the motel were completely cleaned and renovated with new furniture, paint, fixtures and bedding. Staff members and their spouses offered their time and talents to complete the work, and everyone seems pleased with the results.
"We put everything new in there, but it's worth it," Melgaard said. "The rooms don't smell like smoke at all, which is nice after you go to all that work."
The Quilt Inn does allow guests to smoke outside, at the entrances on the east and west ends of the motel. Guests who choose to break the rule and smoke in their rooms pay a fine of $200 per day.
The Quilt Inn is the first motel in Kenmare to go completely smoke-free.
The Coalition presented a similar recognition plaque to Beer Bob's the same day, which started operations as a smoke-free bar in March.
Cavalier City Council
approves smoke-free law
Kenmare Coalition members heard more good news during their May meeting when Holly Brekhus, community outreach coordinator for FDHU Tobacco Prevention, announced the Cavalier City Council unanimously passed a comprehensive smoke-free ordinance on May 7th.
The ordinance will take effect in Cavalier on July 1st, and includes all indoor public workplaces, including bars and restaurants.
"That will be city number eight in North Dakota," Brekhus said. "And this was done primarily through the efforts of the city council members themselves."
According to the Center for Tobacco Prevention and Control Policy in North Dakota, 37 percent of the state's population now lives in a community with an ordinance in place to protect the resident from the harmful effects of secondhand smoke. Other communities that have gone smoke-free include Napoleon, Pembina, Bismarck, Fargo, Devils Lake, Grand Forks and West Fargo.
The Linton city council has been considering implementation of a smoke-free ordinance for the community. Brekhus noted Linton residents will have the opportunity to participate in an advisory vote to that city council in June.
New statewide tobacco-free
initiative in the works
Brekhus reported on efforts to prepare an initiated measure to implement a statewide smoke-free workplace policy for the November ballot.
The initiative was being drafted and revised as of the Kenmare Coalition's May meeting, but Coalition members made plans to support efforts to collect the 15,000 signatures required by the Secretary of State's Office for the initiated measure petition. "We'd like to get about 2000 signatures from the area served by the First District Health Unit," Brekhus said.
Coalition members were also encouraged to join the Tobacco Free North Dakota (TFND) organization to support education and political action directed toward reducing the effects of tobacco use across the state.
The Kenmare Coalition will review the proposed statewide initiative language and petition signature collection procedures at the June 5th meeting, which is scheduled to begin at noon at the Kenmare One Stop Burger Shop.
Information about the Kenmare Tobacco Free Coalition is posted online at www.tobaccofreeKenmare.com. Persons who are interested in the Coalition's activities are welcome to contact Pauline Nielsen at 701-385-4907 or Barb Scherbenske at 701-385-4412.