Thanks for reading some of the latest features about area people and events.
To view every page and read every word of The Kenmare News each week,
subscribe to our ONLINE EDITION!
Popular Mouse River Park watering hole to reopen soon
Ron Heisler just expects his errands to take longer these days. He gets stopped and questioned continuously by friends and strangers alike ever since the Renville County Park Board announced he would take over the operation of the Country Mouse Bar this summer.
5/08/13 (Wed)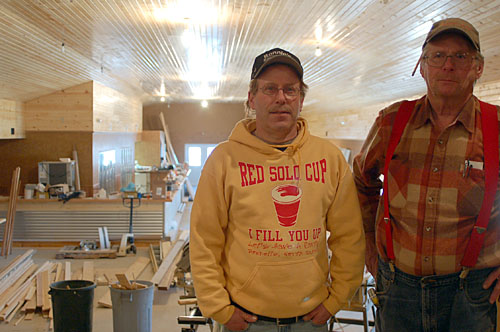 Work-in-progress . . . Country Mouse operator Ron Heisler, left, and Park
caretaker Darrell Iverson oversee work in the bar last week. Crews will complete
plumbing, heating, air conditioning and floor sealing jobs in the coming days
before Heisler welcomes customers at the bar counter.

Flood two years ago wiped out bar and
everything else at Park
By Caroline Downs
Ron Heisler just expects his errands to take longer these days. He gets stopped and questioned continuously by friends and strangers alike ever since the Renville County Park Board announced he would take over the operation of the Country Mouse Bar this summer.
"Everywhere I go, somebody asks me about it," he said. "I can be in Minot or Bowbells, Mohall or Kenmare or wherever. It doesn't matter. People ask me, 'How's it coming?'"
The popular Mouse River Park watering hole, a colorful and beloved part of the Park's history, last opened to the public during the summer of 2010. The 2011 Mouse River flood destroyed the bar and almost every other structure in the Park, and the building was demolished in the fall of 2011.
However, the Park's auditorium survived the raging water and moldy aftermath, and became the focus of a renovation project to house the reborn Country Mouse Bar.
Heisler, of Ronnie's Inc., wanted to be part of the action, and he was awarded a six-month lease for his business proposal. "The Park Board says they'll look at it on a month-by-month basis after that," he said.
He continued, "It's another project I've wanted to do. Whenever I would visit with [Park caretaker] Darrell [Iverson] through the winter, I would see how the bar was progressing."
Heisler is a long-time resident of the area and had a year-round residence at Mouse River Park that he sold in 2009. He owned Ronnie's Inc. Auto & RV in Kenmare before opening Ronnie's Roadhouse Pub in Bowbells, which he operated for three years before the recent sale of that establishment.
"The folks in Bowbells have been so good to me," he said. "I had no intention of closing [Ronnie's] and I made so many friends up there, but I didn't want to have both bars and I couldn't do [the Country Mouse] without selling the Bowbells bar."
Between his experience at Mouse River Park and running a popular bar, Heisler knows just what he wants to see at the Country Mouse, beginning at the counter. "I'm going to start carrying some Canadian beers and some imports," he said. "I will have some wines and mixed drinks, too."
The 10' x 30' walk-in cooler looks cavernous with its empty shelves, but Heisler intends to fill it soon for his customers. He takes his responsibility seriously as the Park's first business open after the 2011 flood, so he is speculating the cooler may stock more than beverages.
"If room allows, I might start carrying some grocery items for campers," he said, listing milk, chips, buns and hot dogs as examples. "But that's on the back burner for now."
New kitchen for small menu
Heisler's front burner issue is the new kitchen getting installed in the bar. He decided to add a limited menu for the Country Mouse similar to what he offered at the Bowbells location.
"I think the Park needs food down here," he said. "The cafe always did well, but this is not intended to take over the cafe. This is just a small kitchen for a small menu."
The "small menu" features three varieties of deep dish pizza, appetizers including spicy popcorn, fried pickle spears and onion rings, and Ronnie's Wraps, made fresh to order.
"The wraps go over really, really well," he said about selling the items to his Bowbells customers. "They're made on a 12-inch wrap, with lettuce, onion, green peppers bacon and special sauce. A lot of people get them to go."
The Country Mouse Bar will offer the Renville County Burger wrap (with beef chuck steak), the Gazebo Chicken wrap, and the McKinney Seafood Park wrap (with crab meat), each served with a half order of Heisler's Renville Fries.
"Everybody already brings burgers to the Park when they come," Heisler said about his menu. "The wraps are healthy alternative."
Milk shakes and fruit and yogurt smoothies from the Cold Cow Ice Cream franchise round out the menu. Heisler likes the products because of the quality ingredients used, including real fruit and premium ice cream and yogurt. "Nobody has these in town," he said.
He plans to offer meal specials on some weekends, which he will advertise, and he will accommodate his youngest customers with the installation of a walk-up window in the kitchen at the northwest corner of the building.
"That's for the kids," he said, adding that other Park residents and visitors may enjoy purchasing their food that way, too.
Entertainment will return
Heisler is planning entertainment for the bar this summer, which will include live music on stage during a few weekends. "I'll have bands periodically," he said. "The acoustics in there are so good now. I have a couple bands lined up, but we won't have live music every weekend."
Customers can enjoy the jukebox or play bingo during the scheduled times on Fridays, Saturdays and Sundays. "And we're going to have blackjack through the Kenmare Veteran's Club three times a week," he said. "The tables are coming for that."
He gestured toward a stack of lumber still piled between the south end of the bar and the stage. "I may be putting a pool table there," he said. "Maybe. We'll see."
The Country Mouse patio, a new 20' x 60' concrete slab on the east side of the building, will be screened around the sides and outfitted with tables and chairs for customers who want to relax outdoors. Access to the bar itself will be through a new set of double doors.
Heisler plans to operate the bar with a staff of seven to ten employees. "Some will be part-time, some will be full-time," he said. "I think I have a full-time cook already hired."
Bar will open later in May
Whenever he has a moment free from setting up the ice cream machine or installing kitchen cabinets, Heisler is making plans for his move back to Mouse River Park. He owns two adjacent lots at the Park and plans to set a new home on the site. "I've been waiting for my lot to get ready," he said as he described the late spring snow pack that prevented him from preparing the location.
In the meantime, he stays busy building the kitchen and getting the bar ready for an opening sometime later in May. He is obviously excited about his opportunity at the Park. "I believe there were five proposals submitted to the Renville County Park Board [to lease the bar]," he said. "I think I was the only one who wanted to put a kitchen in there."
He's heard talk from a few Park visitors who miss the former bar and lament its demolition, but he's had an enthusiastic response from others who learned he was granted the lease. "There's been a lot of buzz about it," he said. "I tell people it will be the new Country Mouse Bar."
The Country Mouse Bar will be open Mondays through Thursdays from 3 to 11 pm, Fridays and Saturdays from 12 noon to 1 am, and Sundays from noon to 11 pm.
The kitchen will serve meals from 4 to 10 pm Mondays through Thursdays, and between 2 and 10 pm on the weekends. Service at the walk-up window will also be available during those times.
Heisler can be reached for more information by calling the bar at 701-386-2875 or his cell phone at 701-720-6713.
Although the bar will not open until later this month, Heisler expected to see some of the local residents stopping in to monitor progress on the renovations.
"There's still lots of little things left to do," he said. "Those 'observers' will be put to work."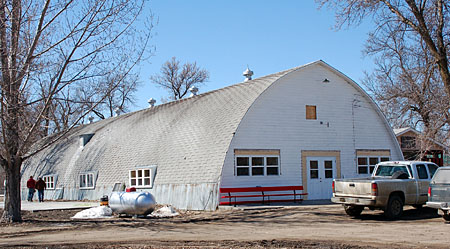 The new Country Mouse Bar . . . The auditorium at Mouse River Park
survived the 2011 flood and is almost ready to be reopened as
the Country Mouse Bar as renovations in the building are completed.
Above, workers finish trim around the east windows of
the buildings, above the new concrete patio.