Thanks for reading some of the latest features about area people and events.
To view every page and read every word of The Kenmare News each week,
subscribe to our ONLINE EDITION!
Pizza Hub is 30-year success story here
Who knew that pizza crust and sauce recipes dreamed up by a couple of guys talking over supper could lead to a successful 30-year restaurant venture in Kenmare? (Published 4/22/09)
4/22/09 (Wed)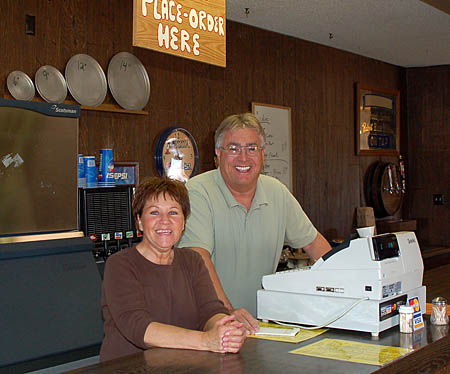 Who knew that pizza crust and sauce recipes dreamed up by a couple of guys talking over supper could lead to a successful 30-year restaurant venture in Kenmare?
Owners Roger and Shelly Ness are still surprised, although their local and out-of-town customers consistently declare Pizza Hub pizza as the best pizza around.
Roger actually began thinking about starting the business in 1976, before he and Shelly were married, when he, his brother and a third partner owned a motel and pizza restaurant in Mohall. "A lot of Kenmare people came over there to eat," he said. "They kept telling me to come over here, so I did."
At one point, the group considered purchasing the bowling alley in Kenmare, but Roger decided to build the restaurant along U.S. Highway 52 instead. "We sketched out the design on a napkin," he said. "Then two other individuals came over here and helped me build it."
Construction on the one-story building started in the fall of 1978, and by February of 1979 the doors opened for business, with Shelly as one of the original employees.
"We started with the pizza oven, a deep fat fryer and two microwaves," said Roger. "We added the grill several years later." The restaurant was also licensed to sell beer.
The couple shook their heads over the first days of the business. "We opened the day before the district [boys] basketball tournament was held here," said Roger. "That was crazy. We had a stack of orders and the pizza oven quit on us!"
He fixed the oven, with the orders delayed some, but customers stayed patient and enjoyed their pizza. The Pizza Hub became a hit and has stayed busy ever since, seven days a week from 8 am to 10 pm, closing only for Easter, Independence Day, Thanksgiving and Christmas.
Roger and Shelly have maintained essentially the same menu through the years, although they have added a few new items. "You have to adapt to the needs of your customers," Roger said. "We never planned on doing breakfast, but then we needed a place along the highway for breakfast."
Salads have become another popular item, but pizza is the mainstay of the business.
Roger admitted he was reluctant to put so much effort into pizza. "When we first started the pizza place in Mohall, none of us wanted to make it restaurant," he said. "But pizza was gaining in popularity then, into the early 1980s."
He and a co-worker, who had experience at a pizza franchise, experimented with recipes for pizza crust and sauce until they were satisfied with the results. Over the years, various suppliers have plied the Pizza Hub with frozen pizzas, but none of those samples have ever made it past an initial taste-testing session.
"We make our crust every day," Roger said. "We roll them out every morning, and it's worked, so why change it?"
He laughed as he confessed he no longer knew exactly where the handwritten copies of the original crust and sauce recipes could be found. "I know they're around here somewhere," he said, adding that the recipes remain a business secret. "I've had people come wanting to use our recipe, but I haven't given it away yet."
Along with the fresh crust and sauce, the Pizza Hub offers burgers on homemade buns, with the buns first produced by a local bakery. "When they closed, we went to Stanley for the buns, and now we get them from Arlen [Gartner, of Gartner's Jack & Jill]," Roger said. "We've always wanted that homemade bun. People like that."
Apparently so, because customers flock to the Pizza Hub. Roger said the restaurant's books kept improving each year, with 2008 as their best year on record.
The Thursday large-for-a-medium-price special accounts for a significant portion of those sales. "Every Thursday night is our biggest event," Roger said. "People count on it, you can tell that, and ever since we got Caller ID on the phone, when we look on Thursdays, we just about know their order and the time they want it."
Shelly smiled as she recalled the previous Thursday. "We did 70 large pizzas in three hours," she said.
The Pizza Hub is also the hub for the GooseFest Chili Cook-off, started 20 years ago. "The first year of GooseFest, it wasn't held, but we started it after that," Roger said. "Some of us had gone to one somewhere and we decided to try it here."
The Chili Cook-off attracts dozens of local and out-of-state teams, and has grown in recent years since the Nesses decided to erect an oversized wall tent to house the event instead of relying on fishhouses and campers set up in the parking lot. "It's a lot of work, but it's probably one of the most enjoyable days for us," Roger said.
The Nesses agree that their customers make their job worthwhile. "We enjoy the people a lot," Shelly said.
Roger laughed. "Shelly's here at seven in the morning and opens the door at eight," he said, then gestured toward a table where nearly a dozen men sat, nursing cups of coffee. "These guys are waiting outside to come in. There's a lot of decision-making and opinions over at that table!"
The Pizza Hub has hosted bridal and baby showers, graduation parties, a variety of meetings, and family gatherings through its history. The restaurant has also become an art gallery of sorts, with paintings exhibited and sold by artists in the Lakeview Art Club.
"It's been rewarding," said Roger. "We go places and people come up to tell us that we have the best pizza. They appreciate it and enjoy it."
Customers come from beyond Kenmare, too. "All these surrounding towns are excellent for their support," Roger said. "And when people come home for a holiday, you can just about count on them coming in for pizza."
He and Shelly chuckled as they described serving the children of their former employees. "And what's odd now is that we have the grandkids coming in of people who worked for us!" Roger added.
The Pizza Hub has employed dozens and dozens of area residents over the decades, with 25 individuals on the payroll last year alone. Currently, eight people work there part-time, with five full-time employees. "We've had very good workers," said Shelly.
"Dependability is the number one thing," Roger added. "We can provide the training. Every pizza is made the same, and that's pretty simple. I can do it, so it's not rocket science!"
Shelly has kept a regular fulltime schedule at the restaurant, but Roger's days have filled with other activities. "I'm basically PR and sampling," said Roger. "Quality control, that's what I do best!"
In 1992, he took over his family's farm in Renville County and later started raising buffalo. He served as an alderman for the city of Kenmare for eight years before being elected mayor in 2006.
And while the couple intends to make pizzas until a new owner is found, a buyer for the business would be welcome. After 30 years behind the grill and the counter, the Nesses are looking toward retirement. "A great philosopher, Allan Engh, said, 'In the calendar of life, we're almost hitting November,'" Roger said, referring to a Sherwood businessman and longtime friend.
Even though the Pizza Hub has been a success for the Nesses, their children have moved on to other careers and will not be coming to Kenmare to take over the business. Roger's daughter Stacey is a pharmacist in Minneapolis, and the couple's son Scot, who has an interest in farming, is studying plant process at Bismarck State College.
"Anyone who is serious [about buying], come talk to me," said Roger. "The business has been getting better every year. There's more traffic, there's more activity, there are more crews in town."
He praised the business climate of Kenmare, noting that for several months each year, diners have their choice of eight restaurants for noon meals. "We're lucky enough to have an excellent selection," he said. "That competition and selection are good. So many small towns can't keep a restaurant going, and we have eight places open at noon! That's where Kenmare is amazing in what we can do."
When he began planning the Pizza Hub in the 1970s, Roger predicted the location would be important, but he had no idea just how terrific the local and area support would be. "I knew this community was a good place," he said, "and being on the highway, we knew we would get good traffic. But we didn't expect to be here for thirty years!"