Thanks for reading some of the latest features about area people and events.
To view every page and read every word of The Kenmare News each week,
subscribe to our ONLINE EDITION!
Nicotine replacement therapy can help when you're ready to quit
Bonnie Riely, Tobacco Cessation Coordinator for First District Health Unit in Minot, didn't mince words when she talked about her own former tobacco use at the beginning of a Kick Start class held in Kenmare May 9th. "One drag of a cigarette delivers 4,000 to 6,000 toxins to the brain within 7 to 10 seconds," she said. "Then those toxins to go your heart."
5/30/12 (Wed)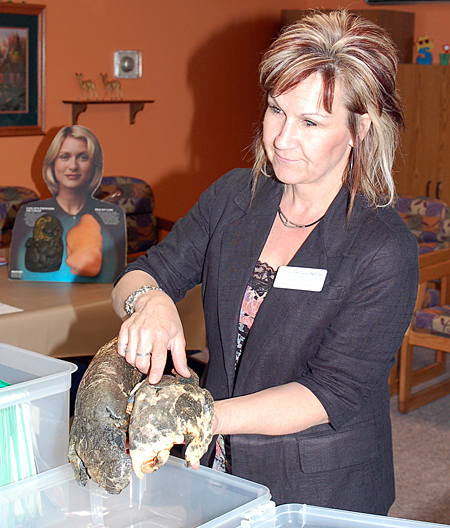 Lung blisters . . . Bonnie Riely, FDHU Tobacco Cessation
Coordinator, shows an example of a lung from a former smoker
and COPD victim to her Kenmare audience during a Kick Start class
held May 9th. She pointed out actual blisters on the lung resulting
from the disease. Riely also shared information about nicotine
replacement therapies, medications and support available
in the state to assist smokers who were ready to quit.
By Caroline Downs
Bonnie Riely, Tobacco Cessation Coordinator for First District Health Unit in Minot, didn't mince words when she talked about her own former tobacco use at the beginning of a Kick Start class held in Kenmare May 9th. "One drag of a cigarette delivers 4,000 to 6,000 toxins to the brain within 7 to 10 seconds," she said. "Then those toxins to go your heart."
She continued, "I smoked for 32 years and I quit five years ago, and I used the patch."
Those words served as the introduction for a description of various types of nicotine replacement therapy (NRT) available to smokers.
The Kick Start Tobacco Cessation class offered in Kenmare attracted smokers thinking about quitting and health care professionals interested in helping other people quit. Riely delivered practical information at a quick pace, with samples and examples of the aids and medications that can help smokers stop.
"When people quit cold turkey, the success rate is only five percent," she said. "That's why we recommend some form of NRT. Even pregnant ladies can use NRT."
She noted nicotine was still present in some forms of NRT, which surprised members of the audience. "That's to help with the withdrawal symptoms and cravings," she said, "but people using it are not getting all those toxins pumped through their hearts anymore."
As class members looked over the samples, Riely talked about advantages of using the nicotine patch, nicotine gum and lozenges, nasal sprays, nicotine lollipops, and even a nicotine inhaler.
"These mimic the hand-to-mouth behavior," she said as she demonstrated the use of an inhaler. "It seems like the heavy smokers love these. My daughter is using one right now."
Riely also talked about prescribed medications, such as Zyban, Wellbutrin and Chantix that can aid smokers ready to stop. "I think Chantix is a miracle drug," she said. "It blocks nicotine receptors in the brain, and by the fourth or fifth day of use, people are pretty much done."
She emphasized that Medicaid covers the cost for most of the NRT options, as do several private insurance companies. "They recognize this costs them less than what they have to pay to cover you for smoking-related health problems," she said.
Changing behaviors
As class members mulled over the variety of NRT choices, many of which were not available even 10 years ago, Riely changed the subject to the addiction and behavior elements of smoking. "We consider tobacco as addictive as any drug," she said. "In fact, cigarettes are more addictive than cocaine or heroine. Everybody has nicotine receptors in your brain, whether you smoke or not. Smokers just have more, but then they have fewer after they quit."
Riely wanted smokers to realize they would battle the addictive feelings even after they made the decision to stop. "It can take a person four to ten times to quit," she said. "Smoking can grab you right back. You need to be done. You may have to change your playmates and change your playground."
She described smoking as a learned behavior. "After time, we don't even think about cigarettes anymore, we just smoke them," she said. "To break the habit, we have to take it out of automatic gear."
Individuals in the class mentioned specific times of days or certain routines that involved smoking, with Riely nodding her recognition at the comments. "It's so important to have a plan of action to quit," she said. "People need to know what they want to do with their medications and NRT. They need to have their support system in place, and they need to give themselves at least two weeks to make changes in their routines that lead to smoking."
Then she laughed and added, "When you quit smoking, you won't believe how much more time you have!"
Riely noted smokers in the process of quitting needed to be prepared for emotional challenges, too. "When you quit smoking, it's almost like you're not clear-headed," she said. "You feel like your whole life is turned upside-down."
She listed emotions that smokers could expect to feel while quitting, including stress, anger, fear, sadness and happiness. "Change is a process and you need time to practice the new behaviors you're adopting," she said. "You're going to go through a grief cycle, and it's good to know ahead to time that you could experiences all these feelings."
She encouraged smokers in the process of quitting to stay patient and use tactics like writing a "goodbye" letter to their smoking habit or tracking the amount of money they save by not purchasing cigarettes. "I'm going on $10,000 I've saved in the last five years," she said. She also addressed the common problem of weight gain among smokers trying to quit. "You may put on a few pounds," she said, "but you would have to gain 90 pounds to be as unhealthy as when you are smoking."
Health issues
Of course, Riely brought visual aids to help class members understand the magnitude of health problems caused by smoking, including a carbon monoxide detector that immediately reported levels of the dangerous gas in a smoker's body.
"Where carbon monoxide is, oxygen is not," she said. "But our bodies are really forgiving and within three days, the carbon monoxide and nicotine will be out of your body if you quit."
She showed relative amounts of phlegm and tar that would be found in a smoker's respiratory system, as well as examples of healthy lungs compared to one of a smoker and COPD patient. "People with COPD actually have blisters on their lungs," she said.
She listed the chemicals currently included as ingredients in cigarettes, with formaldehyde, glass cleaner, butane, rat poison, lighter fluid, fingernail polish remover and battery acid topping the list. "This is just crazy stuff that's going into your body," she said. "And tobacco companies don't care. They want your money. Their motto is 'Start them young and hook them for life.'"
Riely compared the use of chewing tobacco to smoking, with one can of tobacco having a nicotine level equivalent to three packs of cigarettes. "People think it's safer to chew, but it's even harder to quit chew tobacco because they have that constant nicotine in their mouths," she said.
She recommended the use of replacement chewing tobacco products. "Those have no tobacco and no nicotine," she said as she showed a sample can. "And they're sold in gas stations."
She referenced recent statistics about deaths from smoking-related diseases, now at 430,000 per year. "That's 1,200 people per day," she said. "One in every five deaths in the United States is related to smoking. It's a tragedy, is what it is."
Ready to quit,
deciding how
Tracy Van Berkom didn't disagree with anything Riely said, but smoking has been a part of her life for over 30 years. "Now, quitting is something to do," she said. "I've been eating right and I've been exercising, so [quitting smoking] is the next thing."
Van Berkom, who is considering her upcoming 50th birthday and time to spend with her children and grandchildren, appreciated the information provided by Riely. "There was a lot I didn't know anything about," she said. "For me, I know it will be the little things about quitting, like having something in my hand."
She nearly quit smoking once before, whittling down her cigarette use from a pack a day to just one or two. "Then I fell back into the routine of it," she said. "I'm getting close to quitting again, though."
In fact, she's only smoking three cigarettes a day now, although she admitted her smoking habits tended to follow a schedule, beginning with her first cigarette in the morning. "I need to mentally find something else to do," she said.
Van Berkom appreciated Riely's presentation and the wealth of materials provided during the Kick Start class. "If you really want to quit and you don't have any information, this is helpful," she said. "I heard about a lot of different things I wasn't aware of."
In fact, Riely's information may have nudged Van Berkom further toward her decision to stop smoking. "Maybe the patch or one of the pills would help with my decision to quit and to keep quitting," she said.
More information
for smokers
Riely shared sample packs of NRT gums and lozenges and other materials to help smokers make their decisions about quitting. She also suggested smokers who wanted to stop take advantage of the free support offered by the North Dakota Tobacco Quitline at 1.800.QUIT.NOW (1-800-784-8669) and by North Dakota QuitNet at www.nd.quitnet.com.
Professional counseling is available through both sources, as well as access to nicotine replacement products and other forms of assistance to stop smoking.
Another Kick Start class may be offered in Kenmare again during the fall, according to Riely.
Persons interested in more information about quitting their tobacco use, or participating in a Kick Start class or tobacco support group are welcome to contact FDHU public health nurse Melissa Burud in Kenmare at 701-385-4328.
Riely can also be contacted at the FDHU office in Minot by calling 701-837-5171 or emailing bfriely@nd.gov.
"This isn't a race," said Riely. "When you are ready to quit, then it's time."