Thanks for reading some of the latest features about area people and events.
To view every page and read every word of The Kenmare News each week,
subscribe to our ONLINE EDITION!
New state-of-the-art laundromat may open Monday in Kenmare
The loads will soon be washing and rinsing at Spin City Laundry & Tanning in Kenmare.
10/02/13 (Wed)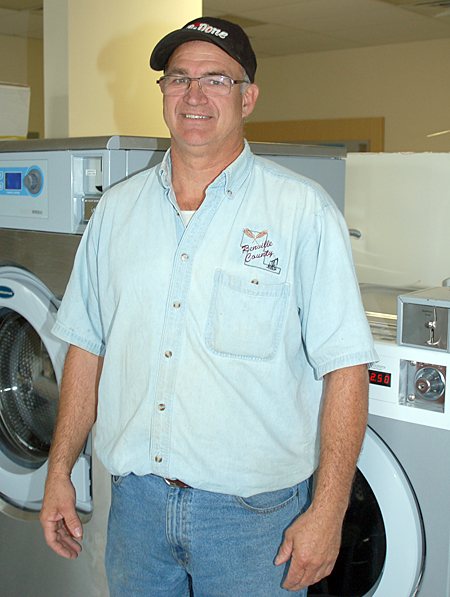 Bob Marmon is owner of Spin City Laundry & Tanning in Kenmare and Mohall.
By Caroline Downs
The loads will soon be washing and rinsing at Spin City Laundry & Tanning in Kenmare.
Owners Bob and Mary Marmon of Mohall hope to welcome customers and their laundry to the new facility on the west side square by Monday, October 7th.
"The biggest thing is getting all the little things to work," said Bob Marmon. "And there are a few things beyond my control."
One of the things beyond his control is the weather, which delayed cement work at the entryway and for the propane tank pad. Something else beyond his control is the availability of a plumber to complete the necessary finish work.
Marmon is forging ahead, however, and Kenmare area residents will soon enjoy the benefits of a state-of-the-art laundromat facility.
Some residents may already be familiar with the Spin City set-up. The Marmons opened their laundromat in Mohall last February at 505 2nd Street NE.
"We owned a city block there and decided to start a business," said Marmon, who also owns a labor-intensive service operation that includes tree removal.
He was seeking a change of pace, and a laundromat seemed to provide the perfect opportunity. "Mohall didn't have a laundromat and [the town] needed one," he said. "People were driving to Minot to wash clothes."
Contractor Scott Reishus built the Marmons' new laundromat in Mohall about the same time he started the west side square project in Kenmare last summer. The west side project's principal, Jim Jorgenson of State Bank & Trust in Kenmare, mentioned to Marmon in passing that he should consider opening a laundromat in Kenmare, too.
"I didn't know he was serious until he called Scott and told him to ask me what size machines I wanted," Marmon said, laughing.
The idea made sense, however, especially with several Kenmare residents taking their clothes to the Spin City in Mohall. "We have a lot of people coming to Mohall from Kenmare and even farther, like Lignite and Bowbells," Marmon said. "Those places don't have laundromats."
Machines for regular
and oilfield laundry
Customers who take their dirty laundry to Kenmare's Spin City will have their choice of washers among five small top-load units, four front-load washers capable of double loads, and two large front-load machines capable of handling up to six regular loads. A scrub sink will also be available.
Electrolux dryers fill the south wall, with eight smaller units and two large ones installed.
That's just the front room....Read EVERY WORD on EVERY PAGE of The Kenmare News by subscribing--online or in print!