Thanks for reading some of the latest features about area people and events.
To view every page and read every word of The Kenmare News each week,
subscribe to our ONLINE EDITION!
New hair styling salon opens in new John Deere facility
The Creative Illusionz sign hanging on the northwest corner of the new Gooseneck Implement building at Kenmare is not an illusion in itself.
3/13/13 (Wed)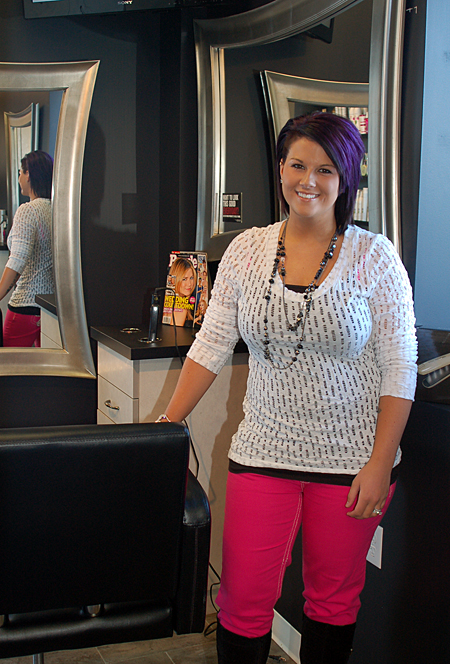 Head up to the Gooseneck--for a haircut . . . Creative Illusionz
owner and stylist Jessilynn Borud welcomes customers
to her new shop located in the Gooseneck
Implement dealership building in Kenmare.

By Caroline Downs
The Creative Illusionz sign hanging on the northwest corner of the new Gooseneck Implement building at Kenmare is not an illusion in itself.
That's right, the local dealership boasts the nation's only hairstyling salon located in a John Deere facility.
Owner Jessilynn (Johnson) Borud is thrilled to see her unusual location turn so many heads. "Being right on the highway, there have been a few people who have stopped to make an appointment as they were passing through Kenmare," she said.
Borud opted for her own color scheme for the business, leaving the trademark green and gold colors to the John Deere machinery sales and parts staff. In fact, she designed the layout for her rooms and equipment as the new Gooseneck building was being planned, then chose furniture and decor in shades of black, white and silver to create an elegant and contemporary salon setting.
"Everything fell into place," she said, pointing out the separate shampoo and styling stations, the generous north- and west-facing windows that fill her shop with natural light, and a comfortable waiting area complete with two leather chairs.
Customers had their first look at the new shop, and their first haircuts under Borud's experienced hands, when Creative Illusionz opened its doors for business on Monday. She had several appointments already scheduled for the next two weeks, and she was excited about welcoming new customers.
"[At Shear Designs] in Stanley, I was always booked for two months," she said, "and my boss was booked for two months. We had to quit taking new clients. Everybody needs a haircut at some point."
While haircuts for women, children and men may be the mainstay of her business, Borud enjoys offering other services to her customers as well, especially waxing and coloring. "That's all I'm doing for now, until I can get help," she said. "No nails yet and no facials yet, but I want to expand."
She built the shop with three styling stations and she intends to add at least one more hairdresser by the end of May, when her sister completes her training in Bismarck.
In the meantime, she wants to build her business by making other people look good. "I like to try something fun on people," she said. "I like to give them a new look, get them outside their box a little, and I love to specialize in color!"
Customers sitting in one of Borud's shop chairs can expect to hear recommendations from her about their hairstyles. "Clients love a stylist who will suggest something to them," she said. "I always consult with my clients. I see what their face shape is and talk about what might look good on them."
Borud has also stocked product lines in her shop that have not been available previously in Kenmare, including Pureology items for color-treated hair and a Redkin line of men's items. She intends to introduce the products through samples. "I want people just to try it," she said, "and see for themselves what it actually does."
Unusual setting benefits
both businesses
Borud made her career decision to become a stylist by the time she was in sixth grade. "When I was young, I was always cutting my dolls' hair," she said. During junior high and high school sports activities, she was that girl on the team who braided and styled everybody else's hair before games.
After graduating from high school in Lignite, she attended R&D's Hairstyling College in Bismarck and finished in August 2007. "When I graduated, I went to work at the J.C. Penney Salon in Fargo for two years," she said.
She moved to the Shear Designs Salon in Stanley and worked part-time there until mid-December 2012. Since then, she has focused on opening her shop in Kenmare.
When Gooseneck Implement general manager Kevin Borud first asked Jessi Borud about locating her salon in the new building, she declined the offer. "I wasn't ready to start my own business then," she said.
However, plans to build the Gooseneck building were delayed, which gave Borud a second chance to start the business. "A year later, I said absolutely, I'm ready," she recalled. "There was no doubt in my mind this was what I wanted to do. I have seven years of experience now and this is an awesome opportunity for me to get started on my own."
She confirmed that Creative Illusionz is the only styling salon in the United States affiliated with a John Deere operation. "It's easy to give people directions to my shop," she said. "They all know where the Gooseneck is. It helps my business, too!"
She recently discovered the relationship between John Deere and Creative Illusionz has been broadcast across Canada when a friend from one of the provinces mentioned hearing about her new business from news outlets in his country. "When I would tell people what I was going to do or when [husband] Matt would bring it up, people would be totally shocked," she said.
In her opinion, the connection between the two businesses has a practical side. "This will be nice for wives riding along with their husbands who are here getting parts or equipment," she said with a laugh. "They can come in the shop here and do something for themselves so they don't have to sit in their vehicles waiting for their husbands."
Creative Illusionz customers may want to shop the new clothing, toy and gift items displayed in the Gooseneck Implement showroom or talk to the sales staff about their own machinery or equipment needs. "My shop will be good for the John Deere side, too," she said.
She laughed again as she described a possible trend of women refusing to return to field work after driving to Kenmare for parts and a hair appointment. "She's not getting back in the combine looking that good!" she said.
Open for walk-ins
and appointments
Creative Illusionz is open from 9 am to 5 pm Mondays, Tuesdays, Thursdays and Fridays for walk-in and appointments. Borud also begins appointments at 9 am on Wednesdays and stays open into the early evening, depending on customers' needs. "These will be the hours until I get help in the shop," she said, "and then we'll be more flexible."
Anyone with further questions about Creative Illusionz, or who wishes to schedule an appointment, should contact Borud at 701-385-3099 during business hours.
Borud is delighted to have her own space in a new building and to operate her own business in Kenmare. "For any hairdresser, this is what they want," she said, "and to do it so young, this is definitely a dream come true."