Thanks for reading some of the latest features about area people and events.
To view every page and read every word of The Kenmare News each week,
subscribe to our ONLINE EDITION!
New grade principal believes every child needs to be a leader
Walk into principal Janis Gerding's office at Kenmare Elementary School, and your eye is instantly drawn to collections of photos imprinted with quotations about leadership and character.
8/14/12 (Tue)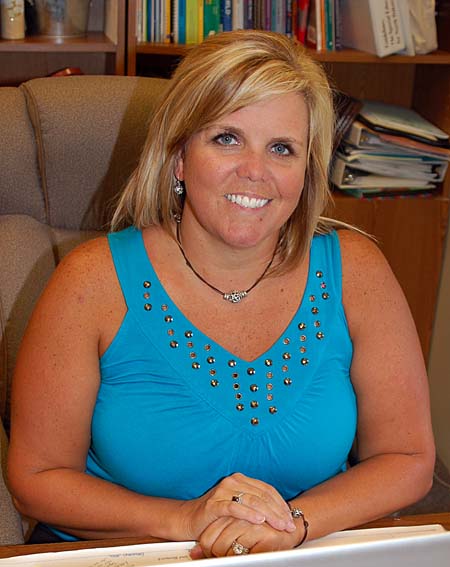 One more new face on the first day of school . . . Janis Gerding
begins the school year and her administrative career as
the principal of Kenmare Elementary School.
By Caroline Downs
Walk into principal Janis Gerding's office at Kenmare Elementary School, and your eye is instantly drawn to collections of photos imprinted with quotations about leadership and character.
One group is artfully arranged on her filing cabinet. Two sets on two different walls. More on the bulletin board.
She didn't buy the pictures and posters in the clearance bin at some school supply store just to decorate her office. Gerding lives by the principles of thoughtful leadership and she wants students in her school to do the same.
"I believe every child needs to be a leader and they need to understand the importance of it," she said, adding she wants students to develop confidence in their own ideas and choices in order to think independently and make the best possible decisions for themselves. She believes in the values emphasized by the Character Counts! program and incorporates those into her relationships with students.
"Allowing kids the opportunity to lead and take ownership in their school makes a better school culture," she said, then laughed as she admitted students may discover some of her inspirational posters displayed on the bathroom doors. "The culture of the school will affect the learning of the school."
As the Kenmare school district's newest administrator, Gerding is stepping into her first principal's job with enthusiasm and ownership. The 15-year veteran of Jim Hill Middle School has nine years' experience teaching emotionally disturbed students and five years teaching sixth graders.
"Teaching ED students was a really good experience," she said. "I've got a soft spot for those kids, but when I wanted to go into administration, I decided to go into a regular [education] classroom for that experience."
Gerding, a native of Moose Jaw, Saskatchewan, who now holds dual citizenship, earned her undergraduate degree in elementary education at Minot State University and a master's degree in learning disabilities with an ED credential. She traced her interest in teaching to childhood. "Both my parents are educators," she said. "I've grown up with teaching and coaching, and I've always known that's what I wanted to do."
Her own love of learning spurred her to continue taking classes. After she discussed the possibility of becoming an administrator with her principal at Jim Hill, he sent her to a conference for potential administrators that only confirmed her interests.
She earned a degree in school administration from North Dakota State University and started teaching education courses at MSU along with her middle school classes. She soon reached a point where she had to make a decision. "I enjoyed the college and the students there," she said, "but I like to be with the younger kids."
When the Kenmare elementary principal position was announced, Gerding applied, laughing again as she talked about refereeing volleyball matches in Kenmare for the past few years. "I've always enjoyed the people here," she said, "and Kenmare has a reputation for having a good, solid school district and a strong community. This just seemed like the right opportunity."
With a son who will start his senior year in high school, a daughter who will be a sophomore and a husband who teaches eighth grade history at Jim Hill, the decision required some family discussion. "They're excited for me," Gerding said. "My daughter came up last week and helped me clean and organize in here, and my husband knows [being a principal] is where my focus has been."
Looking at Common Core
Standards and achieving
Adequate Yearly Progress
Gerding started her position on August 1st and has felt welcomed by the school staff. "Everybody's been so wonderful," she said.
She intends to observe, learn and continue practices that have led to success for students at Kenmare Elementary. She is also advocating for a transition to the national Common Core Standards, described as a set of shared goals and expectations for the knowledge and skills students need to be successful.
North Dakota is one of 45 states that have adopted the national Common Core Standards in English language arts and mathematics, which will take effect July 2013.
According to the Common Core State Standards Initiative website, the standards define the knowledge and skills students should have within their K-12 education careers so they will graduate high school able to succeed in entry-level, credit-bearing academic college courses and in workforce training programs.
"I think the Common Core is getting students ready for the real world," said Gerding. "I want to be a support system for the teachers so they have the resources they need to implement the Common Core."
In addition to a focus on the current state standards and their relation to the Common Core, Gerding wants to assist teachers in their efforts to prepare students for the state assessments that measure Adequate Yearly Progress (AYP).
For the 2011-2012 school year, Kenmare students tested in grades 4, 8 and 11 did not meet AYP in reading. Fourth graders scored an average composite score of 79.14 percent when the state goal was 91.3 percent, while 8th and 11th graders scored an average of 77.78 percent when the state goal was 88.38 percent. Eventually, the state scoring goals will be close to or at 100 percent, in accordance with the federal No Child Left Behind policy.
Kenmare students in all three grades earned a high enough composite score on the mathematics portion of the tests to meet AYP, with the state's composite goals at 86.4 percent for the 4th graders and 82.21 percent for 8th and 11th graders.
The state's percentage goals increase every three years, with numerous school districts across the state failing to meet AYP in reading and/or math in 2011-2012. Kenmare schools have met or exceeded the state's scoring goals in other years except for 2009-2010 when the subgroup of students with disabilities did not meet AYP.
Schools that do not meet AYP are required to submit an action plan of strategies to the North Dakota Department of Public Instruction. Gerding intends to help Kenmare teachers follow their plan, as well as develop and coordinate other strategies to help students improve their reading skills.
"Our goal is to meet AYP," she said, "for the students, as a school."
She noted the state's assessments will be in the process of changing as districts focus on the Common Core standards.
Gerding has a few ideas in mind to target students directly, beginning with a designated reading time each week for students and staff members. "Sometimes kids are so busy, they don't have the time to read what they choose to read," she said. "Teachers also read on those days, whether it's something I give them or something of their choosing. Teachers can be good role models for reading."
She is thinking about starting student book clubs with students, following models for similar after-school and online clubs that were popular with her middle school students. "We would be bringing the community into that, too," she said. "You don't have to be a teacher to participate in the book clubs."
Gerding is also discussing the IXL math program with Superintendent Duane Mueller, as an option for several grades to use as supplemental math lessons. "It's an online program matched with the Common Core standards," she said. "Kids can access it from their iPads, home computers or smartphones and work at their level or above their level."
According to Gerding, the IXL program leads students through lessons then provides questions targeting those skills. Teachers can track individual and class progress.
"The program helps students master a process before they can move on," she said, adding that the lessons continue through the summer for students working from home. "We saw great success with it at Jim Hill. We want to set kids up for success."
Following students
at two buildings
KHS volleyball fans may still see Gerding referee the occasional match, but she will also be following her daughter's high school volleyball season this year. "I love volleyball, basketball, all sports and outdoor activities," she said. "I love camping, fishing, fastpitch [softball]."
She even teaches a fitness class at Minot's YMCA twice weekly at 5:30 am, but confessed she may need to trim that back to one morning per week. "I don't know if 35 minutes is enough time to get ready for work!" she said.
On the other hand, with elementary students in grades three through six in classrooms at the high school, Gerding may fill her exercise time each day tracking students at both buildings.
"I plan to be here in the mornings to greet the kids as they come in," she said as she gestured from her desk in the elementary office.
Right now, her schedule involves spending the mornings at the elementary building, then heading up to the high school to supervise students during lunch and to visit their classrooms. "I plan to be in the classrooms often, to be visible," she said. "I'm excited to go and watch different teachers teach. After teaching classes in classroom management, I want to see it implemented!"
Gerding wants to end each day back at the elementary building, sending the youngest students home before she heads home to Minot. She has spent most of her teaching career with students in grades six through eight, but she's looking forward to her experiences with younger students as their principal.
"Elementary kids are so fun," she said. "They're excited to learn, if you give them the opportunity."
Parents with questions or concerns about the upcoming school year are welcome to contact Gerding at 701-385-4688 during school hours.