Thanks for reading some of the latest features about area people and events.
To view every page and read every word of The Kenmare News each week,
subscribe to our ONLINE EDITION!
New fast-pitch girls softball team excited to get started
Fast-pitch softball is a growing sport for girls across the state, and Kenmare-Bowbells-MLS is entering the mix this year with a new team.
4/06/11 (Wed)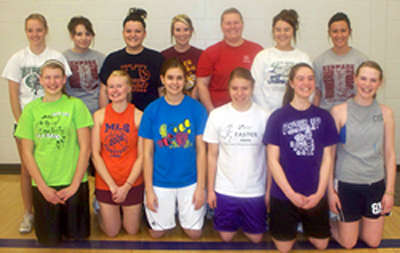 2011 Kenmare-Bowbells-MLS Girls Softball team
Fast-pitch softball is a growing sport for girls across the state, and Kenmare-Bowbells-MLS is entering the mix this year with a new team.
"It's been a very pleasant surprise," said head coach Molly Terveen. "The girls are excited. Being a new program, we weren't sure what to expect, but both [coach] Jesse Radzwill and I are impressed with the talent we've had to work with!"
That talent includes a combination of 16 girls from the three schools in grades 8 through 12. One has played summer baseball for the past few years, while several others have been longtime members of successful slow-pitch softball teams.
The new team will sport gold and navy blue uniforms for their short season.
No official mascot has been designated yet, but the girls are more focused right now on improving their game.
"Our goal is to be competitive," Terveen said. "DLB is coming in as a new program, too, and we want to be able to compete and stick with them."
Currently, Class A and B fast-pitch teams compete with each other in three regions. The K-B-MLS and DLB join Region 3 schools Bishop Ryan, Bismarck High, Bismarck Century, Dickinson, Jamestown, Minot High and Turtle Mountain Community High School.
"Schools are picking up the pace as far as interest goes," Terveen said as she mentioned new teams also forming at Central Cass, May-Port-C-G and possibly Williston. "The state high school activities association is looking for more Class B teams so they can designate Class A and Class B tournaments."
Before the K-B-MLS team plays in a state tournament, however, they have to refine their fast-pitch abilities, something they focus on every day in practice. "There are big differences between slow-pitch and fast-pitch," Terveen said, "and several changes in the rules, but they're picking it up quickly. They're willing to try anything and they've all been very positive so far."
According to Terveen, the team shows strong fielding and defense skills. "We're working on learning the rules of the game and hitting," she said. "There's a difference in switching from slow-pitch to fast-pitch. It's a whole different swing."
Of course, pitching strategies are completely new, too. Terveen noted that Kilee Radzwill has some fast-pitch experience. "And there are several others who are willing and excited to try it," Terveen said. "The key is finding someone who can get it across the plate!"
Terveen, who teaches elementary physical education and reading intervention classes at Kenmare Elementary School, played fast-pitch softball three years for the Valley City State University team. Co-coach Jesse Radzwill, a teacher at MLS High School, brings experience from the fast-pitch leagues of northern Minnesota. "She's very passionate about fast-pitch softball," said Terveen. "When she moved to Mohall, she got the ball rolling there to form a team."
The two women have enjoyed working together. "It's easy for her to share what she knows and help teach the kids," Terveen said.
A trio of seniors leads the team, with Jenn Herman, Maria Hager and Katelynn Farrell, all of Kenmare.
Three juniors will step onto the field, including Kim Sisk of MLS and Ashley Barnhart and Sydney Wheeling, both of Kenmare.
Two sophomores will suit up for games, with Michaela Bjergaard of Bowbells and Morgan Goettle of Kenmare.
Four freshman plan to make their presence known, including Codee Gilbertson, Kennedy Fricke and Chelsea Nelson of Kenmare and Ariel Warren of MLS.
Four eighth graders will start their varsity softball careers, with Kilee Radzwill, Emily Abernathey and Macy Sundahl of MLS and Justice Brown of Kenmare.
The new squad has three regular season games scheduled so far, beginning on the road April 12th at Des Lacs-Burlington. The team returns home to the Kenmare field to host Bishop Ryan on April 21st and DLB on May 10th.
Games begin at 4 pm.
Regular season play for the new team ends with a round robin tournament in Minot on May 13th and 14th, although Terveen mentioned that another game or two may be added to the schedule.
The Region 3 tournament is planned for Dickinson on May 27th, with the state tournament slated for Grand Forks on June 2, 3 and 4.
"Come out and support us," Terveen said to local fast-pitch softball fans. "We're a new program and we're going to need support. We don't have many games, so we want to make the ones we do have, count!"