Thanks for reading some of the latest features about area people and events.
To view every page and read every word of The Kenmare News each week,
subscribe to our ONLINE EDITION!
New daycare rolls into Berthold
The new building for the Kids Academy day care in Berthold literally rolled into town earlier this month, all 3,672 square feet of it riding on a semi-trailer.
2/22/12 (Wed)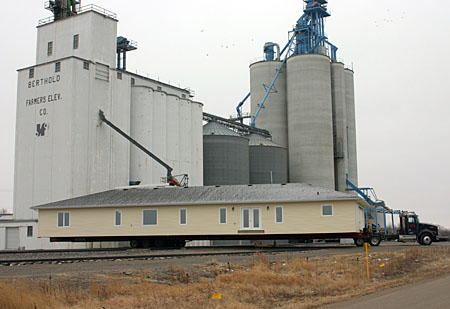 The Kids Academy comes to town . . . The new buidling for the Kids
Academy day care center arrived from the factory on a semi-trailer
and was hauled along Main Street Berthold. (Photo by Kelly Finke)
By Caroline Downs
The new building for the Kids Academy day care in Berthold literally rolled into town earlier this month, all 3,672 square feet of it riding on a semi-trailer.
The day care entered Main Street from the south, crossing the railroad tracks into Berthold near the Berthold Farmers Elevator. "It went down Fourth Street and turned around and backed into the lot, where it stood up on blocks," said Kids Academy board member Kelly Finke.
The arrival of the new facility was a high point in nearly 20 months of planning and fund-raising by the Kids Academy group, which incorporated in May 2010 with a plan to offer top quality day care services to families in Berthold and the surrounding area. The layout of the building includes a kitchen, dining room and spaces to accommodate infants, toddlers, three- to five-years-olds and an after-school program.
Total cost of the project, including fencing, playground equipment, and indoor equipment and supplies, is projected at $428,000.
Kids Academy board president Andy Fjeldahl said work to prepare the building for use was continuing this week. "We're getting the electrical hooked up, and meeting about the phone lines today," he said Monday.
Gratech donated the dirt work to prepare the lot and will return to complete the necessary backfilling. Fjeldahl said the heating system had to be installed yet, and furniture purchased from the former St. Leo's day care in Minot would be moved into the building.
Other projects include installing the fence and playground equipment. Fjeldahl said vocational classes at the high school planned to build a utility shed for the day care yet this spring.
"We have to get our appliances ordered, too," he added, then laughed. "We're hoping to get in there in the next month to six weeks. I'd like to see us in there by the end of March. We'd like to have an open house for everyone to see it when it's all finished."
ABC Child Care has
waiting list for new facility
In the meantime, Kids Academy continues to provide day care services at Zion Lutheran Church in Berthold, in conjunction with ABC Child Care Centers of Minot. LaVonne Beyerle oversees the daily operations and staff at the Berthold center, which is running at capacity with 18 children under a group license.
Once the new building is ready for occupancy, it will be licensed as a child care center in Ward County and able to provide services for up to 65 children.
"We have a waiting list," said Fjeldahl. He directed parents interested in day care opportunities to call Beyerle at 701-240-1018 for more information.
Strong support,
donations appreciated
Commitment to the project has remained strong, according to Fjeldahl, beginning with five city lots for the day care donated by the City of Berthold and resident Ralph "Chub" Brown.
Several businesses, organizations and individuals have contributed to the project through pledges, grants and gifts of cash.
Other individuals and businesses have given time and a variety of services, including volunteer labor by several Kids Academy board members and their families to pour and prepare the foundation for the new building. "United Agronomy sent some of their employees over to help with that, too," Fjeldahl said. "There's been very good support."
The project is not completely funded at this point, however. "There's been a lot of hard work by a lot of people on the board, but we can always use more contributions," said Fjeldahl.
Persons interested in joining the Kids Academy or contributing toward the child care center are welcome to contact Fjeldahl at 701-453-3514 or 701-453-3481. Because the Kids Academy is a 501(c)(3) non-profit organization, all donations in any amount are tax-deductible.