Thanks for reading some of the latest features about area people and events.
To view every page and read every word of The Kenmare News each week,
subscribe to our ONLINE EDITION!
Marvin Baker joins staff at The Kenmare News
Marvin Baker has joined The Kenmare News staff as editor, to replace Caroline Downs who will be moving to Alaska.
11/06/13 (Wed)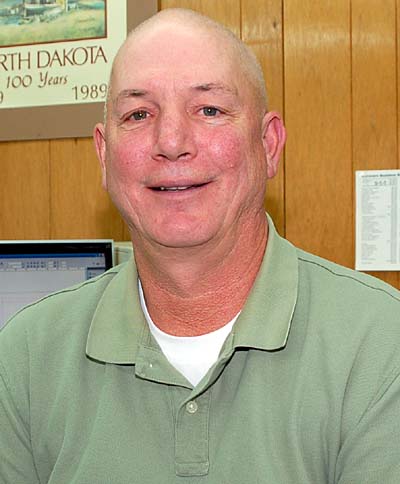 Marvin Baker

By Marvin Baker
Marvin Baker has joined The Kenmare News staff as editor, to replace Caroline Downs who will be moving to Alaska.
Baker comes to The News with an extensive background in journalism including civilian and military assignments spanning a 25-year career. His most recent position was editor of the weekly New Town News and Mountrail County Record in Parshall. He spent eight years prior to that as weekend editor and agriculture reporter for the Minot Daily News.
Baker was editor and publisher of the Cavalier County Republican in Langdon in the late 1990s and started his career as a reporter with the Emmons County Record in Linton.
In 2006 and 2007 during a National Guard deployment to U.S. Central Command, Baker was adviser of a magazine titled "Coalition Bulletin," that was operated by a group of officers from nations that were involved on the war on terror. He says he did a lot of editing of the magazine that was published in English and Arabic since several of the officers knew little English or Arabic. Baker and the editor, a Ukrainian captain, shared an office.
From 2001-2005, he served on the North Dakota Newspaper Association's board of directors while employed at the Minot Daily News. He was assigned to postal and awards committees and judged newspaper contests from numerous other states.
In 2001, Baker, along with friend Dennis Ihringer, wrote and published the World War I biography of Dennis' grandfather Otto Ihringer, the last World War I veteran in North Dakota. The book, released in May 2001, is titled "Dakota Doughboy, the Otto Ihringer Story." Baker says the manuscript was written in 10 months but the most difficult part of the venture was marketing the book after it was published.
Baker has reported and photographed a myriad of issues and events in his career and has either written about or photographed four heads of state and British royalty. They include Margaret Thatcher, prime minister of the United Kingdom, Olafur Grimsson, president of Iceland; Hamid Karzai, president of Afghanistan, George W. Bush, president of the United States and Queen Elizabeth of England.
According to Baker, covering Queen Elizabeth during the opening of the Saskatchewan Centennial in 2005 was a unique situation and remains the most memorable event of his career. It turned out he was the only U.S. reporter at the event held in Regina. As a result, he was interviewed by the Regina Leader-Post and an article appeared in Saskatchewan's capital daily newspaper.
Baker told the Kenmare News he has enjoyed agriculture reporting the most over the years and for a time was the only full-time ag reporter in western North Dakota. He is looking forward to highlighting farming and ranching in the gooseneck area of Ward County. He said he is ready for any newsworthy event so call in or e-mail your story ideas.
Baker earned a bachelor of arts degree in journalism from the University of North Dakota, an associate of arts degree in journalism from Bismarck State College and has military journalism credentials through the Defense Information School at Fort Meade, Md.
On November 3, Baker retired from the North Dakota National Guard after 35 years of service. He said he is going to spend some of that time remodeling his garage and pursuing a longtime hobby of researching and configuring antennas to receive FM radio and TV signals from beyond the line of sight.
In addition to journalism, Baker and his wife Ilene own and operate North Star Farms, a certified organic vegetable farm at Carpio where they live. Ilene is human resources director at First Western Bank in Minot. Read EVERY WORD on EVERY PAGE of The Kenmare News by subscribing--online or in print!