Thanks for reading some of the latest features about area people and events.
To view every page and read every word of The Kenmare News each week,
subscribe to our ONLINE EDITION!
Loss at Region ends six year run to State Volleyball Tournament
Seven years ago, the Bottineau volleyball team dashed Kenmare's hopes of a state tournament appearance with a come-from-behind 3-2 victory in the Region 6 championship match.
11/14/12 (Wed)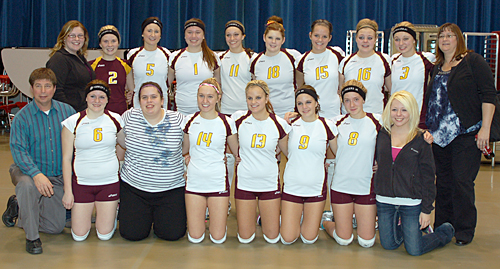 2012 Region 6 Third Place Team, Kenmare Honkers
Kenmare ends season with 3rd Place at Region
By Caroline Downs
Seven years ago, the Bottineau volleyball team dashed Kenmare's hopes of a state tournament appearance with a come-from-behind 3-2 victory in the Region 6 championship match.
Last week, after six consecutive regional titles, the Kenmare team's dream of playing at the Class B state volleyball tournament dissolved as a determined Stars squad finally defeated the Honkers again, this time in Region 6 semi-finals play November 6th.
Both teams looked energized during warm-ups, but Kenmare struggled with momentum during the first game as Bottineau ran up a 10-2 lead that included three aces served by Katryna Hahn and kills by Danielle McDonald and Stephanie Brenden.
Honkers' setter Lexie Munson cheered her teammates on the floor between serves and Kenmare started a comeback on points from two Stars' errors and Shelby Hass's first kill of the night. In fact, the Honkers added points from all corners of the floor, including Munson, Shelby Brekhus, Beca Wallstrum, Katie Nelson and an ace served by Justice Brown, punctuated by a Hass block that brought Kenmare within one point of Bottineau at 16-17.
However, libero Morgan Goettle was called for an illegal hit on the next play, and Bottineau served six straight points mostly on Honkers' errors. Brenden and McDonald each made another kill and Karlee McCloud served an ace that barely cleared the net and dropped onto Kenmare's side of the court.
Hahn missed a hit that gave Kenmare point number 18, but a net violation and a hit by Courtney Gallagher gave the first set to the Stars at 25-18.
The Honkers put their lackluster performance behind them in the second set, starting with a kill by Katie Nelson. Bottineau tried to move ahead with a 4-1 score on a tip by Hahn and kill by McDonald, but the Kenmare players composed themselves and stepped up to the net by blocking Gallagher, followed by a Munson ace and back-to-back Hass hits to take a 7-5 lead.
The Stars blocked Hass, but Wallstrum and Hass both scored twice more as Kenmare held onto a 12-11 edge. The teams tied the score four times over the next plays as Hahn spurred her team with kills and tips, but a rash of hits missed by the Stars allowed Kenmare to take a 22-18 lead. The Honkers gave a little ground on a hit and ace by McDonald, but Hass and Wallstrum scored the final two points for the 25-22 Kenmare win.
The Honkers failed to capitalize on their momentum in the third game, playing from behind by a couple of points through the entire contest. Hass tried to spark her teammates as she hit around the Stars' block and even served an ace, while Wallstrum, Katie Nelson and McKinzie Jensen scored on hits. The two sides traded several long volleys, but Hahn and Brenden managed to pound the ball down on the Honkers' side enough times to take the lead. With Kenmare at 21-24, Katie Nelson went up for another hit. However, the Bottineau blockers anticipated her movement and stuffed the ball back for the 25-21 win.
More than an hour after the match began, the fourth game started with the Stars jumping out to a 4-1 lead. The Honkers refused to roll over as they stayed in the game point by point on an ace from Katie Nelson and hits by Hass and Nelson.
Kenmare trailed 7-13 when a TV time-out was called, but they returned to the floor to score four straight points on two kills by Katie Nelson, one from Wallstrum and a Stars' missed hit. A Munson backhanded tip pulled the Honkers within two points at 12-14 and the battle was on. Kenmare went up 16-15 on another Hass hit and a Katie Nelson ace, followed by a Bottineau net violation.
After a Stars' time-out, Hahn came on the court to score on another of her 20 hits for the night, followed by a block on a Hass hit, but then Jensen came through with a hit for Kenmare and the score was tied at 17.
Neither team could gain an advantage during the rest of the set. The Honkers dug up everything Bottineau fired over the net after the next serve until the Stars finally miscued and hit the ball four times. A Jensen block gave Kenmare a 19-17 advantage, but McDonald made a kill to narrow the gap.
Hass and Katie Nelson continued attacking with hits when they could, while Munson put Kenmare ahead 24-22 with a tip. Hahn scored five straight points for her team, though, even as Nelson and Hass pushed back to a 26-26 tie. At that point, McDonald slammed down hit number 12 of the night, followed by an ace served by Karlee McCloud for the set and match win at 28-26.
KHS head coach Tim Wallstrum congratulated Bottineau coach Steve Dunrud at the net, even as Honkers players wiped away tears. "Bottineau played well tonight," said Wallstrum. "They blocked us really well. They passed the ball well and served well. They controlled the ball, and they controlled the game."
He noted the Kenmare squad couldn't get into the flow of the game. "We had a hard time putting the ball on the floor," he said, "and we didn't serve well. They hustled and they outplayed us."
The three seniors players were concerned about the reaction to the loss by their younger teammates. "We're all friends on the team and the underclassmen felt so bad that we lost," Munson said.
"It's not that we didn't want it," said Hass, who discovered she was a target for the Stars' blockers.
"It just wasn't there for us," finished Goettle.
Wallstrum said the end of the Honkers' run at the state tournament was inevitable, especially given the two years of rosters featuring short, young players. "We knew it was coming," he said. "We've had a great season."
Partial stats for the semi-finals match included Hass with 17 kills and Katie Nelson with 11.
At the net, Wallstrum had 1 block.
Munson set up her teammates with 35 assists.
Katie Nelson scored on 2 aces.
Goettle came up with 21 digs in the match, while Hass logged 16.
In other semi-finals action, Our Redeemer's earned another trip to the region championship round by topping Velva 3-0.
Honkers shut out Aggies
When Kenmare showed up to play Velva in Thursday night's regional third place match, the "old" Honkers were back in action, starting with a Brown ace on the first serve of the night.
The Honkers rang up a 5-0 lead on strong play, then forged ahead 7-3 on a Wallstrum stuff and a Jensen tip. Velva's Emma Keller scored twice, but Kenmare built a 13-6 margin with points from Katie Nelson, Hass and Munson. Jensen scored the next two points for her team on a kill and a block. The Honkers stayed patient and capitalized on Aggies' errors, adding more points from Hass, Wallstrum, Munson and Katie Nelson on the way to a 25-16 win.
Game two was more of the same for Kenmare as they dominated the court. The Aggies managed points from Katelyn Sandy, Cassie Reishus and an ace by Madison Letvin, but the Honkers' persistent passing and quick offense found the mark, with a hard Hass hit giving Kenmare the 24-15 advantage and a Jensen hit sealing the 25-17 Honkers' win.
The Kenmare team played with plenty of smiles and cheered each other as younger players McKenzie Chrest, Jordan Ankenbauer, Kennedy Chrest and Halley Bartlett subbed into the rotation during the third game. Velva challenged the Honkers point for point, but once Kenmare had a 13-12 lead, they rolled ahead 21-17 on their quick play, while the Aggies struggled to control the ball on their side of the court.
Even back-to-back aces served by Velva's Jaylen Newman didn't faze the Honkers, who answered with hits by Jensen, Hass and Munson, before taking the final four points on a Munson block, an Aggies' error, a Hass push and an ace from Bartlett for the 25-17 win.
"It's tough to come out and play the third place game," Coach Wallstrum said, "but I told them it's for fun and pride."
The Honkers' seniors agreed. "This was the one last hurrah for our team," Munson said.
"We got pumped up tonight," added Hass.
"We all wanted to win so bad," said Goettle.
The three girls expressed appreciation for the support of their fans, especially other Kenmare students who cheered them at so many matches, and their coaches. They also said they shared fun memories from the season and their entire KHS volleyball career.
"We proved everyone wrong again," Munson said about her short teammates. "We were ranked sixth."
"And got first [in the district tournament]," added Goettle.
"That was the best part," Hass finished.
For Wallstrum, losing the current seniors from his roster might be as difficult as losing the regional semi-finals match. "We're saying goodbye to three outstanding seniors," he said. "I don't know how we're going to replace them. They're three strong leaders besides being good volleyball players."
He continued, "Next year, we will be in a bigger rebuilding mode than we've been in for 15 years."
Partial stats for Thursday's match showed Hass with 10 kills and Katie Nelson with 7.
Munson had 2 blocks and 17 assists.
Wallstrum fired 3 aces.
Goettle made 12 digs and Hass had 8.
Our Redeemer's Christian School won the Region 6 title with a quick 3-0 victory over Bottineau.
All-Region recognition
Munson and Hass were named to the All-Region 6 team for the Honkers. They joined Ashley Koppinger and Emily VanLith of Our Redeemer's Christian School, Payton Schumann of Glenburn, Gabbie Bohl of Bishop Ryan, Katryna Hahn and Danielle McDonald of Bottineau, Emma Keller and Katelyn Sandy of Velva, Rachel Handeland of Drake-Anamoose, and Aubrey Hovland of Rugby for the honors.