Thanks for reading some of the latest features about area people and events.
To view every page and read every word of The Kenmare News each week,
subscribe to our ONLINE EDITION!
Legacy Farm is one of only three licensed egg dealers in ND
One of Kenmare's newest business ventures is clucking along on Legacy Farm northwest of town, where owner Kate Ankenbauer tends a small flock of hens and delivers fresh eggs to sell at Gartner's Jack & Jill.
1/18/12 (Wed)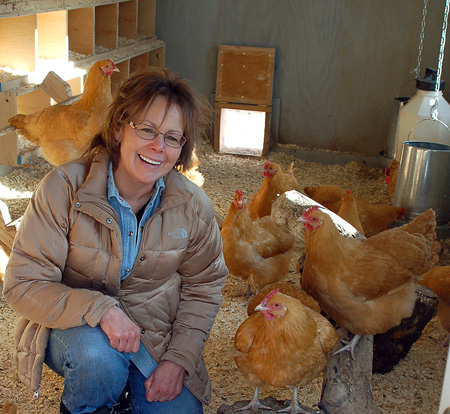 Hens at work . . . Kate Ankenbauer of Legacy Farm raises Buff Orpington
hens for their calm personalities and high quality eggs, now for sale in Kenmare.
By Caroline Downs
One of Kenmare's newest business ventures is clucking along on Legacy Farm northwest of town, where owner Kate Ankenbauer tends a small flock of hens and delivers fresh eggs to sell at Gartner's Jack & Jill.
She described her hens as pampered, but the Legacy Farm mission includes a commitment to providing the purest quality product possible. "We take every measure to ensure that the superior quality and freshness of each egg is maintained from the nest to table," she said.
And she knows her customers will be the judge.
Twenty years of research
Kate grew up in a suburb of St. Paul, MN, at a time when property owners could keep a few chickens for personal use. "My grandmother raised Buff Orpington hens and we lived right next door," she said. "I was always in the chicken house."
Her intentions weren't always pure, however, and she admitted she liked to herd the chickens around the yard. "Grandma made me realize if I did that, we'd have no eggs," she said, then smiled. "I learned a lot from Grandma."
As an adult, living on a 10-acre hobby farm near Hugo, MN, outside the Twin Cities, Kate had room to experiment with hens of her own. She tried Rhode Island Reds and the popular white Leghorns, but she returned to the golden Buff Orpingtons her grandmother preferred.
"It's like preserving the past," she said. "They're the breed our grandmothers used and I enjoy the heritage of that.
She also appreciated the calm, friendly demeanor of the Buff Orpingtons, and their ability to withstand Minnesota and North Dakota weather.
In 2008, she and her husband Lawrence purchased the Ankenbauer farm just northwest of Kenmare. Lawrence was working in North Dakota's oilfields at that point, and in 2010 the couple moved to their new home.
After 20 years of studying her hens and seeking ways to promote quality egg production, the move provided Kate an opportunity to develop her passion into a business plan. She only had space for eight hens in Minnesota, but the Ankenbauer farm had plenty of room for the chicken house the couple built early in 2011, as well as large sections of the yard that could be fenced as chicken runs.
Events followed in quick order. Her 50 Buff Orpington hen chicks hatched June 9th. On June 10th, about midnight, she retrieved them from the post office in Minot and introduced them to their new home.
She chose to feed her hens with commercial organic feed and follow other organic standards. She does not use any antibiotics, pesticides or herbicides with the hens, which forces her to watch carefully for any introduced diseases.
"That's why I have to limit visitors," she said. "It's for the health of my flock." She also thoroughly cleans the chicken house each week and covers the floor with clean wood shavings.
By October 25th, she had her first egg. "I've been using them, cracking them, analyzing them," she said. "I wanted them to be consistent enough to get a regular supply."
As the hens matured, egg production improved. In the meantime, Kate followed the process necessary to become a licensed egg dealer and candler, certified through the North Dakota Department of Agriculture following two separate meetings with inspector John Ringsrud.
"The first time the inspector came out, I had to provide a water sample," she said, "and he inspected things like the chicken house, the flock and the food storage. The second time he came, I had to have a hundred eggs ready and we had to go through the candling process."
Eggs are candled individually with a light to look through the eggshell, searching for cracks, spots or other imperfections. The quality of the egg interior can also be determined.
Kate earned her certification and learned she is currently the only licensed egg dealer in Ward County and one of three in the state. "My operation will be inspected every year to be sure it continues to meet all requirements," she said.
Being certified allows Kate to sell her eggs commercially. More important, she is maintaining her own high standards for selling a quality product. "Nothing but the best of the best goes into my cartons," she said. "Our customers are our friends and neighbors, and we are working hard to become and remain a viable business in the local egg and poultry market for years to come."
Much care and attention
goes into every carton
To that end, Kate follows an organized routine with her hens every day, starting after sunrise. On her first visit to the chicken house, she checks their food and water supply, cleans the nest boxes of debris and, weather permitting, opens the small door to release the hens into the pens or the plastic-covered, protected run she and Lawrence designed for them.
"They usually lay their eggs during the first five hours of daylight," she said, which means she returns to the chicken house again about noon, 2 pm and 5 pm to collect eggs, refill food and water as needed, and clean nests.
She picks up about 40 eggs each day. "That's pretty good for their age," she said.
The eggs range in size between the "medium" and "large" categories—from 21 ounces per dozen for medium to 24 ounces for large. When the hens are fully mature, Kate expects to fill her cartons with large and extra-large (27 ounces per dozen) eggs.
After each round of egg collecting, Kate candles the eggs, washes them in an organic-approved egg wash as required by North Dakota law, and sprays them with a USDA food grade sanitizer, also a state law.
Next, the eggs are air-dried on a sanitized stainless steel rack before being packed, sealed and stored at 41 to 45 degrees in a refrigerator reserved for the cartons. "The temperature and humidity requirements of 75 percent are per North Dakota and the USDA," she said. "They are usually delivered to Jack & Jill the same day or the next."
As with every aspect of her operation, Kate has taken care even with her choice of egg cartons, which are made from recycled soda bottles. "The plastic helps retain moisture and preserve the freshness of the egg," she said. "And that way, people can see what they're getting."
Each carton is labeled with the "Freshest Through" date, 23 days from the date the eggs are laid, collected and candled. Kate finishes her preparations by placing a seal on each carton as one more way to insure quality for her customers.
She delivered her first six dozen eggs on December 30th. Within five days, she restocked the supply with eight more dozen. "I'll be delivering them to the store as needed," she said, "but so far, so good."
Eggs, history and more
Kate is pleased to finally have eggs to share, but she wants to expand her operation as the demand continues. First, she hopes to double the size of her laying flock, providing more all-natural eggs for customers.
By the summer of 2013, she plans to offer a poultry by-product—organic fertilizer for home gardens. "I have two piles now 'simmering,'" she said, laughing. "But I plan to bag it, if people are interested."
Within the next five years, Legacy Farm may become known for its naturally-raised broilers. "We're planning to build another building for that," Kate said, adding that she hasn't sold chickens for meat before, but she has been researching this opportunity. "It depends on how marketable everything turns out to be."
She credits her dedication partially to her interest in eating local. "I believe in the small family farm, and any way I can help that is good," she said. "I want to provide a really good product that is healthy for people."
She enjoys the connections to history she experiences through Legacy Farm, and the stories she hears about that homestead and from other longtime residents in the area. "Our slogan is 'Proud past, bright future,'" she said. "Lawrence's grandfather Earl [Ankenbauer] raised many, many chickens and turkeys on this farm, and now we're a part of that, too."
She is happy to give new life to an old brooder house moved from the Delmer and Marion Nelson farmstead, west of Kenmare, to use for the eight older hens she brought from Minnesota. "It's like a piece of history from the Kenmare area," she said. "It's a great addition to our farm."
However, Kate focuses most of her attention on the laying hens and their egg production. "The hens are the stars," she said. "I'm just the caretaker, and I'm going to do everything I can to make sure these are the best eggs we can put out there."
Kate is a member of Pride of Dakota. Individuals with further questions about Legacy Farm eggs or her operation are welcome to contact her at 701-848-2020.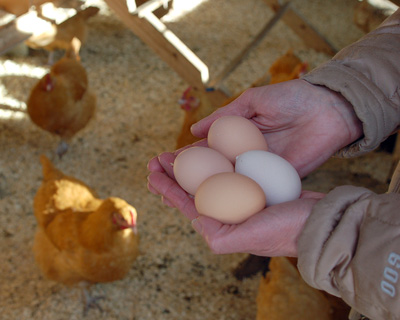 Fresh eggs . . . Eggs are collected three times a day at Legacy Farm.
Ankenbauer is pleased with the large size and consistent quality
of the eggs produced by her flock.