Thanks for reading some of the latest features about area people and events.
To view every page and read every word of The Kenmare News each week,
subscribe to our ONLINE EDITION!
Larry Nore named to GooseFest Hall of Fame
"I loved to hunt, right from the start," said Larry Nore, a Kenmare native and business owner for more than 30 years. "There's a lot of fun just in going."
10/17/12 (Wed)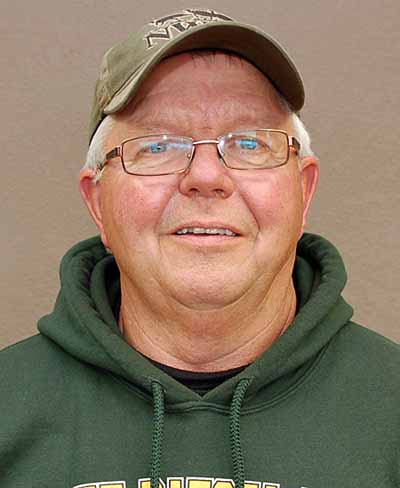 Larry Nore, 2012 North Dakota Goose Hunters
Hall of Fame Inductee at the Kenmare GooseFest
By Caroline Downs
"I loved to hunt, right from the start," said Larry Nore, a Kenmare native and business owner for more than 30 years. "There's a lot of fun just in going."
Larry has logged the majority of his hunting time in the fields and hills around Kenmare and the Gooseneck of Ward County, and he provides a strong example of sportsmanship, according to his longtime hunting companion Arlen Gartner.
"He loves to hunt, he loves to work his dogs, he devotes his time to Kenmare, and he fully supports other events like the Special Needs Fishing Day at the Upper Souris National Wildlife Refuge and other sportsmen's groups in the area," said Arlen. "He's worked on GooseFest from day one. He's a true hunter."
In recognition of Larry's dedication to hunting and promotion of the community, the Kenmare GooseFest Committee named him as the 2012 inductee to the North Dakota Goose Hunters Hall of Fame. "The Hall of Fame isn't just about hunting geese," said Arlen. "It's also about being a true sportsman and a person who gets involved in the community."
A Kenmare hunter
from the beginning
Larry began hunting when he was freshman in high school, hitting the fields with friends Don Gravesen and Floyd Gravesen. "My dad didn't hunt," said Larry, "but I'd go out with those guys for grouse, partridge and ducks. There weren't a lot of geese at that time."
He purchased a used shotgun--his first gun--from Jim's Secondhand Store, owned by Jim Hillestad, in Kenmare. "I couldn't hit nothing with that gun," he said.
He tried a second gun, a new 20-gauge Wingmaster bought at Jerry and Artie Rasmusson's Coast to Coast store, with better success. "I still have that gun," he said, adding that his son John used it as a boy after Larry cut off a portion of the stock to shorten it. "Now, I'm going to use it for my grandson, when he gets a little older."
With his Wingmaster and friends willing to get up early to shoot birds before classes at school, Larry fed his passion for hunting as a teen. After graduating from KHS, however, he left Kenmare for military service with the U.S. Army and a tour of duty in Vietnam.
He came to Kenmare for a short period of time, then left again, living in Wahpeton and then Fargo as he developed a career in auto body work. He met his wife Judy while living in Fargo, and after the couple married in 1976 they lived in Fergus Falls, MN, where Larry worked at an auto body shop.
However, by 1980 the Nores returned to Kenmare, where they built and opened their own auto body shop north of town. Along with that promising career came the opportunity to return to hunting.
"That's one of the reasons we moved back to Kenmare," Judy said. "He had to convince me."
"I hardly hunted down there," Larry said as he described the hunt-for-a-fee conditions and encounters with so much posted land. "Hunting is one of the things that drew me back here."
He didn't know Arlen Gartner well when he moved back to town, even though he had been only two years ahead of Arlen in school, but he stopped by Gartner's Jack & Jill one fall day when he saw Arlen in the parking lot. Both men tell the same story of that fateful day.
"I can still see it," Larry said. "I was driving down the street and here was Arlen, throwing decoys in the back of his pickup."
"He pulled into the parking lot and said, 'Where are you going?'" Arlen said. "I told him I was going hunting and asked him, 'You want to go or not?'"
"'Hell, yeah,'" Larry recalled answering. "After that, we just hunted."
Dogs, guns and recipes
Larry is known among his hunting friends for his dogs. He started with a springer spaniel that came along when the Nores moved from Minnesota, but the dog didn't hunt until Larry took him out in the fields around Kenmare. "Peppy was my first dog," said Larry. "I got interested in training dogs and every one I had got a little better."
Like any devoted bird hunter, Larry likes to talk about his dogs, especially his old German wire-haired pointer named Katie. "She was the best one by far," he said. "She came from a litter out of New Town and lived to be 12 years old. She hunted till the day she died. You get one super dog in your life, and that one was mine."
While Katie's abilities in the field became the stuff of stories still told by some of Larry's hunting buddies, his young black Lab Brit is learning. "She is the nicest, most well-mannered dog we've had," he said. "She does great on pheasants and grouse, but she won't pick up ducks. She's a work-in-progress on ducks."
Just as Larry has worked with several dogs in the field, he has tried different shotguns. "I graduated to a [Browning] Citori over-and-under after pheasant hunting one time in Montana, even though I was used to a pump," he said. "For some reason [the Sartori] wouldn't shoot right."
He decided to clean the gun and enlisted Arlen Gartner's help. "Arlen and I were out at our shop trying to take the end pad off that stock," Larry said, "but we couldn't get it loose."
Finally, Arlen held the gun while Larry used a pair of vice grips on the screwdriver. The screwdriver came loose from the screw, however, and the stock cracked. "So I just took electric tape and wrapped it around the stock," he said. "I buy 'em to shoot 'em."
He still has that Citori, but these days he's using a 12-gauge Remington 870 in the field. "I don't need a real nice shotgun," he said. "I'm okay with that other stuff."
No matter what gun he uses, Larry has been successful getting his daily limits. As a teenager, however, he took few birds home because his mother didn't cook them. "I think Floyd Gravesen got most of them," he said.
When he married Judy, she encouraged his hunting habits and cooked the game he shot. "I look at it as a good hobby," she said, "and I've found recipes through the years that we've tried. My mom loved having grouse when she came to visit, and our kids grew up eating it."
Larry may deserve the credit for the best goose entree served to the family yet, though. "Arlen and I got a couple honkers the other day," he said, "so I went on the Internet and found a recipe."
He said he marinated the goose meat in orange juice and Italian dressing, then cut it into thin strips. He rolled the strips up with pepperjack cheese and chopped scallions, then wrapped each roll in bacon before grilling it.
"Everybody liked it," he said. "It was so good, I took a picture of it!"
Snow geese
and GooseFest
Snow geese started showing up in the area around 1969, and Larry did his share of crawling up on those flocks as a younger man. He always preferred upland game hunting, though.
"I've probably hunted more grouse in this country than anybody," he said. "I love to get out in the hills. Around four in the afternoon, I would cut out of work and go hunting."
He continued, "I've only gone three times so far this year, but that's three more times than a lot of people."
Judy and the couple's daughters didn't hunt with Larry, although the girls would tag along for rides in the countryside to scout for birds. Son John became a hunter. "He was always along," Larry said. "That was our fun, bowhunting or duck hunting."
Larry went out often with other Kenmare hunters, too, naming Jerry Essler, Steve Jensen, Darold "Honk" Hansen, Rick Harris, Greg Haugland and Jerry Mickelsen among others. "I've hunted with them all," he said.
The men were always willing to take younger hunters along or send their sons on days they couldn't go themselves, but Larry said he had to stop guiding a teenaged Seth Gravesen in the field. "Every time you'd take him hunting, [his mother] Tami would bake you a pie," he said. "I had to quit. I was getting fat!"
When Archie Kress, a former Kenmare businessman and one of Larry's hunting mentors, first expressed an idea to promote the growing snow and Canada goose population and start a hunting festival in Kenmare, Larry joined the effort. "It got Kenmare on the map," he said. "I'm always around, always helping wherever I could."
He especially likes the Landowner Appreciation banquet on the GooseFest schedule. "There are so many good farmers around who don't post their land," he said. "The best thing GooseFest could have done is the landowner appreciation event."
And while Larry can be found lending a hand at most of the major social events during GooseFest week, one year he participated on a hunting team that won the Goose Shoot. "That was hard work," he said. "We had to sleep in the field. We had so many decoys it took almost all night to set them up. Then, it was a 70-degree day and we had the field. Sometimes you get lucky."
For the love of the
hunt and the stories
Larry enjoys the camaraderie and stories from the hunts almost as much as the shooting itself, and he's as likely to tell a story on himself as the next person.
"Lee Stroklund, Arlen Gartner and I were out hunting [southeast of Kenmare] one time, and there were something like 5,000 to 10,000 snow geese in a field," he said.
He convinced the other two men to drop him off on the fence line to attempt pass-shooting at the birds. "Then the whole flock flew over the top of me at 40 yards," he said. "I shot three times. Nothing fell."
He returned to the other two men. "When I got back in the pickup, I told them the gun jammed," he said, then laughed. "That happens!"
Despite winning the Goose Shoot one year, Larry has almost given up snow goose hunting, saying he prefers to hunt sloughs now with a few decoys. "I'm getting Gartner and Essler to do that, too, by the way. Those Robo-ducks, they're not so much work!" he said. "And I'm teaching Gartner how to shoot. He's a work-in-progress. We bring him along to be the duck caller."
Then he laughed at himself again. "For ducks and geese, it depends on how cold it is," he said. "I'm getting to that age where I like to sit in the pickup and have a cup of coffee. Arlen and I have gone hunting and ended up just sitting in the pickup. It was too cold out there!"
And he admits to leaving his new office at Nore's Auto & Trailer by 4 pm some days during hunting season, now that he's semi-retired. "I can really do that now with this job!" he said.
Larry Nore will be recognized as the 2012 North Dakota Goose Hunters Hall of Fame inductee on Wednesday, October 24th, following the BBQ Pork Feed at the Kenmare Memorial Hall. Everyone is invited to attend this event, which begins at 6 pm with the meal.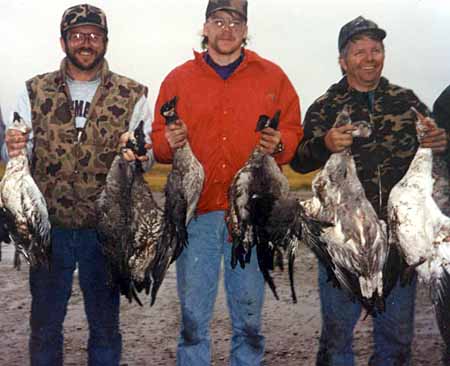 When the birds come in just right . . . Kenmare hunters, l-r,
Arlen Gartner, Chad Gartner and Larry Nore
smile after a good day in the decoys.