Thanks for reading some of the latest features about area people and events.
To view every page and read every word of The Kenmare News each week,
subscribe to our ONLINE EDITION!
KHS volleyball team will improve a lot from start of year to finish
Kenmare High School varsity volleyball coach Tim Wallstrum knows the Honkers fans have heard this before, but the KHS team continues in rebuilding mode this season.
8/27/13 (Tue)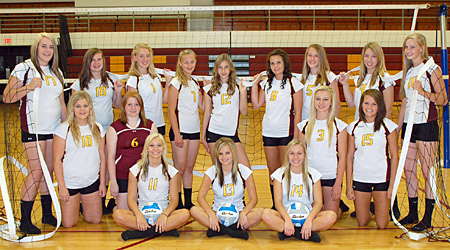 2013 Kenmare High School Volleyball Team
By Caroline Downs
Kenmare High School varsity volleyball coach Tim Wallstrum knows the Honkers fans have heard this before, but the KHS team continues in rebuilding mode this season.
"From the beginning of the year to the end of the year, we're not going to be the same team," he said. "We're young, and we've got a lot to build on. The more they learn this year, the better off they'll be next year."
The Honkers will put three seniors, three juniors, three sophomores, six freshmen and one eighth grader on the court. "I'm still making decisions," Wallstrum said about dividing the players among the varsity, JV and C-squads. "We're pretty small again. We do have some tall girls, but they're young."
With senior Shantell Brekhus setting the ball, Wallstrum said fans will see the team running the same 5-1 offense that has worked for the Honkers in the past. "The big thing is, there's going to be a wide variety of ages out there," he said. "We have several girls playing on several different teams to get more games in a night and get more experience. They're also going to play different positions on different teams."
Wallstrum is looking for the team to improve their ball handling skills after veteran setter Lexie Munson, libero Morgan Goettle and passing specialist Shelby Hass graduated in May. He also wants to see his squad serve more aggressively.
"Most teams win by their passing and serving," he said. "I lost a whole lot of ball handling from last year, but I expect that to improve. We also lost a little bit of team speed so we're not quite as quick, but we're a little bit taller."
As one of the new captains for the team, senior Shantell Brekhus appreciates the attitude of the younger Honkers. "We're all working as a team, we're all working together," she said.
"I like the closeness we have as players," added outside hitter Katie Nelson.
The three seniors agreed with Wallstrum that the team will build experience and confidence. "We need to work on playing together out there," said McKenzie Chrest, who will be a defensive specialist this year. "It's about learning what the person next to you does on the court."
Brekhus smiled. "Our passing has improved," she said.
"And our offense is getting better," Nelson said, then laughed with Brekhus about the improvements in passing skills. "Justice Brown is our libero, and she's going to save us for sure!"
This may be last year
for Kenmare in District 12
The 2013 season may be the final year Kenmare plays in District 12, depending on the outcome of a vote scheduled by the North Dakota High School Activities Association. The NDHSAA board is considering a proposal to realign the volleyball and girls and boys basketball districts for the 2014-2015 season, with Kenmare named as one of eight teams around the state that could change districts.
Under the proposal, Kenmare would join District 16, which includes Burke County, Divide County, Powers Lake, Ray, Stanley and Tioga.
That vote is scheduled for September 17th, according to Wallstrum, but in the meantime....